Biddy Early - Biddy Early Buzzy Biddy
ABV:

5.5%

Malts:

Pale Ale malt, with a little Crystal malt to enhance the golden colour
Michael Jackson Visits Ireland's Smallest Brewery
I've got a pint of the black stuff here, a really delicious Irish dry stout. But it's not made in Dublin, or Cork. It's made in County Clare, in a little village called Inagh. And I'm very glad to be here, because I've enjoyed this beer on a number of occasions but never had the opportunity to taste it in the place where it is made. I am at Biddy Early's Pub with Niall Garvey, the man who made the beer, too.
I've really wanted to come here and taste the beers. And Niall, you've got the red Irish ale, which is a style that I've been accused of inventing and imagining, but it seems pretty solid stuff to me. How did this place start, and why do you have the name "Biddy"?
NG – Well, this pub has been in my family since 1983. It's a small rural pub, it's quite a remote location. In the mid 1990's, business was not great, which was true of rural areas as a whole. My father, who is an industrial chemist, and I, with my background in business, thought that a microbrewery might be a good idea. There hadn't been any in Ireland, and we'd both seen them around the world. And we thought, why not, why can't we do that in Ireland? We were famous for our beer, so we started it.
MJ – The microbrewery movement was very slow to happen in Ireland, wasn't it?
NG – Very. I mean, for the last 100 years it has gone in the wrong direction, from having breweries in every town to just having 3 breweries in the entire country. And they were multinational companies, with very little to do with Ireland at that stage. It had consolidated completely. So we tried to reverse the trend a bit. And so far, so good. Others have followed, and there are about 10 active microbreweries in the country now, providing choice.
MJ – When we say micros, that's microbreweries and brewpubs?
NG – Yes, it's a combination. We started up as a pub brewery at first, and developed into a shipping brewery. Everyone has to do a bit of everything.
MJ – And that 10 is the total on both sides of the border. But people don't realize how small a country Ireland is in terms of population. Both sides of the border total about 5 million.
NG – And it's small in size, as well, only about 150 miles across the full width of the country.
MJ – Your father was an industrial chemist, but we're not talking about industrial chemistry when we are talking about this beer.
NG – No, I think he turned against nearly everything that he had learned to brew beer. There are no chemicals or additives, only the four natural ingredients – hops, barley, yeast, and water. We use carragheen moss to fine our beers. It's a seaweed that grows about 10 miles away from here, along the Atlantic shore, and we still use it in its natural form. We go and pick it ourselves, and we use it in its pure form. I think that makes us unique here in Ireland.
MJ – It could be unique in the world.
NG – We have a phrase here, "taste the supernatural". Our brewery is named after a witch, Biddy Early. It includes the super and the natural, the natural ingredients with a super taste, and gets back to Biddy herself.
MJ – Was Biddy a local witch, around here?
NG – She was, she lived about 20 miles from here. But she use to travel, and stop at this pub on her travels. Inagh is a crossroads to a lot of places. Some called her a witch, some called her a wise woman. She was said to have magic powers, and cure people from illness. She use a magic bottle to do that, and rubbed potion on people and supposedly cured them. She wasn't popular with the Catholic church, Ireland was hugely Catholic at the time and the church had huge power. They didn't like anyone doing their work. When she died, she decided to make peace with the church, and the parish priest from Inagh was actually the man sent to tend to her – seen as a dangerous mission, I suppose. She offered up her bottle to this priest from her death bed, maybe as her repentance or as her way of having the last laugh. He was terrified of getting this bottle and the power it contained, and he threw it away on his way home. Funnily enough, as we were building this brewery in the mid 90's, with the river that runs behind our pub, as we digging out some foundations we found a very, very old bottle. We can't prove it, but we think by the age of it that it could very well be Biddy's bottle.
MJ – When was it that Biddy died?
NG – She died 110 years ago.
MJ – So what is the next beer that's coming out?
NG – At the moment, we are working on the honey beer for the Rare Beer Club, and we are very excited about it. It's an ale with honey, and unique because no one in Ireland has ever done one before. We're quite excited about the honey that we are using in it. It comes from an area near us here called the Burren. It is a world protected site because of the rare flowers that grow there.
MJ – That's a range of mountains, or hills?
NG – Yes, it's a range of limestone hills, and lakes, and covers a large part of the County of Clare and rolls down to the Atlantic. It's rather unique, it looks like the surface of the moon, but it's got a lot of little flowers that grow in the cracks of the limestone, very sweet, tender flowers. And the bees that we are getting the honey from are organic bees, they feed only on what's available around them. I think that you can really taste something different coming through in the honey.
MJ – You tried this last year, didn't you?
NG – Yes, we sold it just in our own pub and it went very well. In fact, we've been asked ever since if we would do it again, so now we are doing it for the club.
MJ – I'm glad that you are doing things like that. Do you get a buzz out of continuing to experiment and try new things?
NG – We're lucky, I suppose, because we have a small brewery and can do small batches. We are still the smallest brewery in Ireland, and we have a pub and can try it out here. We are the smallest in brewing batch size, 650 liters, or 10 kegs , per brew.
MJ – And your team here is very much a family team, isn't it?
NG – Yes it is. I run the brewery, and my mother runs the bar. I have two brothers, one helps me quite a bit with brewing and the other works in IT and helps with the website. Definitely very family-oriented.
MJ – I think it's the only way to run a business like this.
NG – It helps when the going gets tough, you can call on them at least.
MJ – It's just wonderful to be able to taste truly distinctive, truly local Irish beer from the smallest brewery in Ireland. A very successful smallest brewery in Ireland, I think, and I'd like to congratulate you and your family for having success with these. You've brought something to County Clare and to Ireland that I think are wonderful, welcome innovations. Cheers to you.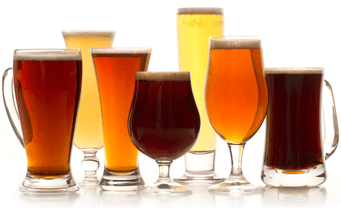 Unmatched Variety by style, brewery & country
Choose from Five different Beer Clubs offering unmatched variety by brewery,
country of origin, and beer style to suit your specific tastes.
DISCOVER OUR FIVE CLUBS