Bierbrouwerij De Koningshoeven B.V. - La Trappe Tripel
ABV:

8%

Bottle Size:

750-ml

Serving Temperature:

50–58° F

Suggested Glassware:

Goblet, Chalice, or Tulip Glass
This month, we're excited to bring our Rare Beer Club members La Trappe Tripel as one of our two featured beers. This delicious take on the Belgian-style tripel combines vibrant core fruit character alongside zesty bitterness—all brought together with a pitch-perfect ferment and leading into a modestly dry, toasty finish. This beer's immensely satisfying from start to finish. This is part of the small group of beers that can be labeled as an Authentic Trappist Product, and the Koningshoeven brewery has been operating through the Cistercian abbey of Onze Lieve Vrouw van Koningshoeven since 1884. That date's not a typo. La Trappe's line of Trappist beers are brewed using the monks' secret recipes, made with water drawn from 200-meter-deep wells on the abbey's grounds. These beers are bottle conditioned for that finely integrated carbonation that helps make this style exceptional. La Trappe Tripel has seen very sporadic U.S. distribution in recent years, with just a couple thousand cases sold.
La Trappe Tripel pours a deep, golden-orange color capped by off-white foam that billows at the top of the glass. Solid retention and lacing throughout. Generous aromatics of ripe fruit like apples and pears lead, alongside generous phenolic character, with warming cloves and subtle peppery notes adding some nice bitterness. The yeast characteristics, per the style, are a huge part of the overall package here, providing the phenolics and much of the overall fruit presence. Sweet, honeyed malts provide toasty breadiness alongside vanilla and almond character. This is a generous aroma that builds as this tripel warms up in one's glass, with an abundance of rounded central maltiness and complex Belgian-yeast attributes drawing us in.
Generous, full-bodied mouthfeel packed with ripe fruit and mineral bitterness from the start. A significant, warming clove presence provides this with a nice toasty roundness, while that 8% ABV stays tucked away for the most part; this avoids overt warmth, with just a touch of fruity, vinous alcohol along the edges. Vibrant underpinning carbonation courtesy of its bottle conditioning keeps this beer super lively. Rounded notes of honey, toast, vanilla, and almond provide depth beyond the core yeast expressions here, with white pepper and mineral/herbal hop characteristics balancing things out with welcome bitterness. Generous core sweet malts as we'd expect from the Belgian-tripel style, but La Trappe Tripel nicely evens this out with those phenolics, the hop bitterness, and that subtle presence of its underlying alcohol.
Overall this ends up being a beautifully constructed tripel that comes through with satisfying yeast character, well-executed core malts, and some generous hoppiness: herbaceous, minty, minerals… Super easy to get into, and satisfying on every level throughout. The lasting finish ends with lingering ripe pear and herbal bitterness, ending things on the slightly dry side.
This is bottle conditioned and high enough in ABV for some additional aging, for sure. That hop impact will trail off with time, increasing the overall sweetness, so just pop a bottle every six months or so to ensure the balance isn't shifting too much for your preference. The high alcohol levels and effervescence make this an ideal fit for buttery seafood or creamy cheeses, helping to refresh the palate between bites. We'd go for steamed mussels or brie, or maybe some white pizza with thin-sliced potatoes and herbs. Mmm… Light residual sweetness also makes it a helpful pairing option alongside spicier fare like various Thai dishes and beyond.
The Bierbrouwerij de Koningshoeven reminds us of the Eddie Izzard line regarding Europe being "where the history comes from." The brewery certainly has a well-earned pedigree in addition to making some fantastic beers along the way. The Cistercian monastery that houses the Trappist brewing operations was originally founded in the small town of Berkel-Enschot back in the 1880s, in response to the dismal situation French monasteries were facing at the time. A monk, Sebastian Wyart, was sent to stake out a distant place of refuge, and he landed in Berkel-Enschot, "an area of open heath with several small farmhouses and a sheepfold."
Local parlance for the area was Koningshoeven, meaning "The King's Farmhouses," having been previously owned by King William II. We're still not entirely sure what a sheepfold is.
A problem though: even after converting said sheepfold into a makeshift monastery in 1881, the surrounding land was pretty iffy for cultivating crops. Saint Benedict, the key founder of Western monasticism, wrote that, "When they live by the labor of their hands, then they are really monks." By 1884 it had become apparent that, try as they might with farms and cattle, the labor of their hands could probably be put to better application. So they started brewing.
Today, the La Trappe beer brewed in Koningshoeven is still brewed in a Trappist monastery "under the supervision and responsibility of the monks"—the key aspect of being able to be considered a Trappist brewery. La Trappe was the Netherlands' first Trappist beer. Even over 135 years later, the brewery remains the most important source of livelihood for the monastery.
There are only 13 Trappist breweries in the entire world that can call themselves "Authentic Trappist Product." And the fermented works of the Cistercian Abbey of Onze Lieve Vrouw van Koningshoeven have been in production for way past a century. Maybe Europe really is where the history comes from… At least a fair chunk of it. Some of our longstanding Rare Beer Club members will recall La Trappe's delicious Bockbier we were able to snag some years back (then, and to this day, the only Trappist bock in existence). And this month we're pleased to follow up with La Trappe Tripel, an exceptional take on the Belgian tripel style, and one that's sadly been seeing pretty patchy availability stateside over the past few years. We've finally managed to secure an allocation sufficient for the Rare Beer Club, and we think you're going to love this fruit-forward, firmly bitter, exceptionally generous take on the style. Here's to La Trappe and the Koningshoeven brewery being around for another 130+ years. Learn more about the brewery's history and current initiatives at uk.latrappetrappist.com.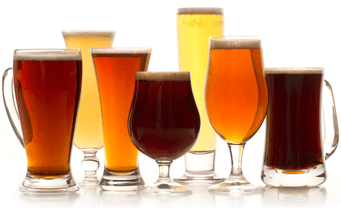 Unmatched Variety by style, brewery & country
Choose from Five different Beer Clubs offering unmatched variety by brewery,
country of origin, and beer style to suit your specific tastes.
DISCOVER OUR FIVE CLUBS