Bierbrouwerij de Koningshoeven B.V. (w/ BrewDog) - Practise What You Preach
ABV:

10%

Bottle Size:

750-ml

Serving Temperature:

50–57° F

Suggested Glassware:

Tulip, Chalice, Snifter, or Goblet
La Trappe's Practise What You Preach is a quadrupel made with Scottish heather honey and American hops, resulting in a ruby-colored strong ale emphasizing rich dried fruit and honey while the hops' citrusy bitterness helps balance the full package out. This 10% ABV quad got brewed at La Trappe's monastery in fall 2020, with its recipe being developed during an early morning tasting at BrewDog's HQ. A part of this beer's proceeds will be donated to charity.
Practise What You Preach pours a deep, mostly clear ruby-amber color with some nice red highlights throughout. Brilliantly formed foam, as we've come to expect from La Trappe's offerings: tiny bubbles, mousse-like, with long-lasting retention and lacing. Initial aromatics bring significant amounts of sweet caramelization, cake-like notes, and dried dark fruit. The Scottish heather honey is a particularly potent variety, and it comes through as an endearing secondary note (at least to start) in the aroma: woody, floral, with some deeper sweet notes that meld seamlessly with the core quad components. The honey's impact only increases as this is allowed to warm up. Hops are subtle so far, providing a light citrusy, grassy element.
Overall this is an exceptionally well-appointed quad: nicely balanced, complex at all turns, and subtly dry despite the emphasis on sweeter components. Vibrant, engaging mouthfeel, with tiny-bubbled carbonation that really opens up the palate. There's a delightful core quad here that's on par with what we'd expect from La Trappe's ability to render Belgian styles, and the addition of American hops brings a welcome balancing bitterness that serves to elevate all of those core dried dark fruits and caramelized/honeyed notes to another level entirely. Long-lasting finish, with lingering fruits and honey, still nicely dry. Take some time with this one.
This beer's bottle conditioned, and its ABV is definitely appropriate for some cellaring time. The brewery suggests a best-by date of December 2023. Looking to food pairings to go with this focus on dark fruits and honey, we'd try pairings with lamb, crispy pork, or maybe even some baklava (thinking of that honeyed element…) for an epic dessert pairing.
The Bierbrouwerij de Koningshoeven reminds us of the Eddie Izzard line regarding Europe being "where the history comes from." The brewery certainly has a well-earned pedigree in addition to making some fantastic beers along the way. The Cistercian monastery that houses the Trappist brewing operations was originally founded in the small town of Berkel-Enschot back in the 1880s, in response to the dismal situation French monasteries were facing at the time. A monk, Sebastian Wyart, was sent to stake out a distant place of refuge, and he landed in Berkel-Enschot, "an area of open heath with several small farmhouses and a sheepfold."
Local parlance for the area was Koningshoeven, meaning "The King's Farmhouses," having been previously owned by King William II. We're still not entirely sure what a sheepfold is.
A problem though: even after converting said sheepfold into a makeshift monastery in 1881, the surrounding land was pretty iffy for cultivating crops. Saint Benedict, the key founder of Western monasticism, wrote that, "When they live by the labor of their hands, then they are really monks." By 1884 it had become apparent that, try as they might with farms and cattle, the labor of their hands could probably be put to better application. So they started brewing.
Today, the La Trappe beer brewed in Koningshoeven is still brewed in a Trappist monastery "under the supervision and responsibility of the monks"—the key aspect of being able to be considered a Trappist brewery. La Trappe was the Netherlands' first Trappist beer. Even over 135 years later, the brewery remains the most important source of livelihood for the monastery.
There are currently only 11 Trappist breweries in the entire world that can call themselves "Authentic Trappist Product." And the fermented works of the Cistercian Abbey of Onze Lieve Vrouw van Koningshoeven have been in production for way past a century. Maybe Europe really is where the history comes from… At least a good chunk of it. Some of our longstanding Rare Beer Club members will recall La Trappe's delicious Tripel and Bockbier we've featured over the years (the latter being then, and to this day, the only Trappist-made bock in existence). This month we're pleased to follow up with Practise What You Preach, brewed in collaboration with Scotland's BrewDog: a delicious, generously sized quadrupel brewed with Scottish heather honey and American hops. This is a one-off brew, with limited amounts destined for the U.S. We've managed to secure enough allocation for the Rare Beer Club—and we think you're going to love this combination of an exacting, malty quad accented by honey and well balanced by the citrusy impact of its hops. Here's to La Trappe and the Koningshoeven brewery being around for another 135+ years. Learn more about the brewery's history and current initiatives at uk.latrappetrappist.com.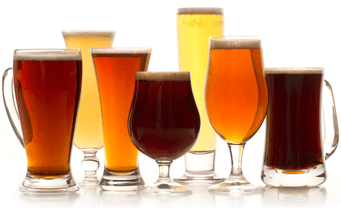 Unmatched Variety by style, brewery & country
Choose from Five different Beer Clubs offering unmatched variety by brewery,
country of origin, and beer style to suit your specific tastes.
DISCOVER OUR FIVE CLUBS