Birra Amiata - Contessa
ABV:

7.5%

Serving Temperature:

40-45° F

Suggested Glassware:

Tulip, Pint Glass
Contessa pours a brilliantly clear, pale honey-orange color topped by vibrant white foam that sticks around for the duration: tightly formed head; beautiful crystalline pour. We'll happily take haze in our hefeweizens (and anything else we can find on the bottle-conditioned front, for the most part), but there's something striking about crystal-clear IPA with precise head formation. You can tell when your mouth waters. (That said: Do note that later pours were a fair bit cloudier than the first ones due to the beer being bottle-conditioned. Pour gently.)
There's something particularly endearing about a successful IPA that succeeds on something other than an excess of citrusy hops. From the beginning, Contessa cuts itself a path in a decidedly different direction from most West Coast IPAs (and even most English-style IPAs we've sampled): the traditional deep orange swapped for a paler hue; that grapefruit-rind and lemony focus supplanted by herbal, peachy, and tropical fruits; and the bracing bitterness toned down to instead allow the nuanced and delicious hop flavors and honeyed, lightly caramelized malt notes to play out.
In the glass, the aromatics start at peach bitterness, followed by a firm, mineral-like bedrock, then softer notes of honeyed cereal, freshly mown grass, and lighter citrus. It's the same equation as an American IPA, with an assertive hop aroma that's never overshadowed by the malts, but the execution here yields a far more expansive final expression than mere hop juice. There's the assertive herbal and mineral bitterness at the front of the tongue, then layers of lighter stone fruit and herbaceous hops. Put a different way, think of this as an "Italian Pale Ale," as we've seen it referred to by others. Perfectly tuned water characteristics, hop profiles that pop, and a heftier dose of hops than most pale ales… but a presentation that strikes the same balance seen in the likes of Sierra Nevada Pale Ale or Firestone Walker Pale 31. This is an IPA one can dig into and appreciate without succumbing to palate fatigue after two sips. It finishes nicely dry, with a touch of lasting astringency and some malty toast.
We'd be remiss to recommend cellaring an IPA for an extended period of time, but this beer is bottle-conditioned and robust enough to develop for perhaps a year in the bottle without going wholly off the deep end. The toned-down bitterness (it's still quite bitter, rest assured) also makes it more food-appropriate. Consider pairing it with Indian or Thai fare to amplify a curry's internal spice, or with sweeter dessert like peach cobbler to play off the fruity hops.
Birra Amiata resides in the municipality of Arcidosso, in the Tuscany region of Italy. In the immediate vicinity are a medieval castle, the scenic slopes of Mount Amiata, and forests of chestnut trees. One's mental imagery of a rural, artisanal Tuscany is readily satisfied by the Brunello wineries of nearby Montalcino, the Frantoio Franci olive groves, Saturnia's thermal baths, and the grappa distillers and cheese producers of the surrounding region. Birra Amiata in fact shares its name with nearby Monte Amiata, an enormous lava dome that happens to be Italy's second-highest volcano. While it evidently hasn't erupted since the Pleistocene era, the thick, porous layers of volcanic soil in the area make for some excellent brewing water.
The brewery was founded in 2006, and the beers of Birra Amiata tend to highlight both local ingredients and local legends. Italian brewers are known for their tendencies to use chestnuts in certain specialty beers, and Birra Amiata's Bastarda Rossa is named for a particular type of top-quality chestnut grown nearby. (The volcanic ash soil is well-suited to cultivating trees as well as beer, and Italy's Indicazione Geografica Protetta mark ensures those trees are grown without synthetic fertilizers or pesticides.) Other fermented offerings from Birra Amiata use locally sourced ingredients like Maremma saffron, marruca honey, and even a type of crocus.
Other beers, like Drago della Selva and Aldobrandesca, find their local attachments through the region's past, respectively through the medieval legend of a nearby forest dragon and the long-reaching legacy of the Aldobrandeschi family (named in Dante's Divine Comedy as well as figuring in as an eventual relation to Pope Gregory VII). Our current selection from Birra Amiata follows this second course of thematically tying their beers to their Tuscan heritage.
Contessa was our favorite of the Birra Amiata offerings we sampled. It's actually named after a specific member of the Aldobrandeschi legacy, a young woman named Gherarda who was the Countess of Cana. In its briefest telling, legend has it that the Countess and a young lord fell in love at first sight during a local feast, though each was already scheduled to be married to someone else. (Spoiler alert: We know these things never end well.) The young lord chose to join the Crusade in the hopes of leaving these sorrows behind, only to meet his death, and the Countess headed to a convent to live out her days. The mountain plateau where they had previously met, underneath a giant beech tree, became known as the "Prato della Contessa." It's said one can sometimes see the ghosts of the young lovers on warm, summer evenings.
It's a sad story. And following sad stories, an uplifting beer can certainly help. We hope that you enjoy Birra Amiata's Contessa as much as we did. Nearly all of the brewery's efforts are distributed and sold in the immediate area, and only 300 cases (total!) of their beers made it into U.S. distribution last year. We're proud to be able to make it available to our members.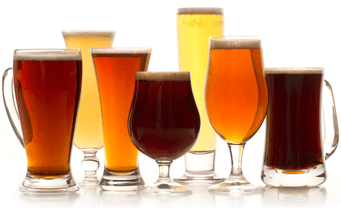 Unmatched Variety by style, brewery & country
Choose from Five different Beer Clubs offering unmatched variety by brewery,
country of origin, and beer style to suit your specific tastes.
DISCOVER OUR FIVE CLUBS