Birra San Martino - La Gold
ABV:

7.6%

Serving Temperature:

45-50° F

Suggested Glassware:

Flute or Snifter
La Gold, at first glance, seems like a curious thing: a honey-infused bock beer, produced in Switzerland. The honey addition makes more immediate sense when one thinks in terms of the traditional focus of potent dark lagers: caramel, dried fruit, toasted cereal… all of which readily compliment the inclusion of a honeyed sweetness. And when it comes to the idea of a world-class German-style lager hailing from Switzerland… Well, one could easily point to Samichlaus: the 14%, doppelbock-like classic from Austria that Michael Jackson once called "the most complex and satisfying … of the world's super-strong lagers." Beer lovers tend to forget that Samichlaus was originally brewed at Hürlimann (in Zurich, Switzerland).
La Gold pours a deep, reddish-brown color with a copper tinge, almost like a liquid caramel. Its white, fine-bubbled head lingers, soft and compact. For a bock approaching 8% alcohol by volume, the sturdy head formation speaks well of what's ahead. The aroma, from the beginning, brings forth the essence of the two different local honeys used here: chestnut honey (a renowned, darker variety that often hints at spices and leather) and millefiori honey (a sumptuous regional specialty, wherein millefiori is Italian for "a thousand flowers"). Their lush honey character serves to further define and accentuate the surrounding bock elements: restrained caramel sweetness, rounded mouthfeel, and touches of warming alcohol.
Though bocks and their closest beer siblings tend to be somewhat modestly hopped (often just enough to keep things focused), La Gold shows off some of the abovementioned American influence. Hallertau Magnum hops provide a reasonable bitterness, while additions of citrusy Cascade hops offer an atypical jolt of orange and tangerine to this potent bock. As La Gold warms, the floral notes and fruitiness from the honey become more assertive, giving the perception of ripened strawberries, peaches, and cranberries. Even hints of orange peel.
Those rich, layered honeyed qualities, in addition to making La Gold a wholly unique bock rendition, translate into a wide range of potential pairings. We suggest trying it out with Mediterranean risotto, or a piquant Italian cheese served with walnuts and honey.
We at The Rare Beer Club take great pride in providing our members with beers that not only speak of world-class brewing and artisanship, but also allow the unique pleasure of, in many cases, experiencing a foreign brewing culture for the first time. Some of you may be familiar with the impressive Swiss brewery of Brasserie des Franches-Montagnes (BFM), one of very few breweries from that country making its presence felt in the States (albeit in quite limited quantities). In fact, Switzerland's brewing culture as a whole is, in a trajectory quite similar to that of the U.S., experiencing a major revitalization in recent years. This month we're pleased to introduce Birra San Martino, which has quietly been at the forefront of that movement.
Whereas BFM is situated close to Switzerland's French border, Birrificio Ticinese (the brewery that produces the Birra San Martino line) instead finds itself far to the south, across that jaw-dropping Alpine landscape and a mere 500 meters from the Italian border. Headed by brewers Nicola (Nick) Beltraminelli along with Matteo Bonfanti, Birrificio Ticinese is one of a growing handful of the country's breweries branching out beyond its traditional brewing heritage: experimenting with new hop varieties, tapping into local ingredients, and ultimately finding inspiration in the beer scenes of the U.S., Belgium, and Italy. The Birra San Martino lineup features three tiers: Le Classiche, featuring easy-drinking crossover beers like weissbier and helles; Le Premium, offering somewhat traditional Belgian styles; and Le Special, in which Nick and Matteo start doing things like adding unfermented grape must and local honey.
(Three guesses which tier our featured selection, La Gold, comes from.)
Birrificio Ticinese opened in 2002, following a year-long trip Nick took to the U.S., during which time he had the opportunity to gain invaluable insight into brewing techniques and equipment selection. Few Swiss breweries are well established beyond Europe, and this will be the first appearance of any beer from Birrificio Ticinese in the States. Our Rare Beer Club members will be the very first to receive bottles of this highly limited release, followed by a smaller degree of distribution throughout the U.S. in March (consisting of less than 50 cases). Birra San Martino La Gold is a particularly unique offering in that it's not merely the first from an up-and-coming Swiss brewery, but also one that offers, with its unique honey addition from the local markets of Mendrisio, a little taste of the Swiss countryside itself.
For more information about Birra San Martino (and to possibly brush up on your Italian), head to their website at www.birrasanmartino.ch, or www.facebook.com/BirraSanMartino.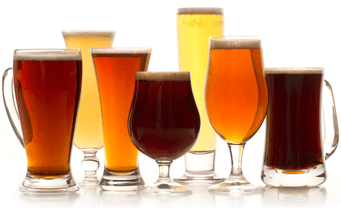 Unmatched Variety by style, brewery & country
Choose from Five different Beer Clubs offering unmatched variety by brewery,
country of origin, and beer style to suit your specific tastes.
DISCOVER OUR FIVE CLUBS