Birra Tenute Collesi - Rossa
ABV:

8.00%

Serving Temperature:

45-50° F

Suggested Glassware:

Oversized Red Wine Glass, Snifter or Tulip
The Italians have style, no denying that. This beer comes in a very attractive, simple but elegant bottle with sleek label design. It bulges a bit in the middle, with a very slender neck that also waxes and wanes—Silvio Berlusconi would be pleased with this poised and swan-like packaging. It screams boutique wine more than designer beer, but there's nothing wrong with that. Immediately, we feel we are in for something haute and chic. We first drink with the eyes, as the saying goes. Some would say that first sip begins upon initial glance at the bottle, so a glamorous design doesn't hurt. On the pour, Rossa offers a massive beige head that lingers appropriately atop a dark mahogany body that casts reddish hues when held to light. The aroma is delicate and vibrant, offering mainly fruity notes, somewhere along the lines of fresh cherries, but more Mediterranean apricot meets southern peaches. Yeastiness abounds, with a subtle meatiness (think iron) and a faint misting of saltwater. Look for lightly spicy phenolics, with a slight tartness implied on the nose as a sour candy-like note emanates with added warmth. Note a faint creaminess, and the minutest waft of butterscotch in the very distant background. The beer is well carbonated, and it pops all over the tongue as it goes by, dropping notes of red grapes, cherries, plum preserves, hazelnuts and a light yeasty funkiness, but overall, it's quite clean—none of these flavors weigh the palate down. Also expect lingering impressions of stems and light wood (think balsa). This beer is remarkably balanced. Every time a note jumps out, another reaches out and tames it. As it warms, fruitiness and spice grow, as diminutive flourishes of cloves, vanilla and cinnamon flutter about. Finishes with a moderate acidity not unlike what a big red wine might offer. A fair amount of bitterness has been replaced with acidity, and, carbonic bite. Many Italian beers possess some element that evokes wine, and for this beer, it's definitely the finish. Do you have friends who are wine snobs (we call them "winers")? Well, have them try some of this beer next time they're over—and see if they don't give you at least a "well, that's actually not bad" (which is pretty much a rave beer review for many of those types). Extraordinarily food-friendly, Collesi's Rossa is a wonderful beer that will pair nicely with a variety of foods from cheese & olive plates, antipasto, beef tenderloin or chicken pesto, to deserts like chocolate torte or lemon sorbet. Salute!
Italy. Once the seat of civilization's most powerful empire, centuries later it became the birthplace of the renaissance. The unbridled creativity and innovation exhibited by its citizens through the ages is as impressive as it gets. Philosophers, sculptors, architects, biologists, astronomers, physicists, mathematicians, physicians, neuroanatomists… the contributions to world culture from this country are tremendous. "Italian" conjures thoughts of the fashionable, the cultured, the sensuous, the decadent and the refined. For many of us, the association of Italy and wine is inexorable, and the adjectives of the previous sentence easily apply as much to wine as Italian cuisine, style or people. Perhaps that powerful association with vino has been detrimental to the development of artisanal beer from this remarkable country. The common reaction to the very notion conjures up an imaginary, but very easily real, soliloquy: "Italian beer? What, Peroni? Perhaps with pizza, but that's about as Italian as I'm going to get with beer." Here we have an odd conundrum—Italy has never suffered from a credibility issue with respect to its cultural contributions, and yet, consumers from outside the country, and sometimes more powerfully from within, seem to closed-mindedly construe the juxtaposition of "Italian" and "beer" as a gag; some sort of stunt or sorely misguided venture. People of this belief deprive themselves in much the same way that macro-beer drinkers who scoff at craft-brewed beer do. Open your mind—its beer, and we already know that you like beer. Today, the preconceptions are melting away within Italy itself—there are over 200 small breweries throughout the country (a massive, relatively recent gain)—and beer's image problem is vanishing in the process. But it still seems to be a bit of a challenge to American consumers. To be honest, this is not helped by the reluctance of many Italian brewers (and their distributors) to keep prices comparable with beers from Belgium and the rest of Europe. There seems to be a collective belief that their products should be more expensive than those from elsewhere, and we're seeing them marketed more like fine wines in that regard. Eventually, this will change, and Italian products will be more readily available at the right price. Until that time, and while people do not quite know what to make of Italian beer, it will continue to be a relative rarity. Which is just fine by us at this point, as it helps us to deliver on our key promise to you, namely, offering Rare Beer. The source of this month's Rare Beer is the Collesi family estate, which includes over one hundred acres of land on the base of the Umbria and Marche Appennino mountains at the medieval village of Apecchio, in the province of Pesaro-Urbino, in central Italy. Collesi uses only its own farm-grown barley and water from the nearby source of Monte Nero, thus offering a unique, largely estate beer (the hops do not come from their land, at this point; Italy is not known for its hop harvests). The uniqueness of the beers of Collesi lies in their atypical control of the production chain, since the cultivation of raw materials used to produce beer is under the direct control of this family company, and all brewing supervised by a Belgian brewer. All of their beers are top-fermented, unpasteurized, and undergo natural re-fermentation in the bottle. Collesi's beers were only introduced to the US a few months ago, and have seen extremely light distribution. We sampled their brews and were very impressed, particularly with their beautifully balanced Rossa. Only a handful of folks in North America have had the chance to experience any of Collesi's beers, which is a shame (but not for you!). We hope you enjoy this fine Italian beer, and that you share it with friends, spreading the virtues of better beer.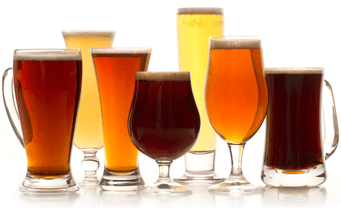 Unmatched Variety by style, brewery & country
Choose from Five different Beer Clubs offering unmatched variety by brewery,
country of origin, and beer style to suit your specific tastes.
DISCOVER OUR FIVE CLUBS