Birra Toccalmatto & Prairie Artisan Ales - Okie Matilde
ABV:

6.2%

Bottle Size:

750-ml

Serving Temperature:

45–52° F

Suggested Glassware:

Chalice, Tulip, or Chardonnay Glass
For folks who have heard of Toccalmatto before, it may very well have been courtesy of this collaboration they did with Prairie Artisan Ales, which saw some very slight distribution last time around. This Belgian-style beer, Okie Matilde, is a riff on Prairie's Oklahoma home and the legend of Countess Matilda from Tuscany—a foundational story for the famous Orval. It is a delicious tribute to that classic Brettanomyces-tinged Belgian ale, and it's available only in very limited quantity—brewed once every few years, with never more than 50 cases being brought to the U.S., beyond our current allocation for The Rare Beer Club. It's a gorgeous collab.
Okie Matilde pours a vibrant, deeply orange color, capped by meticulously formed off-white foam. The retention on this is quite nice, much like Orval itself, as a sizable amount of lacing coats the interior of the glass. A mouthwatering mix of yeast contributions leads things here, as expressive white pepper and spice and hints of funk fill things out beautifully. There's very much an Orval-like character to the aromatics, with subtle Brett qualities layered over an amber malt core: subtle fruit sweetness, tinges of barnyard funk, and refreshing lemon.
Along with this month's featured beer from August Schell, the Toccalmatto x Prairie Okie Matilde is an impeccably refreshing beer that felt ideally tuned for the summer months. The first sip affords a similar balance to classic Orval, matching vibrant carbonation with a leanly fermented beer, packed with complex fermentation character: expressive peppery notes, ripe apple and soft biscuity malts, some fresh lime-like vibrancy from the Brett. While not overtly tart when we sampled it, there's a touch of acidity present, keeping this feeling very lively in the mouth, and core notes of rounded spice and pepper make for a beautifully built Belgian-style profile. It's packed with secondary notes of pear, lime, graham cracker—even some subtle vinous notes.
From the mid-palate forward emerges a nicely toasty core. The central maltiness of this beer never feels heavy, courtesy its Brettanomyces and the thorough ferment, with the qualities of the yeast forming the focus: well-develop Brett sans overt acidity, lots of spice and fruit, with refreshing carbonation underneath keeping everything light and breezy. It's a brilliantly done Belgian-style take, bringing together a precise ferment, Orval inspiration, and generous Brett contributions. A perfect beer for sharing with savvy peeps during the warmer months.
While we expect Okie Matilde to continue to develop in the bottle for months to come, hop character will drop off over time (per usual). But the Brettanomyces impact should continue to develop over time. For pairings: this will be super versatile. Like the also-featured August Schell's Basin of Attraction, it's just begging for a complex cheese plate to sample beside it.
For a lot of U.S. beer drinkers, the charismatic offerings slowly reaching our shores from the folks at Birra Toccalmatto are brand new—and we're particularly thrilled to offer up a collab this month that the brewery did with the folks at Prairie Artisan Ales. During Chase Healey's visit to the Italian brewery, they'd decided to create a beer that paid homage to Orval, and to the legend of Matilda of Tuscany, and to Prairie's roots in Oklahoma. The result is a world-class Belgian-style ale brewed with Brettanomyces, plus a healthy dose of American hops.
This brewery in Fidenza, in the Parma province of northern Italy, started production back in October of 2008. All of their beers are top-fermented and naturally conditioned, and there's definitely a flair for Belgian- and American-style brewing. Founder Bruno Carilli brings with him a wealth of experience in the food industry (raw materials, production, and distribution), and brings his expertise to help the brewery source top ingredients through their network of farmers and suppliers. The brewery focuses on quality control and cutting-edge ingredients.
Hops? Hops are kind of a big focus for the brewery. Some Rare Beer Club members might recall their Zona Cesarini, an amber/pale ale dosed with hefty amounts of Pacific Gem and Sorachi Ace hops, which we've featured in the club previously. B Space Invader is a black IPA packed with Galaxy hops, Re Hops is full of Cascade, and Oceania is loaded with New Zealand and Australian hop varieties. Toccalmatto does a ton with hops. The brewery's also been exploring a lot of intriguing terrain, from their witbier brewed with the northern Italian Fortana grape, to a traditional-ish German-style wheat ale, made with Maldon sea salt flakes. Everything we've been lucky enough to sample from these folks: precise as well as delicious.
Toccalmatto's also been getting their name out there via high-profile collabs involving folks like De Molen, Dugges, Buxton, Brewfist, Naparbier, Hair of the Dog and Stillwater. Their collab with Prairie hasn't been in the U.S. since early 2017, and only a limited amount arrived that year. Less then 50 cases will be available in the U.S. this time around outside of the club. We were thrilled to be able to get enough of this particular beer from Birra Toccalmatto, as we've found ourselves going back to it multiple times. A perfect fit for The Rare Beer Club.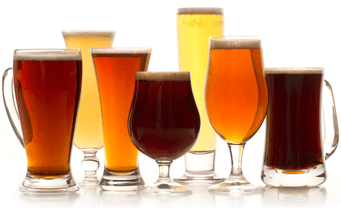 Unmatched Variety by style, brewery & country
Choose from Five different Beer Clubs offering unmatched variety by brewery,
country of origin, and beer style to suit your specific tastes.
DISCOVER OUR FIVE CLUBS