Birra Toccalmatto - Zona Cesarini
ABV:

6.6%

Serving Temperature:

50–57° F

Suggested Glassware:

Tulip, Nonic, or IPA Glass
An amber beer with an orange hue, intense and innovative hoppiness, and characterized by the aromas of tropical, citrus and yellow fruits.–Zona Cesarini label notes
Birra Toccalmatto is still making a name for itself stateside, and this massively generous IPA seemed like the perfect way to introduce them to our Rare Beer Club members. Only around 60 cases are expected to be allocated for the U.S. in 2015, so just a sprinkling here and there. We think the tropical/citrus character is too good to miss. Our bottles basically disappeared.
Zona Cesarini, and you'll pretty quickly taste why, is part of the brewery's Hop Freaks series of massively hopped beers. Also in the Hop Freaks series: B-Space Invader, a black IPA with Amarillo, Apollo, Galaxy, Simcoe and Summit hops. Oceania, a hoppy saison with Motueka, Pacific Jade and Galaxy. And at least, like, half a dozen other things. Even their main lineup is hop-forward. Zona Cesarini was our favorite of the bunch, incorporating at various times a secret-ish combination of hops from Japan, Australia, New Zealand and the United States.
Just, you know. Some secret hops.
The net effect is magical, and one of the smoothest-drinking IPAs we've crossed paths with in a while. We poured this into an IPA glass, showing a bright golden-orange color and a bit of haze, capped by a great-looking head: off-white, miniscule bubbles, lacing that coats like an icing. Bold-orange IPAs are always promising. The aromatics here cover a wide range of hop turf: lots of grassy and tropical top notes, opening up into mango and pine character, plus an expressive amount of fresh-squeezed grapefruit, juicy orange—even some tart passion fruit.
Underneath that generous onslaught of hops is a subtle supporting sweetness: cotton candy, candied oranges, maybe a light hint of caramel. But everything stays hop-focused, in accord.
The taste fulfills everything the aromatics have been offering. Before getting into the sensory notes and descriptors, it's worth emphasizing that a big part of why this beer is so appealing is simply because of how it feels: a brisk onset of bitterness and finely structured bubbles, an immediate smoothness from the welcome hop oils, and just a seamless feel sans astringency.
It's kind of a lot to process at once. The tropical aspects are certainly more than present, but it was the vibrant orange character permeating this whole beer that got our attention first: an explosive note of tangerine and blood orange—surrounded by all the pithy accoutrements of a West Coast IPA archetype: lemon and grapefruit, some bitter rind, a subtle feeling of pulp.
Then: all the tropical notes fall into place as well. We found lots of mango and passion fruit-esque character throughout, almost to the point of adding a level of juicy tartness. There's a firm presence of pine here, too: herbaceous, foresty, working nicely alongside the grassiness, and just well integrated as some seriousness alongside all the next-gen hops. Those candied, but not heavy, oranges and cotton candy never get in the way—and the bitterness and zesty bubbles keep things feeling fresh. We had the chance to sample some bottles of their Zona Cesarini after nine months, and it was impressive to witness just how much had stuck around.
The caramel was amped up, the tropical character had subsided considerably, making way to more of the residual pine and citrus poking through. Still: effortlessly drinkable. That said, it definitely benefits to enjoy IPAs of nearly all sorts fresh, so aim to drink these earlier on.
The brewery suggests this as an excellent pairing for a spicy curry, Thai dishes using coconut milk, and flaky white fish. For cheeses: look to medium-aged goat and blue. When a dessert pairing is in order, Birra Toccalmatto suggests trying a cake with white chocolate and citrus.
For a lot of U.S. beer drinkers, the charismatic offerings slowly reaching our shores from the folks at Birra Toccalmatto are brand new—and we're particularly excited to lead with a Zona Cesarini offer. It's a beautifully hopped beer that, for us, really captured the core qualities of what these folks are doing with hops, while not being at all shy with pungent, dank impact.
The brewery in Fidenza, in the Parma province of northern Italy, started production back in October of 2008. All of their beers are top-fermented and naturally conditioned, and there's definitely a flair for Belgian- and American-style brewing. Founder Bruno Carilli brings with him a wealth of experience in the food industry (raw materials, production and distribution), and brings his expertise to help the brewery source top ingredients through their network of farmers and suppliers. The brewery focuses on quality control and cutting-edge ingredients.
Hops? Hops are kind of a big focus for the brewery. You can read more further below about some of the nicely bitter beers in Birra Toccalmatto's Hop Freaks series. But the brewery has been exploring a lot of intriguing terrain, from their witbier brewed with the northern Italian Fortana grape, to a traditional-ish German-style wheat ale, made with Maldon sea salt flakes. Everything we've been lucky enough to sample from these folks: precise as well as delicious.
Of folks who have heard of Toccalmatto before, it may very well have been through a recent collaboration they did with Prairie Artisan Ales that saw some limited distribution. The beer, named Okie Matilde, is a riff on Prairie's Oklahoma home and a legend of Countess Matilda from Tuscany—a foundational story for the famous Orval. Toccalmatto's also done collabs with renowned European brewers like De Molen, Dugges, Buxton, Brewfist and Naparbier.
We were thrilled to be able to lead with this particular beer from Birra Toccalmatto, as we've found ourselves going back to it multiple times since. A perfect fit for The Rare Beer Club.
By Ken Weaver
For the newest issue of All About Beer Magazine (where I serve as beer editor), we decided to do a roundup of top-regarded beers that feature hops from New Zealand and Australia. I've really been digging the profiles I've been getting from these types of hops lately—tangerine, kaffir lime, pungent stuff like passion fruit, dead-on pineapple—and somehow (magically) it worked out that I ended up being the one who got to handle all the reviews of these beers.
I wasn't able to snag anything fresh from folks like Prairie or Mikkeller for the piece. Plus, it sounded like I just missed a fresh shipment of beers from New Zealand. Technically, I knew Zona Cesarini existed, but I had no clue it had New Zealand or Australian hops in it. What I did manage to round up, however, included newer options like Avery's Raja double IPA and Stone 19th Anniversary Thunderstruck, both of which ended up being Recommended picks. A good friend in NYC shipped Other Half All Green Everything (a nice, tiny IIIPA), which also made the cut. Ditto for Green Flash's Green Bullet, named after the New Zealand hop.
I could go on about the solid ones, the ones that set up a nice canvas for these hops.
But… the standouts? I mean, there is a reason we put these beers in the Trending section of our magazine. There's a reason people are excited about them and basically devouring them. In the few things that I ended up choosing as being among our Highly Recommended picks for that section of the issue, well, two came from Alpine. The third was from La Cumbre in Albuquerque: the Full Nelson. All three: landscapes built out of mango, pith, papaya, lime…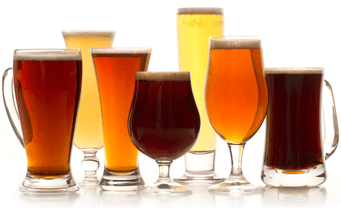 Unmatched Variety by style, brewery & country
Choose from Five different Beer Clubs offering unmatched variety by brewery,
country of origin, and beer style to suit your specific tastes.
DISCOVER OUR FIVE CLUBS