Birrificio Brùton - Stone R
ABV:

7.5%

Serving Temperature:

47–54° F

Suggested Glassware:

Tulip or Chardonnay Glass
Birrificio Brùton's Stone R struck us as such a fresh take on that general spectrum of ales, as a mélange of malted barley, wheat, rye, and candied sugar come together for a complex beer that has the juiciness of a fresh-cut grapefruit. This one caused us to sit back in our seats and reflect on whether or not we had been generally decent people (we had) and what on earth it was we had done to deserve such exceptional beers to cross our path. We took all we could.
A rich, white-pepper yeast quality spills out from the aroma on Stone R first and foremost, a broadly floral hop character opening up behind it, right from the beginning. As this warms a bit, one starts to get some very rich middle-fruit (let's call it) character: cantaloupes, apricots, bananas, even some lightly tart mango. It's rich, encouraging, with a hint of wheat and spice. There's a vein of fruity, alcoholic warmth in here as well, hanging out quietly near the back.
This beer sparkles in the glass. There's a pulpiness like brilliant orange juice, like the kind of orange juice that will most definitely, this time, make things better. The glistening, off-white foam is like the froth of a mimosa, and this wasn't the only time that we found ourselves of similar mind. There's a well-framed acidity that stirs the palate up nicely, a carbonation and a peppery phenolic note providing some welcome texture, and also a core complexity that has a whole lot to say, and far more broadly than most OJ-and-sparkling-wine combinations. An exceptionally creamy, almond- and vanilla-like quality is what got us particularly interested, as notes of candied orange peel and banana and crème brûlée came into the picture as well. It's an exceptionally generous beer. Layers of candied fruit and core sweetness, framed brightly.
One way in particular to watch this beer evolve in the glass is to note how that sweetness is able to open up with notched-up temperature. The peppery notes clear to the sides, and the original candied qualities open up into melon, toasted almond, and sourdough bread. This is one of those beers that had us thinking of things like Hair of the Dog's Ruth, another hugely refreshing beer with pinpoint mouthfeel that also provides a bunch of kettle caramelization.
We dug Stone R. There's a firmly steering bitterness throughout, coming from those peppery yeast notes and floral/minty hop additions—Northern Brewer apparently, which makes a lot of sense when one takes a step back. They're the hops that characterize California commons, of the spearmint-y, Anchor-Steam sort. Here they're floral, woody, with a grassy, minty slant. They serve as a familiar, assertive (if not overly rambunctious) hop profile to support things.
The core notes of this beer offer up ripe fruits and creamy vanilla, suggesting prosciutto and other cured meats as ideal accompaniments. And it has the zesty bitterness to play off beside a creamy vanilla or lemon custard. As this warms up (here we are so late in the tasting notes) a rose-like floral quality starts appearing everywhere. Vanilla-bean ice cream would not be at all a bad idea. Regarding aging, (as the brewery puts it) the Stone R will, "if stored in a fresh place and protected from light, acquire complexity and become more harmonic with time." We could imagine some further caramelization fitting in quite nicely to the Stone R's overall feel, though keep an eye on bottles to ensure they're not losing the vibrancy of their youth.
Birrificio Brùton is based in the Italian city of Lucca, about thirty minutes from the country's western coast. From said coast, one looks south onto the islands of Corsica and Sardinia, or east across the sea towards the French city of Cannes. Looking elsewhere is required. As the brewery puts it, there is "no defined style to Italian beer" from which to easily work from, at least not much of one more than fifteen or so years old, when the first wave of craft-minded brewers in the country came into prominence. Brùton is a key brewer in a much wider wave. The brewery opened in 2006, with its beers making it stateside just within the past few years.
We've been impressed with our tastes from Birrificio Brùton for some time now, with Stone R ultimately making us believers. Brewmaster Iacopo Lenci has looked outward to influences from more historically diverse brewing cultures like Belgium and England. Their Stone R, in particular, is a Belgian strong ale at heart. As Iacopo frames their efforts, "The philosophy at Brùton is to reinterpret, in a very personal way, other quality beer styles without exaggerating what makes those other beers so unique and special." The spicing's subtle. The quality isn't.
Birrificio Brùton's beers are unfiltered, unpasteurized, and contain no preservatives. Bottles undergo refermentation, and the result is excellent conditioning: frothy foam, finely bubbled CO2. Brùton is very lightly distributed in the U.S., in four states. About 120 cases (12-bottle ones) were distributed through all of 2013. We're glad to see this one have a wider impact.
By Ken Weaver
Suggested Pairing: The World Atlas of Beer, by Tim Webb and Stephen Beaumont
In discussing the huge recent shifts in the Italian craft brewing scene, particularly in terms of beer usurping wine as the beverage of choice there, Tim and Stephen had this to say: "What instigated this change in attitude is not only the number of craft breweries – exceeding 300 as of 2011 – but the character and quality of their beers. Few nations in the world can lay claim to such steep increases in brewery count and reliability over such a short time."
It's very challenging to disagree with that. Particularly when absolutely delightful examples of Italian beer making it stateside come to mind immediately. Panil Barriquée was almost surely my first, some years back: of varying tartness; red- and blackberry notes; otherworldly, while conjuring Flanders. I've found few snappy, zesty Pilsners to rival Birrificio Italiano Tipopils. This is to say nothing of breweries like Le Baladin, Birra del Borgo, or Birrificio Brùton.
I work quite closely with RateBeer, as some folks may know (I handle our 80,000-subscriber newsletter, powered by the site's database and a steady jet of whimsy). So I couldn't help but take a peek under the hood for more recent numbers on the Italian beer scene. It seems that the count of approximately 300 three years ago has been eclipsed. We currently, as of March 2014, have 621 Italian brewers listed in our database. Regarding beers from Italy: Stay tuned.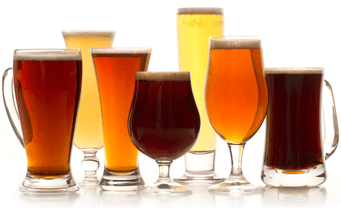 Unmatched Variety by style, brewery & country
Choose from Five different Beer Clubs offering unmatched variety by brewery,
country of origin, and beer style to suit your specific tastes.
DISCOVER OUR FIVE CLUBS