Birrificio Torrechiara (Panil) - Ambrata Barriquée
ABV:

6.5%

Serving Temperature:

47–55° F

Suggested Glassware:

Tulip, Lambic Tumbler, or Pinot Glass

We're obviously big fans of Panil Barriquée, the core offering from Birrificio Torrechiara in Parma. And we immediately fell in love with this limited-edition release from that brewery, which takes the core sour-red, balsamic-tinged profile of Panil Barriquée, while moving the whole arrangement in a much more lambic-like direction. This is a refreshing, immaculately composed sour beer that, for us, combines the very best of lambics and Flanders red ales.
This one's offered as a Rare Beer Club exclusive, and it currently sees no U.S. distribution.
Ambrata Barriquée pours a hazy, golden-honey color that darkens to orange or near-amber, with a perimeter of tiny white bubbles that stick around. Scattered lacing, its visual focus on that golden liquid. This one's a slightly slow build from the aroma, starting with tart lemons and tree fruit, some salty cheese and funk—all underpinned by rounder red fruitiness, notes of almond-like oak, and hints of green olive that play out more significantly in the flavor. It lands almost like bright, intense lambic or gueuze with a modest percentage of a world-class Flanders red ale making itself known underneath. It's unlike anything we've crossed before.
Everything's further amplified in the flavor. There's vibrant, mouthwatering acidity first and foremost, packed with tart lemon and grapefruit, all bright pulp, along with welcome degrees of subtle funk and sweet oak adding excellent layers of complexity beside the sourness. The richer, rounder character of red fruitiness surrounded by a subtle layer of caramel and toffee is dialed down quietly behind the lambic-like approach, adding secondary layers that are just perfectly matched to the central profile here. This never takes on the full impact of a gueuze, instead finding exceptional balance in the tension between those two Belgian stylistic spaces.
The carbonation's dialed back accordingly, and the bubbles are more along the lines of what we'd expect from a mellowed Flanders red ale than effervescent gueuze. It seems to allow a better inlet for getting to those quieter elements of caramel and oak. The green-olive notes in the aroma are even more present, briny and herbal, and a subtle edging of oak tannins offers a nice bit of additional structure keeping everything focused. While we encourage patience in certain beers that require some warming up—this one's stellar from initial pour to last sip.
The brewery typically gives Ambrata Barriquée a best-before date two years after its bottling date. We'd encourage folks to pop a cellared bottle every six months or so to see whether an increase in oxidative qualities (caramel, sherry, etc.) is moving this beer in a direction you dig. This example from Birrificio Torrechiara is especially delicious fresh (and difficult to get), so we'd suggest keeping an eye on things. The core funk and fruity acidity of this beer make it a prime candidate for blue or herbaceous cheeses. It's also potent enough to stand up next to heartier fare, with its red fruits and balsamic-y acidity suggesting roasted pork-loin pairings.
By now, you've probably heard all about the growth in craft beers in Italy. Years of headline-grabbing news from a country so well known for its wines made this seem like a surprising story. Maybe it's simply the novelty of Italian beer, something that seemed oxymoronic (so far as U.S. awareness went) up until perhaps a decade ago, especially in the context of a craft beer selection. We think the best part of the story is the fact that it demonstrates quite clearly that craft brewing is alive and well—enough so that wine nations like Italy and France are all experiencing a key beer brewing renaissance and creating many world-class beers. For years, if you were looking for Italian beer in the U.S., you'd be limited to a somewhat bland set of a few pale lagers from a handful of Italian breweries. But in recent years, quality has improved dramatically and brewery numbers have exploded into the hundreds, though access has not. Until very recently, it was quite challenging to get many beer options from Italy in the States.
Nowadays there are more high-quality Italian beers making it to fine beer establishments in the U.S., and using our best beer-hunting skills, we've lined up one of the most unique for you, from a brewery that embodies the Italian beer renaissance wholeheartedly. Birrificio Torrechiara (aka Panil Birra Artigianale), located just south of Parma in northern Italy, very clearly demonstrates the change in attitude toward beer in Italy. Since the 1930s, four generations of the Losi family have produced Lambrusco-style wine at their family-owned winery. In 2001, Lorenzo (Renzo) Losi persuaded his father to let him put his homebrewing talents to work, producing some game-changing beers under the name Panil. Today, Renzo produces more beer under the Panil label than wine. His philosophy is to produce beer naturally, absent any sort of chemical preservatives, pasteurization or filtration, permitting in his beer the most authentic, natural flavors and preventing the "industrialization" that has struck even traditional producers who send their libations to the U.S. market. In short order, Renzo moved from only stainless steel fermentation to the barrel.
We recently featured Panil Barriquée (from the French word for 'barrel'), which was his first to be fermented in wood, employing cognac barrels. According to Renzo, he is the first Italian brewer in modern times to use barrel fermentation; it's an important move that brings "new tastes, or rather, the recovery of ancient tastes, [the] woody, winey [notes], are absolutely to be recovered," according to Renzo. The result is an interpretation of Flemish red ale brewed in the style of Rodenbach that has earned critical acclaim as a truly remarkable beer; it does not employ added sugars to make the beer more palatable for the masses in the U.S. market, staying appropriately dry and keeping things au naturel, avoiding pasteurization which would kill the living, wild yeast in the bottle. Certainly one of the most intriguing takes on Flemish red ale we've crossed paths with. Redefining the style? Perhaps. Redefining Italian beer? Definitely.
This month, we're excited to offer our Rare Beer Club members access to an even more limited beer from Renzo and Birrificio Torrechiara. Ambrata Barriquée, an exquisite barrel-aged sour amber ale, is a Rare Beer Club-exclusive offering. It's not currently distributed in the U.S. outside of the club—so make a point to share this one!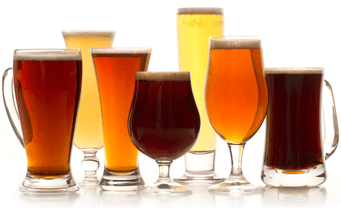 Unmatched Variety by style, brewery & country
Choose from Five different Beer Clubs offering unmatched variety by brewery,
country of origin, and beer style to suit your specific tastes.
DISCOVER OUR FIVE CLUBS