BJ's Restaurant & Brewhouse - Grand Cru
ABV:

10.5%

Serving Temperature:

50–57° F

Suggested Glassware:

Tulip, Goblet
BJ's Grand Cru pours a tarnished golden color in the glass, its pale look belying its strength. An off-white, glistening head caps the initial pour, gradually settling down into a perimeter of intricate lacing. The foam quickly replenishes with any slight jostle, and there's a whole lot of carbonation tucked into this beer, even if the head initially departs. That creamy lacing is the best part of the pour: When roused, this beer looks like latte foam with honey beneath.
The aroma's a touch off-sweet when this comes out of the fridge, so give it some time to get up to a more ideal temperature. Eventually, those white-pepper phenol notes from the yeast take center stage, supported by some dry clove: together providing a nice bitter edge that this beer then expands from. The bitterness is like bedrock here. At first approach this comes off like a Belgian-style tripel, emphasizing those assertive peppery notes as a dominant character, but this covers a lot more terrain. The aromatics show a lot more richness than one generally expects from tripels, offering up some soft doughiness, vanilla, floral honey, and burnt sugar alongside the bittering phenols. Plus: a warming jolt of ethanol occasionally pokes through.
We're really fond of beers that are built like this. It feels like it was built on the foundation of a tripel, leading with that same pepper and bitterness, but it's as if the typical malt core of the style had been built out. There's so much more here than just Pilsner malt: there are honeyed notes, a rich herbal quality, some bright tangerine-like elements (presumably from the orange peel), firm coriander, and far more caramelized sugar than tripels are accustomed to. It's lush and lightly warming, especially after it's allowed to get up to the proper serving temperature.
This tastes like a Belgian-style tripel on steroids, in other words. The addition of orange peel and coriander adds a citrusy brightness and mellowing nuttiness, respectively, to the palate: a lift and a smoothing, if you will. The core maltiness of BJ's Grand Cru indeed feels seamless, going from honey to cotton candy to dates to sweet herbs. The replenishing carbonation and warming alcohol and bitterness keep the sweetness in check throughout, even after this beer starts approaching room temperature. It feels light, deft, and focused—as great tripels do. A nice balance continues in the finish, offering pepper matched with honey, vanilla with clove.
This is bottle conditioned (with living, purpose-dedicated yeast!), and the brewer expects that bottles of BJ's Grand Cru should age favorably for up to five years. So don't be afraid to set some bottles down for a good long rest. There's enough bitterness here to handle some extra oxidative qualities—sherry notes, dried caramel—such that we too expect good things out of cellared bottles. For the bottles you do pop early on, we suggest trying them alongside dishes that will work well with those spiced notes: the bright orange citrus and warm coriander. Try this alongside glazed and grilled pork chops, citrus-marinated chicken, or a spiced apple pie.
Our history with brewmaster Alex Puchner goes back a long ways. Back in 1994 (eons ago), Alex was brewing for what was Laguna Beach Brewing. BJ's wasn't even brewing beers back in those days (it was still called "BJ's Pizza & Grill") and the beer world overall was a far less charted place, especially compared to today. Alex had been homebrewing for nearly a decade at that point and, along with Laguna Beach, had honed his skills at Newport Beach Brewing, Huntington Beach Brewing, and Westwood (not a Beach) Brewing. Amidst all of that, Alex served as a founding brewmaster on the Club's selection panel, working with us for our first three years and providing invaluable insight into Belgian-style brewing in our fledgling days.
Today Alex is the Sr. Vice President of Brewing Operations at BJ's Restaurant & Brewhouse, and we've been looking forward to securing another one of his beers for our members. Back in September 2011 (fewer eons ago) we featured Camaraderie Ale: the collaborative beer that resulted from BJ's involvement with Belgium's Brouwerij Bavik. That first European venture proved wildly successful, to the degree that Camaraderie has become a staple offering at BJ's locations nationwide. This time around, we've chosen a beer that's already got a following.
Grand Cru is BJ's holiday seasonal. It was originally a New Year's Eve release celebrating the new millennium (which is basically a really small eon) and, after winning awards with it early on at the Great American Beer Festival and World Beer Cup, they stuck with the tradition of Belgian brewers by tweaking their holiday-seasonal recipe from year to year. About five years ago, BJ's wisely went back to that original award-winning Grand Cru recipe and stuck with it.
How limited is this bottling? Let's put it this way: BJ's doesn't even own a corking system for this sort of thing. While typically a seasonal, draft-only release, Alex has worked with the fine folks at Lost Abbey and Port Brewing Company (who most certainly do have a corking setup for this sort of thing) to produce this special corked-and-caged release for our members.
It goes without saying that it's great to have Alex involved with the Club again. It's been exciting for us to watch him even further hone his brewing techniques over the years, and this latest batch of BJ's Grand Cru might be the best beer we've ever had from him. We hope our members sip and savor this award-winning selection as happily as we did.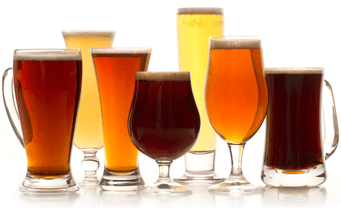 Unmatched Variety by style, brewery & country
Choose from Five different Beer Clubs offering unmatched variety by brewery,
country of origin, and beer style to suit your specific tastes.
DISCOVER OUR FIVE CLUBS