Attention Rare Beer Club™ Members and Microbrewed Beer of the Month Club™ Members!
We at The Rare Beer Club™ and The Microbrewed Beer of the Month Club™ have some of the most fun when lining up special offers for our members (and for ourselves—we'd be lying if we said we didn't stash a few bottles of each of these beers away for our own enjoyment). We look high and low, and sample a lot of beer to hone in on the ones that get us the most excited, and that we think you, our loyal members, will enjoy sampling as well. This month we're very pleased with the fruits of our search: four outstanding beers that are both delicious and unique!
1.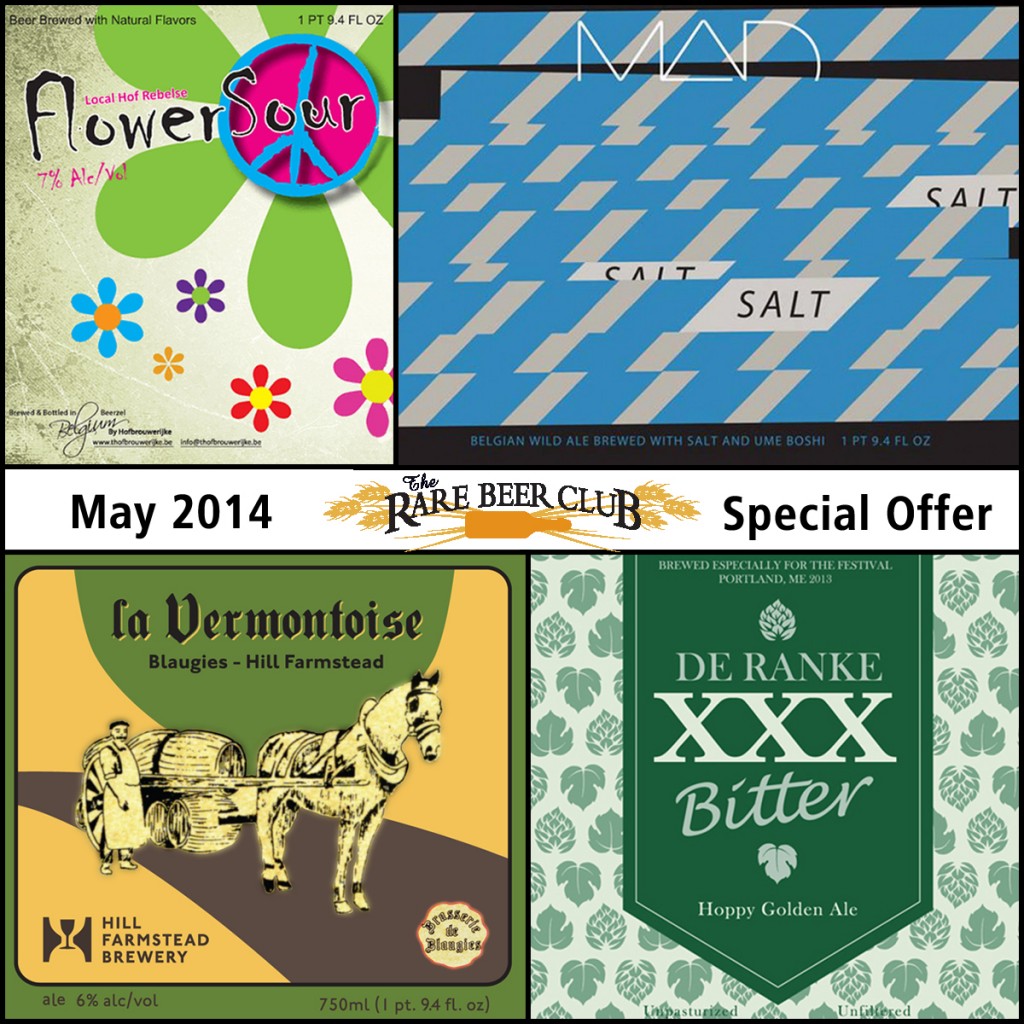 1. De Ranke: XXX Bitter – This hoppy Belgian golden ale is like a boosted version of De Ranke's excellent XX Bitter. Very dry and hugely drinkable, it boasts rounded malt toastiness, notes of white pepper, light cloves and hay, and one of the most fresh and generous mineral- and herb-focused hop characters we've ever tasted. 6% ABV.
2. Hofbrouwerijke: Flower Sour – Brewed with lavender, chamomile, heather, and dandelion, this smooth, inviting sour is much like a Flemish brown ale with a generous extraction of floral flavors and aromatics. The net effects include notes of black pepper, cinnamon, fresh ginger, and a refreshingly bright, lemony tart quality. 7% ABV.
3. Blaugies & Hill Farmstead: La Vermontoise – This spelt saison offers just incredible amounts of pepper and hay and toasty wheat qualities. Prickly carbonation adds ideal texture, while Amarillo hops appear in juicy, orangey fashion on the periphery. One of the best saisons we've had in a long time. 6% ABV.
4. MAD Beer: Salt – In some senses, this wild ale with salt conjures the commingling of a lambic and a gose. There's an intricately developed citrusy tartness and funk, a nicely showcased salted plum quality, toasty wheat, and some touches of juicy hops along with the fruitier, tropical-y Brett. 4.5% ABV.
Flexible ordering allows you to order 2, 4, 6, 8, or 12 total bottles, combining any of the 5 featured beers in any way to get there so that you can easily try all five. Orders ship after our May 20th cut-off date.
Order online or at 800-625-8238 Mon-Fri 7 am – 5 pm Pacific. If your beer club membership was a gift, you will be contacted by one of our team members for payment information if you submit your order online.
**If you wish to get any of these limited selections, please respond to this special offer by 12:00 PM PST on Tuesday, May 20th.**
Prost!
Kris