Blue Mountain Barrel House - Chocolate & Coffee Aged Dark Hollow
ABV:

10%

Serving Temperature:

50-55° F

Suggested Glassware:

Snifter, Tulip, or Oversized Wine Glass
BlueMountain's Chocolate & Coffee Aged Dark Hollow is a limited-edition twist on their flagship imperial stout. For us, this beer embodies what Taylor and BlueMountain bring to the glass: nuanced barrel contributions, pinpoint balance, and a creative approach that takes the bourbon-barrel-imperial-stout archetype and spins it in a wholly different direction. With all the recent attention paid to this sub-style by brewers (including countless combinations of barrels, additions, etc.), it's grown harder to find a barrel-aged imperial stout that feels new.
When you first receive your shipment of Chocolate & Coffee Aged Dark Hollow, do your best (patience is hard!) to allow the contents to settle for a couple days before sampling. This beer is re-fermented in the bottle with live yeast, and a bit of patience and a gentle pour will offer up the best results. In the glass, the Chocolate Coffee Dark Hollow appears slightly viscous: its hazy, caramel-brown edges surrounding a deep brown center. A modest, light-tan perimeter of fine bubbles coalesces, and the pour is ultimately quite distinct from most other hefty stouts of this sort, which typically veer toward pitch-black tones. Even before that first sip's taken, notes of freshly ground coffee come roundly tumbling out of one's glass.
From start to end, this is a showcase of locally roasted coffee and African cacao nibs: a smooth, savory focus without greenness or burnt qualities; layered milk and dark chocolate without overwrought sweetness. The barrel-aged imperial stout at the core offers up an ideal canvas for the coffee and cacao-nib additions, allowing them to play out unabashedly before the mid-palate contributions steady things: toasty oak-derived tannins, bitter chocolate from the specialty malts, and a quiet, well-integrated alcoholic warmth providing some leanness to the beer's body. There's vanilla. There's mellowed bourbon. And there's just the right degree of carbonation, acidity, and bitterness present here to allow these notes to fully pop.
As the glass warms, what one might call the "middle notes" of the malt spectrum are given a more pronounced role: caramel, dried fruits, toffee. While already well balanced as is, bottles that are allowed a bit of cellaring time will begin to show additional dry-caramel notes courtesy of oxidation, further accentuating those middle notes. It's always a precise balancing act to properly age beer, especially one that's drinking so well right now, and we recommend sampling a cellared bottle every three months or so to ensure they're still headed in a positive direction. Just remember to keep enough bottles on hand to be able to maintain proper track of them. (Those who tend to worry are encouraged to confidently enjoy their bottles fresh.)
The long-lasting finish of Chocolate Coffee Dark Hollow speaks of the artful control that built the rest of it, concluding with cracker-y dryness and a modest bitterness that serves to continually temper those rich coffee and cacao elements. While this beer can hold its own against potent, chocolate-based dessert courses, its relative dryness affords it more flexibility when it comes to potential food pairings. Try it as a robust compliment to coffee-rubbed rib eye, or as an amped-up counterpoint to a scoop of smooth, vanilla-bean ice cream.
BlueMountain Brewery in Virginia has already made quite a name for itself within Virginia's craft beer scene, having brought home four Great American Beer Festival medals (two gold) since opening up in 2007. Many breweries would (and do) take the obvious route from there in terms of expansion: invest in a production facility, focus on pumping out as much of their best-selling offerings as possible, and settle in for the long haul. With the opening in 2011 of their second location, Blue Mountain Barrel House, Master Brewer Taylor Smack and fellow partners have given their clear indication that they are decidedly not like most breweries.
It's a great pleasure to introduce Taylor Smack and the Blue Mountain Barrel House to our members. Taylor's brewing experience extends back long before BlueMountain's first location opened six years ago. As an enthusiast of world-class beer, you've likely heard of the Bourbon County Stout from Chicago's GooseIsland – one of the very first bourbon-barrel-aged beers in the U.S. It's long been considered one of the finest examples in existence, even now that everyone's jumped on the barrel-aging bandwagon. For over a year, Taylor was the only person in the world producing that stout, after he'd taken over brewing responsibilities at GooseIsland during 2000 and 2001. That one-of-a-kind experience informs the direction of Taylor's latest venture, and suffice it to say that he's got some other tricks up his sleeve.
BlueMountain Barrel House, overlooking 4,000-foot mountains along the border of the GeorgeWashingtonNational Forest, incorporates a wide range of lessons-learned over the years. The "rural brewpub" model at Blue Mountains' original location encouraged them to go off-grid with their water, drilling a well to ensure more consistent and pristine supplies than they'd likely get from conventional city water. Upwards of 200 barrels currently occupy the Barrel House – Maker's Mark, Wild Turkey, Four Roses, and (Virginia to the core) Elijah Craig – allowing them to pursue a variety of experimental beers and blending programs.
And then there are the cows. Perhaps the most unique element of their new Barrel House results from the sinking feeling that Taylor used to get at their brewpub whenever he emptied out the spent grain left over from making Dark Hollow, which (even after giving up much of its character to that hefty imperial stout) was still full of useable sugars. While this is an (ordinarily) inevitable part of the mashing process, it felt like a major waste. "I'm sure the cows loved it," Taylor jokes, referencing their habit of using the spent grain as farm feed.
Again, most breweries would do the standard thing: stick to the norm. Instead Taylor and his brewery team decided to instead create what is, to the best of our knowledge, the only dedicated, advanced parti-gyle brewing setup in the country, allowing them to not only better extract more of that sugary goodness from a given mash, but to make two beers at once.
"Parti-gyle?" you might ask, "Isn't that that thing in which you make a beer, and then you make another smaller beer with whatever's left over?" Yes. And no. Parti-gyle brewing is most typically seen as a way of making "small beers" in the U.S., which honestly tend to taste like the runner-up beers they inherently are: thin, frequently astringent, with only a very small handful of passable exceptions. At Blue Mountain Barrel House, they've put together a state-of-the-art custom brewhouse (with the folks at Premier Stainless in southern California) that, instead of collecting in two completely separated stages, allows them to constantly shift their sugar extraction between two kettles: greatly decreasing the amount of waste, while allowing them to artfully blend the flow into not one, but two exceptional beers. (Sorry, cows!)
We're pleased to offer our members one of the very first beers from Blue Mountain Barrel House to, via The Rare Beer Club, see significant distribution outside of Virginia. This was our favorite. Be sure to keep up with Taylor and Co. (via www.bluemountainbarrel.com and www.facebook.com/bluemountainbrewery) as they continue to push the boundaries of innovative, world-class craft brewing. We'll be keeping a close eye on them as well.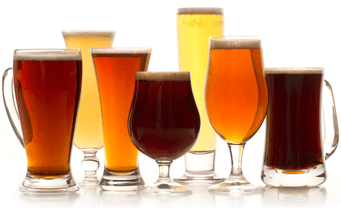 Unmatched Variety by style, brewery & country
Choose from Five different Beer Clubs offering unmatched variety by brewery,
country of origin, and beer style to suit your specific tastes.
DISCOVER OUR FIVE CLUBS