Blue Mountain Barrel House - Isabel
ABV:

8.0%

Bottle Size:

750-ml

Serving Temperature:

52–59° F

Suggested Glassware:

Small Nonic, Tulip, or Snifter
Blue Mountain Brewery's Isabel is an imperial bourbon-barrel-aged porter made with cocoa nibs and orange peels. Named after Isabel, the Princess Imperial of Brazil in the late 1800s—nicknamed "the Redemptress", she emancipated the slaves of Brazil after signing Lei Áurea (the "Golden Law") in 1888—this imperial porter brings together the influence of bourbon barrels (Isabel was part of the Royal House of Bourbon) as well as orange and cocoa (Brazil being a leading producer of both). That concept results in an exceptionally good barrel-aged imperial porter. Isabel is a winter seasonal from Blue Mountain, usually sold only in Virginia. Their latest batch is getting specially packaged into 750mL bottles for our club members.
This pours a deep, dark chocolate-brown color, capped by a creamy tan head with excellent retention and lacing. Generous aromatics of milk and dark chocolate, with firm citrus notes from the orange peel. There's a lot going on with the underlying imperial porter, offering up robust notes of leather and dark fruits, alongside lots of cocoa and some warming bourbon character and oak from the barrel time. Everything's well integrated and smooth, offering a rich porter base with a solid chocolate-orange vibe. Both special ingredients show nicely.
Blue Mountain's Isabel offers substantial mouthfeel and body, leading with expansive cocoa and roasted malts. A rich, deep, flavorful imperial porter forms the core, leading with darker chocolate and roasted nuttiness, with licorice and barrel char on the perimeter adding some welcome bitterness. The additions of cocoa nibs and orange peel meld seamlessly with that base, amplifying the core presence of chocolates and introducing a zesty citrus counterpoint. The bourbon-barrel aging contributes a delicious, chewy layer of bourbon complexity atop everything—providing a final layering of nicely oaked spirit to complement the base beer.
Isabel is sturdy enough for some cellaring time, and we've enjoyed bottles of this aged a year or two that were drinking right on point. The orange-peel addition will probably show most clearly when fresh. For pairings: the chocolate-orange focus here should prove very flexible within the larger vanilla/chocolate/fruit spectrum of dessert options.
Blue Mountain Brewery in Virginia has already made quite a name for itself within Virginia's craft beer scene, including bringing home eight Great American Beer Festival medals since opening up in 2007. Many breweries would (and do) take the obvious route from there in terms of expansion: invest in a production facility, focus on pumping out as much of their best-selling offerings as possible, and settle in for the long haul. With the opening in 2011 of their second location, Blue Mountain Barrel House, Master Brewer Taylor Smack and fellow partners gave a pretty clear indication that they are decidedly not like most breweries.
It's a great pleasure to introduce Taylor Smack and the Blue Mountain Barrel House to our Rare Beer Club members. Taylor's brewing experience extends back long before Blue Mountain's first location opened 13 years ago. As an enthusiast of world-class beer, you've likely heard of Bourbon County Stout from Chicago's Goose Island—one of the very first bourbon-barrel-aged beers in the U.S. It's also been considered one of the finest examples out there, even long after everyone's jumped on the barrel-aging bandwagon. For over a year, Taylor was the only person in the world producing that stout, after he'd taken over brewing responsibilities at Goose Island during 2000 and 2001. That one-of-a-kind brewing experience has certainly informed the direction Blue Mountain has been taking with their Barrel House projects, and suffice to say that he's got some other tricks up his sleeve.
Blue Mountain Barrel House, overlooking 4,000-foot mountains along the border of the George Washington National Forest, incorporates a wide range of lessons-learned over the years. The "rural brewpub" model at Blue Mountains' original location encouraged them to go off-grid with their water, drilling a well to ensure more consistent and pristine supplies than they'd likely get from conventional city water. Hundreds of barrels currently occupy the Barrel House—like Maker's Mark, Wild Turkey, Four Roses, and (Virginia to the core) Elijah Craig—allowing them to pursue a wide variety of experimental beers and blending programs.
And then there are the cows. Perhaps the most unique element of their new Barrel House results from the sinking feeling that Taylor used to get at their brewpub whenever he emptied out the spent grain left over from making Dark Hollow, which (even after giving up much of its character to that hefty imperial stout) was still full of useable sugars. While this is an (ordinarily) inevitable part of the mashing process, it felt like a major waste. "I'm sure the cows loved it," Taylor jokes, referencing their habit of using the spent grain as farm feed.
Again, most breweries would do the standard thing: stick to the norm. Instead Taylor and his brewery team decided to instead create the only dedicated, advanced parti-gyle brewing setup in the country (at the time, at least), allowing them to not only better extract more of that sugary goodness from a given mash, but to make two beers at once.
"Parti-gyle?" you might ask, "Isn't that that thing in which you make a beer, and then you make another smaller beer with whatever's left over?" Yes. And no. Parti-gyle brewing is most typically seen as a way of making "small beers" in the U.S., which honestly tend to taste like the runner-up beers they inherently are: thin, frequently astringent, with only a handful of solid exceptions. At Blue Mountain Barrel House, they've put together a state-of-the-art custom brewhouse (with the folks at Premier Stainless in southern California) that, instead of collecting in two completely separated stages, allows them to constantly shift their sugar extraction between two kettles: greatly decreasing the amount of waste, while allowing them to artfully blend the flow into not one, but two exceptional beers. (Sorry, cows!)
We're pleased to offer RBC members our favorite release so far from Blue Mountain Barrel House: the brewery's Isabel, a delicious, bourbon-barrel-aged imperial porter that otherwise only sees seasonal distribution in Virginia. Be sure to keep up with Taylor and company (at bluemountainbrewery.com) as they continue to explore the bounds of world-class brewing.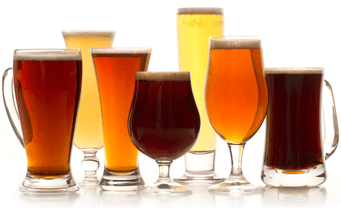 Unmatched Variety by style, brewery & country
Choose from Five different Beer Clubs offering unmatched variety by brewery,
country of origin, and beer style to suit your specific tastes.
DISCOVER OUR FIVE CLUBS