BOMBrewery - Triporteur From Heaven
ABV:

6.2%

Serving Temperature:

41–47° F

Suggested Glassware:

Tulip, Goblet, or Pinot glass
We'll put it this way: the "heavily hopped" elements of this beer certainly got us interested. But that malt character kept us coming back. We were fascinated by Bert Van Hecke's push to roast his brewing malt in-house, and Triporteur From Heaven uses four different types of BOM malt to create a vibrant, crackling core that comes through immediately at the first sip.
The first, BOM Baked (aka BOM B) is kilned at low temperature, producing a smooth round taste of caramelized sugars and fresh bread. BOM Wheat is malted wheat offering a note like popcorn (look for it late in the palate), as well as amped-up head retention. BOM Thorefacto has a name that suggests it should not be messed with ("Your name?" "THOREFACTO!"), though is in fact a contraction of Van Hecke's first son's name and the Torrefacto means of roasting coffee—common in Spain, France, and elsewhere. A small bit of sugar is added and caramelizes around the malt grain during the baking process. (This all sounded very delicious to us, to the point that we later scouted out some Torrefacto coffee.) Lastly there's the BOM Coriander (aka BOM C), a riff on BOM B malt that adds coriander seeds for good measure.
As noted: the malt character on this is something else.
Beyond the four Van Hecke-baked BOM malts are some Belgian dark and white candy sugar additions, which serve to add some pleasant secondary notes and (being highly fermentable) serve to dry out the core of this beer. We found that dryness to raise up the malt flavors and make this far more pleasurable to savor than a sweeter version would be. Long live adjuncts used well. Additionally, BOMBrewery's heavenly Triporteur employs at least three different types of hops: two European (the aromatic East Kent Golding and Styrian Golding), as well as late- and dry-hop additions of American-grown Cascade. The subtle jolt of citrus from the lattermost works quite well here, bringing in some grapefruit pith without stealing the show.
This pours a bright, lightly hazy golden-yellow color, with voluptuous foam coating the top: fine-bubbled, white, billowing. While the intricacies of the malts come through most clearly upon first taste, those later hop additions do wonders for the aroma, giving this a somewhat grassy, herbal, even fruity dimension. The hopping, while not overtly a smack on the noggin with citrusy C hops, isn't timid. As noted, the Cascade additions do a lot of work here with a firm note of fresh lemon, with some secondary notes coming through that seemed to us best described as key lime and tropical. Supporting those hop notes are pleasant pepper and spice (both coriander and very light clove), as well as initial shows of bread and caramelized sugar.
The mouthfeel on this is perfect: retaining lightness and a crisp quality throughout (we kept, in light of the generous hop qualities, referring to it as "juicy"), with a firmly present and fine carbonation counterbalancing the generous core maltiness. Beautifully expressed caramelized sugars that lift, fresh-baked breadiness, ever-restrained notes of honeyed sweetness, and even soft added elements of coriander—we found no lack of delicious facets to dig into here. Add in that nicely dried-out fermentation, seamless integration of parts, and its generous hopping.
Allowing this to warm, for us, tended to increase the role of the malt aspects, as well as what is being contributed by this beer's rather generous (if thus far unmentioned) yeast notes. For a Belgian ale, it says something that we've gotten how many paragraphs into the tasting notes and haven't yet given a concerted glance at the yeast contributions. Roast your own malt, put in some Cascade, and we tend to get sidetracked. The peppery yeast qualities do great things: in addition to the dry feel and near-spritzy bubbles from bottle refermentation, white pepper and bready qualities budge up in a complementary fashion beside those malt-contributed bits of coriander and warm bread. Toward the end of the bottle, those yeast-derived qualities like spice and clove are amped up nicely as the cloudiness of the pour increases. Savor the dregs.
This beer sees minimal U.S. distribution: a couple hundred 6-bottle cases so far this year. In terms of aging potential, the brewery notes Triporteur From Heaven is best drunk young; we tend to agree given the dry hopping. BOM suggests a pairing with young cheese, or mussels.
This month we're excited to introduce to our Rare Beer Club™ subscribers Bert Van Hecke: owner, baker, and brewmaster of BOMBrewery. It's likely that you're already familiar with at least a couple of Van Hecke's previous employers: starting out as a homebrewer, he was later employed by the likes of Orval and Rodenbach, and also served as cellar master at Brouwerij Boon for a brief period. He also worked as brewmaster at St. Bernardus for a spell: releasing their Abt 12 Special Edition to commemorate that renowned brewery's 60th anniversary.
Not a shabby resume.
Those experiences, along with some time spent judging World Beer Cups and working at the also-not-unknown New Belgium, brought together his appreciation of both malt production and the citrusy qualities of American aroma hops. His latest project, BOMBrewery, stands for Belgian Original Malt Bakery and Brewery—one of the more intriguing brewery concepts we have uncovered lately—and we think this month's selection captures all the above quite well.
BOMBrewery is rather unique in that it celebrates the now-antiquated days of brewing when breweries often had their own malt bakery or malting house. Here, Van Hecke in fact roasts all of his own malt in-house: from BOM B and BOM C (see below), to BOM Dark Roasted and BOM Seasalt, that final one employing slight additions of moist sea salt to further refine the final malt character. Van Hecke's deep appreciation of the malting process results in the BOMBrewery releases always being produced from super-fresh malt—each baked within 48 hours of being brewed with. This is all pretty much unheard of in the beer world, and done on a remodeled coffee roaster. We think you'll agree that the results speak for themselves.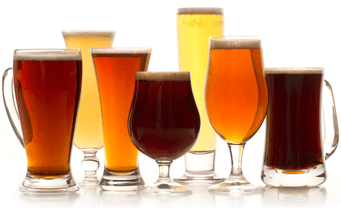 Unmatched Variety by style, brewery & country
Choose from Five different Beer Clubs offering unmatched variety by brewery,
country of origin, and beer style to suit your specific tastes.
DISCOVER OUR FIVE CLUBS