Brasserie Castelain - Grand Cru
ABV:

7.80%

Serving Temperature:

45-50° F

Suggested Glassware:

Tulip or Oversized Wine Glass
Many Bières de Garde are wonderful examples of "hybrid" beer, quite like Germany's Kölsch. In this case, the hybrid description refers to a beer being top fermented (like an ale) yet cool-aged for an extended period (like a lager). The result is a beer with great depth of flavor, smoothed out by time and low temperatures for 6-10 weeks. Indeed, we'll advise right upfront that this beer is impressively slaking for a beer of nearly 16 proof. A variant, known simply as Castelain, has been made by the brewery for many years and was described by famed late beer writer Michael Jackson as: "the sweetest among the Bière de Gardes. Earthy, grassy, citrusy, slightly sticky palate, with aromatic maltiness: long finish. A beer to go with food." Grand Cru is a ramped up version of that beer—the brewery's strongest, in fact. So let's stop keeping and start tasting, shall we? Pours a deep, coppery straw color and wears a nice dressing of creamy, off white foam. On the nose, expect a delicately floral aroma. We found it to be lightly honeyed, with a faint note of gingerbread dough. Also distinctly nutty—we interpreted this as almonds, perhaps chestnuts (sweeter nuts). Not surprisingly then, there's also a very prominent Marzipan note—further showcasing the nutty sweetness of the locally sourced Pas de Calais malt. As it warms, a prominent grassiness develops atop an earthy backdrop. Overall impression: smells like quite a big, rich beer. On the palate, we got a complex blend of moderate sweetness and balancing bitterness, with a minor acidity. A muted funkiness of a farmhouse lilt keeps it rustic within the larger context of balance. Look for notes of orange zest, with the nutty sweetness from the aroma breaking late and holding on into the finish. The bitterness is only moderate, yet contributes toward a very lengthy finish. Overall, this well-carbonated beer showcases a profound balance of malt and hop—truly classic old world beer. But perhaps most notable is the lager-like cleanliness—a result of the ale yeast being fermented at very low temperatures, then cool-conditioned for nearly 10 weeks. For a beer of this caliber and complexity, the refreshing nature is not only impressive, it's downright dangerous. The label has great suggestions for pairing, and they're spot on: roast chicken, country sausages (we tried with venison—delicious!), assertively flavored cheeses (our pick was a semi-soft goat cheese, stuffed in mushrooms).

This is a difficult to find beer. A mere 30 cases are in the hands of distributors around the country—the vast majority was snatched up for our members. While that rarity may tempt you to horde the stuff, should you opt to "garder" your own samples of this beer; we suggest checking in on them over 3-month intervals for no more than a year, as they've effectively been pre-aged by the brewery for you. Our proposal is that you serve this one up with numerous meals during these late summer days—and share it with friends whenever possible—especially outdoors where its thirst quenching properties will be best revealed. But do mind that ABV—it's stronger than it seems!
Summer beer. That thirst quenching brew enjoyed as a respite from elevated temperatures; it's always worth waiting for. The concept of "summer beer" has changed quite a bit over the years, especially during the era of modern refrigeration. Today, we tend to expect "lighter", often wheat-driven styles to emerge this time of year, and in many cases, for this to be the freshest, youngest beer possible. But some of our favorites instead follow the historic cycle of farming life. In the border region between Belgium and France—Flanders—where farming (and farmhouse brewing) has remained commonplace for many hundreds of years, local summer beers were brewed during the winter, well after the harvest, when farm work slowed down. These beers were then kept, maturing until the summer, when they were consumed as refreshing summer beers. Generally, if you were in what is today Belgium, your farmhouse version of this type of beer was called Saison. But if you were on the French side of things, chances are, your version was called Bière de Garde (literally, "beer for keeping", a reference to the interval from winter brewing to summer sipping). Both farmhouse styles, there are differences; idiosyncrasies being common due to various farmhouses using their own methods, ingredients, and local environments. But generally speaking, as a style, Bière de Garde tends to be more malt-focused than Saisons (which typically exhibit greater hop character).

Bière de Garde remains France's only native beer style, and it could have disappeared completely were it not for a handful of farmhouse producers keeping it alive. One such producer is the brewery located in the tiny rural village of Benifontaine, whose name is a reference the long known quality of its water. The artisan, family-owned Brasserie Castelain has been brewing beer here since 1926.

From a town whose population was last tallied at 272, one might expect little variety in the local beers offered. While the volume of beer produced is understandably quite low, the brewery actually offers upwards of 15 different beers at various points during the year. And lest you think that Bière de Garde is one, monolithic "style": where this beer is known and loved, brewers often produce various versions within the broader style. Brasserie Castelain, for example, brews at least five different Bières de Garde! One of them bears the distinction of being France's first certified organic beer.

Brewing in this part of France can be traced back to at least the days of Charlemagne (late 8th – early 9th century A.D.!). Despite that extensive history, production of Bière de Garde had, until fairly recently, waned nearly to the point extinction. Today, Brasserie Castelain is at the forefront of an artisanal brewing revival. Annick Castelain, proprietor and granddaughter of the founder of the brewery, along with head brewer Nicholas Castelain (great grandson of the founder), are keeping tradition alive, while growing awareness of this important style—important not only to the farmhands of France, but to the nation's brewing history, and, the world's overall artisanal brewing tapestry. À Votre Santé!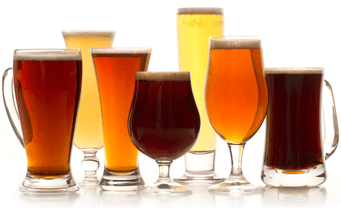 Unmatched Variety by style, brewery & country
Choose from Five different Beer Clubs offering unmatched variety by brewery,
country of origin, and beer style to suit your specific tastes.
DISCOVER OUR FIVE CLUBS