Ardenne Spirit Old Ale Brasserie de Bastogne - Ardenne Spirit Old Ale
ABV:

9.5%

Bottle Size:

750-ml

Serving Temperature:

48–55° F

Suggested Glassware:

Snifter, Tulip, Small Nonic or Pinot Glass
The importer of Ardenne Spirit Old Ale didn't bring any to the U.S. last year, nor did any of Brasserie de Bastogne's other delicious products make it stateside. Artisanal Imports is planning to relaunch the brand in a very small, targeted way in early 2018, and Rare Beer Club members will be the very first to receive this month's featured Ardenne Spirit Old Ale. Their importer currently plans to release this in 10 to 12 U.S. markets in 2018, and in very limited quantities.
As with many of Brasserie de Bastogne's beers, their old ale is actually fermented courtesy of the same yeast strain as the world-famous Orval. (The brewery sources yeast and lab services through Brasserie d'Orval itself.) Ardenne Spirit Old Ale was the beer in Bastogne's line that truly gave us pause. It uses 100% malt, which is to also say no sugar, which helps contribute to the lush, multilayered malt character that serves as one of the core foundational elements of this style. This old ale rendition also, in very much a new-world mindset, incorporates the impactful hop varieties of Nelson Sauvin, Citra and Mosaic, which provide a solid ruddering bitterness plus endearing lime, grapefruit, and other fresh fruits. It's an old ale like no other.
Ardenne Spirit Old Ale pours a deep, lightly hazed amber, moving from golden edges to that deep caramel color at its core. There's a creamy, fine-bubbled light tan foam capping things, a dense layering of bubbles that's surprisingly resilient given the ABV on this beer. The head leaves behind dense lacing. While this definitely benefits from ample time to warm up from a chilled fridge temp, those aromatics are expansive from the start: chewy layers of candied red fruits and caramelized sugars—from cotton candy to fresh fig. There's a lean vein of warmth via the alcohol, but that's vinous and plush like everything else here. This makes an entrance.
And, whereas a lot of old ales can land a bit flabby or over-caramelized, here those extra hop additions mentioned above offer a firmly persistent bitterness and hop flavors that, while out of traditional style bounds perhaps, for sure add extra components that worked wonders for us. This is impressively built up, with lively, tightly packed carbonation underneath, as a very familiar and peppery yeast profile amplifies the modest bitterness of those hops. We found a dense collection of fruit present: from rich ripe apples and vinous warmth to various tropical angles of sweet lime and bitter citruses. This has already developed a beautiful oxidized layer that hits those delicious sherry- and madeira-like notes, and we anticipate great things ahead.
This still might feel a bit young to you for an old ale, as there's still very vibrant red fruit and hop qualities playing out alongside the core caramels. This has sufficient ABV and is crafted to age gracefully with some cellaring time, though just keep an eye on that overall oxidation as you crack bottles down the line. The combo of caramelized elements and red fruit had us thinking in the direction of pork loin or roasted wild duck. Possibly vanilla-cheesecake turf.
The tiny Brasserie de Bastogne in Vaux-sur-Sûre in southern Belgium has at least a handful of things going its way. The farmstead brewery got its original brewing equipment from the esteemed Brasserie Artisanale de Rulles, home of some world-class beers (including its Triple and Estivale!). Brasserie de Bastogne happens to also be located in the town of Bastogne—a key historical battle site during World War II that tipped in favor of Allied forces. Also, the brewery just happens to be making use of the Orval Brewery's yeast and lab services, taking that charismatic yeast strain and employing it in styles like stouts and saisons and old ales. It sure doesn't hurt that everything we've sampled from this Belgian brewery has been stellar.
Brasserie de Bastogne got its start in 2008 and currently produces a diverse variety of styles, often focused around those Orval yeast characteristics. Their Ardenne Spirit Old Ale, one of our two featured beers in the Rare Beer Club this month, was the standout of everything we have tried from this brewery so far: a hugely layered, world-class example of a style that can be pretty hard to track down. Brasserie de Bastogne's example happens to use Citra, Mosaic, and Nelson Sauvin hops, for added effect. The brewery's Ardenne Saison is fermented with wild Brettanomyces from the region, along with Cascade and Hallertau hops. And the Bastogne Pale Ale, a potent package of pale hoppy goodness, has picked up an number of prestigious awards in its relatively short lifespan, being named Best Belgian Beer of Wallonia in 2012.
And that's just scratching the surface of the brewery's lineup. They've also got a popular line of Belgian styles under the Trouffette line, including Blonde, Brunette and Rousse versions, plus seasonal takes like La Trouffette Belle d'Eté (a well-regarded witbier). The Brasserie de Bastogne's beers are generally unfiltered and refermented in their respective bottles, and we have had some exceptional experiences from this little-known brewery thus far. This will be the very first beer from Brasserie de Bastogne most Rare Beer Club members will get to try, and we think their Ardenne Spirit Old Ale is just a perfect, bar-raising example to start with.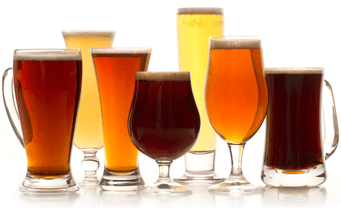 Unmatched Variety by style, brewery & country
Choose from Five different Beer Clubs offering unmatched variety by brewery,
country of origin, and beer style to suit your specific tastes.
DISCOVER OUR FIVE CLUBS