Brasserie de Blaugies - La Moneuse
ABV:

8.0%

Serving Temperature:

50–57° F

Suggested Glassware:

Tulip, Goblet, Burgundy Glass
The longer one frequents the good-beer world, the more challenging it becomes to interact with a truly classic beer for the first time. You only get one first sip of Saison Dupont before you spend the rest of your life revisiting it. Same goes, one could argue, for examples like De Dolle Stille Nacht, or Westvleteren 12, or Tripel Karmeliet, or any number of beers from far beyond Belgium as well. It's hard to replicate how transformative and exciting the first sip of that nectar can be. Not for everyone, of course—but certain beers just have a stellar batting average on that front, and we're excited to pick one that flies under many beer lover's radars.
We've featured exceptional beers from Brasserie de Blaugies before in The Rare Beer Club, as some of our most avid members may recall. We included their Special Winter Ale during the early months of 2009, while Darbyste (a lighter saison with figs) was warmly received by our members during the summer of 2010. While La Moneuse, our current selection, doesn't have quite the same level of international name clout as examples like Saison Dupont, Thiriez, or, say, Brasserie Fantôme, it's a pristine example we believe everyone should try (at least!) once.
For us, it's one of those beers we generally can't pass up.
The early pours of this are brilliantly clear, bright golden brown, and topped by an off-white foam that seems inclined to fill up one's glass. The head lingers, built out of resilient bubbles of miniscule dimensions, the beer's lacing holding tight to the sides of the glass. The aroma's a good sign that this is heading for territory quite distinct and clear, heading away from that more-familiar peppery and fruity Dupont yeast profile and instead opting for something that is a bit more delicate, at least in the nose: hay, grassy herbs, spicy hops, sliced ripe pears. It's effortlessly dry on the approach, with just the slightest hint of cotton candy underneath it: a mouthwatering, farmhouse-conjuring, and entirely distinct saison profile from the very start.
The complexity and dryness on this (just to try and put a proper perspective on it) suggest a similar degree of excellence to something like a well-aged De Dolle Dulle Teve, with candied notes and caramelized complexity lurking within—yet taking a backseat to plush drinkability. At first sip, one immediately catches that effervescent, Champagne-like carbonation, plus the high attenuation/dryness, plus so much going on that one isn't quite sure where to start. It's a lovely Belgian farmhouse saison that feels like it's entirely its own beast, with those hay and (slightly more delicate) herbal notes expressing themselves at similar volume to the arguably more familiar saison notes of caramelized sugar, fruits, and spicy bitterness. It's a pleasure to drink, most assuredly, and notes of herbaceous tea and a rich earthiness do great work here.
As this is nicely dry and on point as is, we encourage members to sample bottles early on to get a clear sense of where it's starting. While bottle conditioned and precisely brewed, there's not a huge impetus for us to let these bottles linger, as we enjoy those herbal notes showing at the forefront. Your mileage may vary. We'd recommend trying this alongside simple herb cheeses or, somewhat similarly, brined and roasted turkey stuffed with garlic and herbs. (The latter selection should work rather nicely alongside the beer's light caramelization.) Whatever you decide to do with your bottles of La Moneuse, note that the brewery produces less than a thousand barrels to go around annually. So take the time and savor this less-familiar classic.
Some of the world's best beer is brewed in unconventional places, like a kitchen washtub (that's basically where Hoegaarden got its start), and is made by some unlikely characters. You may have a friend who makes their own beer at home. Perhaps you yourself are a homebrewer. Maybe that beer is good enough to be sold (don't do it—it's illegal to sell homebrew in the States!). Well thankfully, the homebrew created at Brasserie de Blaugies, a brewery built in a two-car garage by a pair of schoolteachers, can legally be sold, although there's not that much of it to go around.
Marie-Noëlle Pourtois and husband Pierre-Alex Carlier established their brewery in 1987 in the small village of Blaugies (near Dour, Belgium), just a few hundred yards from the French border. Together, they have come up with a formula for creating world class specialty beers, with a distinct and unique flare all their own, right in their small farmhouse. The brewery is truly a family affair, as the next generation has joined the parents and taken over many of the roles within the business. Son Kévin performs the brewing with his wife Bérangère and her father Claude, while the youngest son, Cédric, runs the small adjacent farmhouse restaurant known as Le Fourquet with his wife Stéphanie.
Brasserie de Blaugies has garnered local and international praise for their inventive take on traditional farmhouse style Belgian beers. As such, it's not surprising that the Blaugies beers are discussed at some length in famous beer writer Michael Jackson's classic: The Great Beers of Belgium. Blaugies also collaborated with Hill Farmstead early last year, and we'd love to see more such collaborations between this traditional Belgian brewery and Belgian-inspired brewers from the U.S. and around the world.
The Carlier/Pourtois family enjoys good food and beer, and consumes a lot of its own product for cooking and drinking. They're also just about the nicest folks you're likely to meet. Their beers have a distinctive character when compared to other, nearby commercial examples (like Saison DuPont), leading to a flavor profile that gives the impression that the brewer put the beer in the bottle just a short while before you popped the cork; fresh, family-brewed beer—this is artisanal brewing at its very best.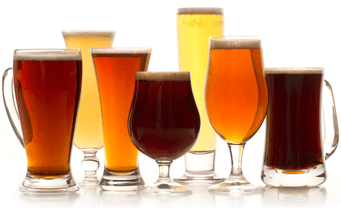 Unmatched Variety by style, brewery & country
Choose from Five different Beer Clubs offering unmatched variety by brewery,
country of origin, and beer style to suit your specific tastes.
DISCOVER OUR FIVE CLUBS