Brasserie de Jandrain-Jandrenouille - III Gravity Special
ABV:

7.5%

Bottle Size:

750-ml

Serving Temperature:

45–52° F

Suggested Glassware:

Tulip, Teku, Chalice, or Pinot Glass
Brasserie de Jandrain-Jandrenouille has been making some of our favorite Belgian releases, and we've managed to work with the brewery to create a Rare Beer Club exclusive for our members this month. This beer is a complete reformulation of an earlier beer that we'd dug from them, including a huge dry-hopping with vibrant Sorachi Ace hops. The use of 'III' in the title is a nod to the Belgian tripel style—but this release goes to a space entirely its own.
III Gravity Special pours a hazy golden-brown in the glass, capped by a layer of glistening off-white foam that most certainly feels Belgian: super-miniscule bubbled, great retention, and lacing that lingers along the sides of the glass with a quick tilt. Sturdy. Nicely foamed.
The aromatics here are as beautifully hop-forward as we were hoping for: herbaceous and minty and refreshing, with that charismatic lemon and lime playing out from Sorachi Ace dry-hopping. We'll get into just how deep those hops go. The malt presence appears as a biscuity, crisp undercurrent, while the Belgian yeast character here brings a lot of almond and complex spice to the fore. There's some exceptional minerality present throughout.
The aromatics are definitely worth spending some time with, but the flavor is where this one takes things to a whole different level. This is magnificently hop-forward, packed with tasty, potent bitterness right from the start, but the way that that hop presence expands into a vast landscape of hop flavors is what gets us the most: packing in fresh-cut herbs, deep minerals, and just the right amount of Sorachi Ace hops—which bring a perfect level of pungent and pithy lemon character. There's even a touch of dill coming through from those hops as well, which budges up perfectly with the herbal/minty core of this release. The yeast notes work in tandem, providing some peppery spice along with apple and ripe-pear fruitiness, giving a softer landing for the hop waves. Unlike anything we've had before, even from this brewery.
Given the hop-forward nature of III Gravity Special, we'd definitely encourage folks to pop this one fresh to get the fullest expression of the late- and dry-hopping additions. Like with Perennial's Funky Wit, there are some crucial elements of citrus and herbaceousness playing out here, and both featured beers seem primed for a creamy, herbal goat cheese. The potent bitterness here also seems built to cut through fattier cheese and herb-inclined pork fare.
Belgium's beer scene is heavily steeped in tradition—and part of that tradition is brewing to the brewers' preferences. Less a matter of stylistic adherence (as tends to be the case for, say, British and German brewing histories), the Belgians brew what they like, and by now they've got some pretty excellent taste. Still, there can be a general Belgian-ness that many traditional brewers feel ought to be adhered to among the nation's beers, and it seems that adding "too many hops" is something that is a bit disruptive to that stamp. But there has been a modern emergence of Belgian brewers who wish to take things further into the unknown, branching out into hoppy experimentation—to the delight of beer geeks like us. Alexandre Dumont de Chassart and Stéphane Meulemans opened Brasserie de Jandrain-Jandrenouille in 2008, and this farmhouse brewery quicky created quite a buzz (literally and figuratively) among the beer cognoscenti, and that was just with the first two beers: IV Saison and V Cense. Some of our long-standing Rare Beer Club members may recall these delicious releases from the brewery. Unusual in their brewing process is the fact that they don't use Belgian Candi sugar to derive their beers' vast complexity. In the first release only four ingredients—water, malt, hops, and yeast—were used, which makes them relative outliers in the Belgian beer landscape (and they almost covertly highlight this in the name 'IV' Saison). Only four ingredients? How German.
But not really German at all… Their 2nd beer, V Cense, has five ingredients (they've added a "proprietary spice"), while another unusual move is their use of imported American hops for dry-hopping many of their beers—providing some of the freshest, most vibrant hop aromas in any farmhouse ales brewed in Belgium. It's not so surprising, given the brewers' history of working with Yakima Chief, Inc., the well-known producer/distributor of Pacific Northwest hops and hop products. This unusual crosspollination of American and Belgian influences all takes place within a small (10hL) brewery, built inside of an actual 18th-century farmhouse. If you ask them, they'd say that by going heavy on the hops, they're actually brewing even more traditionally. Saisons, per the brewery's research, were historically quite bitter—and Brasserie de Jandrain-Jandrenouille is returning to that tradition, with some overseas hops in the mix.
We've featured their IV Saison and V Cense previously, and given the positive feedback we got regarding those beers, we've managed to bring this exceptional Belgian brewery back to The Rare Beer Club with a release exclusively available to our members: III Gravity Special.
Alexandre Dumont de Chassart is currently heading Brasserie de Jandrain-Jandrenouille, and in 2016 the brewery committed to sourcing their ingredients as locally as possible, with water pumped from the village, malts being source from a farm based in Corroy-Le-Gran, and 96 solar panels that cover around 80% of the brewery's energy consumption. The main things they aren't sourcing locally are those delicious U.S. hop varities. For folks heading to central Belgium, tours are available by appointment only by emailing [email protected]. For more info on the brewery and details on said tour, head on over (possibly with Google Translate open...) to the brewery's website at www.brasseriedejandrainjandrenouille.com.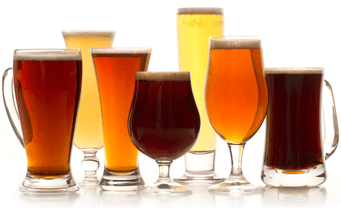 Unmatched Variety by style, brewery & country
Choose from Five different Beer Clubs offering unmatched variety by brewery,
country of origin, and beer style to suit your specific tastes.
DISCOVER OUR FIVE CLUBS