Brasserie de Jandrain-Jandrenouille - IV Saison
ABV:

6.50%

Serving Temperature:

45-50° F

Suggested Glassware:

Tulip, Oversized Wine Glass or Pint Glass
As the name implies, Saison is a style that is seasonal by design. It was developed in the countryside of the French speaking region of Belgium known as Wallonia as a beer to be brewed at the end of the cool season that would be consumed in the heat of summer. Like many farmhouse beers, Saison had to be sturdy enough to endure the extended time from brewing to consumption, yet needed above all else to be enjoyable at the end of a hot summer's day. Saison is similar in many ways, including regional genesis, to France's equivalent farmhouse style known as Bière de Garde; but like so many Belgian beers, Saison is naturally spicy from Belgium's distinctive yeast strains, with more hop presence and farmhouse "funk" as well. The image on the label of IV Saison depicts the hop harvest, as mature hops are plucked from their bines (FYI for your next round of beer geek trivia: the term is hop 'bines,' not vines). With this style, we prefer not to rouse the sediment from the bottom of the bottle, pouring somewhat gingerly. Expect this beer to present as a pale-to-medium-straw color with a huge, brilliantly white head that remains indefinitely after sinking from epic heights. Note a tremendous amount of Saison's characteristically mighty phenolics on the swirl—in this case these notes start less clove-like and more like hot plastic (while it might not sound appealing, it's perfectly appropriate for the style and works within the overall spiciness of the beer). Note also a tartness, like SweeTARTS candy and under-ripened raspberries. The phenolics blend is quite robust, and even clove notes get into the mix as the beer warms (rarely does one find both potent cloves and more plastic-y notes in the same brew, and rarer still does such a combination actually work. Impressive.). A truly agrarian concoction, look also for notes of crushed aspirin, lemongrass, rosewater, fresh-cut grass and straw on the nose. What is most impressive is that no sugars or spices were used in brewing this beer. The vast complexities are due exclusively to the alchemy of brewer's art and yeast. For all its pageantry on the nose, you cannot predict the flavor cascade and sensations that follow once it has crossed the lips. The experience of one sip lasts for minutes, so savor that first sip as the sensations and experience unfold. Expect an exquisitely floral opening, with faintly spicy hops in high presence and working their lemony, tea-like magic to the fullest. Unlike any traditional Saison out there that we know of, this beer integrates US hops (for dry-hopping), and does so beautifully as the hops are quite bold but not overpowering. This beer flirts with a Champagne-like character, partially owing to the high levels of carbonation that have risen in the bottle as the bottle-bound yeast have been munching on natural malt sugars in the beer and exhaling CO2. Notice the abundance of earthy yeast tones and bitter peach notes as it warms. IV Saison finishes bitter, but it's a refined, elegant bitterness that is supplemented with a gentle tart quality and a growing spiciness as it comes to room temperature. Very complex, sit with this and admire the variation of experiences that each sip delivers. Do not pair with food until you have fully experienced this beer on its own, as you may deprive yourself the full expanse of the flavor profile. Later, consider pairing with an earthy Fontina or Camembert cheese.
Belgium's beer scene is steeped in tradition, and part of that tradition is brewing however they damn well see fit. Less a matter of stylistic adherence, like the doctrine of the British and the Germans, they brew what they like (and happen to have excellent taste, in our humble opinions, as we like what they brew). Still, there has been a modern emergence of Belgian brewers who wish to take things further into the unknown, branching out into unexplored ingredients and experimentation, much to the delight of beer geeks who follow such brewers in cult-like fashion, or, start breweries themselves, like Alexandre Dumont de Chassart & Arnaud Thomee did when they opened Brasserie de Jandrain-Jandrenouille. Only open since 2008, this brand new farmhouse brewery is creating a tremendous buzz (literally and figuratively) among the beer cognoscenti, and that's just with their first beer, IV Saison. Unusual in their brewing process is the fact that they do not use Belgian Candi sugars or even spices to derive this beer's vast complexity—only four ingredients, water, malt, hops and yeast, are used, which makes them relative outliers in the Belgian beer landscape (and they almost covertly highlight this in the name 'IV' Saison). Another unusual move is their use of imported American hops for dry hopping the beer, providing one of the freshest, most vibrant hop aromas in any Saison ever brewed in Belgium. Four cheers for melding tradition and 'haute alchimie.' If you'd like more information about the brewery, a visit to their website may, one of these days, prove fruitful (at time of print, the site was limited to the picture of the IV Saison label). They're busy. We get it, and we don't mind; we'd rather they invest their time in making the beer than with web-design And the award for longest brewery URL goes to: http://www.brasseriedejandrainjandrenouille.be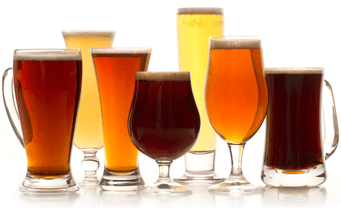 Unmatched Variety by style, brewery & country
Choose from Five different Beer Clubs offering unmatched variety by brewery,
country of origin, and beer style to suit your specific tastes.
DISCOVER OUR FIVE CLUBS