Brasserie de Jandrain-Jandrenouille - V Cense
ABV:

7.50%

Bottle Size:

12-oz

Serving Temperature:

45-50° F

Suggested Glassware:

Tulip or Oversized Wine Glass
Non-filtered, non-Pasteurized, and refermented in the bottle (plus a cool, monumental label to boot), V Cense pours a very attractive brassy amber color which starts quite clear and gains cloudiness as you approach the bottom of the bottle and pick up some of the sedimented yeast. This beer is dressed by a tight-bubbled eggshell head that dissipates to a thin covering surrounded by a nice thick collar. On the nose, expect notes of mulled citrus (mandarin and clementine come to mind), with a subtle whiff of green apples. There are some mutedly pungent hop qualities, but they're difficult to characterize—not quite announcing their US heritage, and not entirely continental—a very interesting and unique hop character here. On the palate, expect semisweet flavors with a hint of gingerbread, plum, dark rum and citrus. As it warms, look for suggestions of strawberries, melon (think pumpkin flesh) and toasted malt. Finishes bone dry with a berry-like tartness, compounded by a moderate hop bitterness that just barely hints at grapefruit. At full warmth, caramel notes and zesty orange-peel and rye spiciness develop along with some earthy, botanical notes. This is a really interesting follow up to their IV Saison; darker, a bit more brooding, and a nice contrast for a vertical tasting, if you're hanging on to the IV Saison. While the bottle-conditioning means this beer will mature and develop over time, the fresh hop aroma will fade with time, so we definitely recommend sampling this now, and maybe laying down a bottle if you're trying to build a vertical series (the brewers are already up to their next beer, VI Blanche). So what's with these names? Well, IV Saison is a play on words (four seasons, being a saison-style beer, that featured only four ingredients). V Cense is also a play on words; 'cense' is an old Walloon term for a farm such as the one where the Jandrain-Jandrenouille beers are brewed, but it is also pronounced the same as 'sens' ('sense' in English), which makes sense after all, considering this farmhouse beer has five ingredients. Enjoy!
Belgium's beer scene is steeped in tradition, and part of that tradition is brewing to the brewers' preferences. Less a matter of stylistic adherence—which is the doctrine of the British and the Germans—the Belgians brew what they like (and happen to have excellent taste, in our humble opinions). Still, there is a general "Belgian-ness" that many traditional brewers feel ought to be adhered to among their nation's beers. It seems that adding "too many" hops is something that is a bit disruptive to that stamp. But there has been a modern emergence of Belgian brewers who wish to take things further into the unknown, branching out into hoppy experimentation, much to the delight of beer geeks who follow such brewers in cult-like fashion. Or to those like-minded folks who start breweries themselves, like Alexandre Dumont de Chassart and Stéphane Meulemans did when they opened Brasserie de Jandrain-Jandrenouille. Only open since 2008, this young farmhouse brewery is creating quite a buzz (literally and figuratively) among the beer cognoscenti, and that's just with their first two beers, IV Saison and V Cense. Unusual in their brewing process is the fact that they do not use Belgian Candi sugars to derive their beers' vast complexity. In their first beer, only four ingredients: water, malt, hops and yeast were used, which makes them relative outliers in the Belgian beer landscape (and they almost covertly highlight this in the name 'IV' Saison). Only four ingredients? How positively German!
But not really German at all… their 2nd beer, V Cense, has five ingredients (they've added a "proprietary spice"). Another unusual move is their use of imported American hops for dry hopping the beer, providing one of the freshest, most vibrant hop aromas in any farmhouse ale brewed in Belgium. Not surprising given the brewers' history with Yakima Chief, Inc., the well-known producer/distributor of Pacific Northwest hops and hop products. This unusual cross-pollination of American and Belgian influences takes place in their small (10hl) brewery, built inside an old rustic 18th-century farmhouse. If you ask them, they'd say that by going heavy on the hops, they're actually brewing even more traditional saisons than other Belgian brewers; saisons, per the brewers' research, were historically quite bitterly hopped—and they're returning to that tradition, albeit with some overseas hops in the mix.
We've featured their IV Saison in the past, and are pleased to be featuring their follow up beer, V Cense. If you still have the IV Saison, consider a side-by-side tasting. You can definitely pick up on the brewery's distinctive stamp, though these are very different beers.
If you'd like more information about the brewery, a visit to their website may, one of these days, prove fruitful (at time of print, the site was limited to the picture of the IV Saison label). They're busy. We get it, and we don't mind; we'd rather they invest their time in making the beer and distributing hops than with web-design: brasseriedejandrainjandrenouille.be.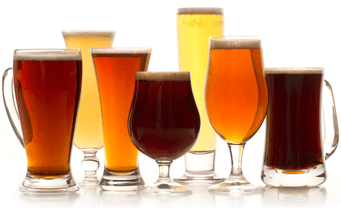 Unmatched Variety by style, brewery & country
Choose from Five different Beer Clubs offering unmatched variety by brewery,
country of origin, and beer style to suit your specific tastes.
DISCOVER OUR FIVE CLUBS