Brasserie De La Senne - Bruxellensis
ABV:

6.5%

Bottle Size:

750-ml

Serving Temperature:

45–52° F

Suggested Glassware:

Tulip, Chalice, Goblet, or Pinot Glass
This month's limited release from De La Senne is pretty much exactly what fans of this great Belgian brewery might be hoping for, combining delicious elements of Brettanomyces with that firmly bitter profile this brewery is known for. Only about 60 cases of this beer have made it to the U.S. thus far this year, such that Rare Beer Club members will have an opportunity to check out a De La Senne offering that won't see much further availability. This Belgian ale is 6.5% ABV, and so much of the character here comes via influences of the Brettanomyces yeast from Brussels that this beer is refermented in the bottle with. The final result is an especially drinkable beer—ranging from tropic to mineral to spicy—that seems to offer endless depth.
Bruxellensis pours a deep, bright golden color in our glasses, releasing a continuous stream of effervescent bubbles from below. This is nicely carbonated from the bottle conditioning, as a dense, finely packed layer of white bubbles caps things. The generous aromatics, particularly from the Brettanomyces, are immediately apparent, highlighting pineapple and hay and peppery spice, with an herbaceous and mineral-driven hop character seamlessly supporting the yeast. There's a lot of generous fruit present: from ripe apple and cherries to sweet Meyer lemons.
This local Brett beer is one of the finest beers we've ever had from De La Senne, offering up a complex bitterness throughout the experience—making us think of their Taras Boulba, for sure—but it also adds in a complex Brussels Brettanomyces contribution throughout. A vibrant and effervescent lift of carbonation hits the tongue first, with subtle tropics that range from pineapple to passion fruit, while an undercurrent of perfectly handled bitterness wells up as we're focusing on those Brett notes, bringing rich herbal notes, pine, and complementary citruses. Ripe cherry, leather, and even a hint of smoke courtesy the Brett, add layers into a masterful beer.
The brewery suggests a best-before date of about two years out for Bruxellensis, so feel free to experiment with some shorter-term cellaring with this one—keeping in mind that this will continue to develop in the bottle courtesy of its Brettanomyces, though that hop bitterness will fall off with time. (We're digging it fresh.) For food pairings, we're inclined to bring in some Humboldt Fog, fresh Brie, or herb-crusted chevre: robust cheeses for a remarkable wild ale.
We've long been fans of the work of Yvan De Baets and Bernard Leboucq at Brasserie De La Senne in Brussels, and this month we get to offer up a very special release from these folks, their Bruxellensis: an absolutely delicious Belgian ale that's been refermented with 100% Brussels Brettanomyces yeast. We think our members are going to love this one.
Yvan and Bernard met back in May of 2002 at Brussels' Zinneke parade, for which Bernard had created a beer called Zinnebir (a name many of you will recognize). The pair would soon after launch a microbrewery near the end of 2003 by the name of Sint-Pieter Brouwerij, in a warehouse facility of former lambic blendery Brasserie Moriau. After two years their brewery had already outgrown its location, and they started a move to their dream location, Brussels, where both brewers had been born. "To mark the occasion, we named our brewery after the river from which our city was born more than a thousand years ago: Brasserie de la Senne."
Their move to Brussels would take five years, during which time Yvan and Bernard would rent brewing facilities from various brewery friends, setting up situations where they were able to brew the beer themselves. The very first De La Senne beer brewed within Brussels was created on December 22nd, 2010—at which time the brewery managed to double the number of active breweries operating in Brussels. The only other one had been Cantillon.
De La Senne prioritizes its local market first: "Brussels is our first market, followed by the rest of Belgium." The net result is that only a small amount of De La Senne's production makes it out of the country, though the brewery already has strong followings in spots like Japan and Italy, as well as the United States. The brewery emphasizes bitterness especially in their beers (as fans of Taras Boulba know well), noting, "We took on the challenge to bring this flavour—so fundamental in the evolution of human societies but sadly neglected in our modern societies—up to date." The brewery's beers are generally unfiltered, unpasteurized, and frequently on the lighter side when it comes to alcohol. Taras Boulba comes in at 4.5%. Their Belgian-style Stouterik is 4.5%. Zero surprise they've made a saison called Crushable.
If you especially enjoy the De La Senne Bruxellensis, definitely check out some of the other beers from this brewery making it stateside. Taras Boulba is an exceptional treat: the hugely sessionable blonde ale from De La Senne that's packed with aromatic hops. In All About Beer, Jeff Alworth wrote of Taras Boulba: "It crackles like club soda and builds up a thick head of meringue, roiling with a tempest of bubbles. It has a wholly unique flavor: a bright lemon stiffened by minerally hard water up front, then a slow evolution into a dry herbal finish." It is delicious, and you should drink some. Ditto for the well-hopped and golden Zinnebir, and the impressively bold (but still 4.5%!) Stouterik. Also, do keep an eye out for occasional one-offs and collabs; the brewery's worked with folks like Jester King, Thiriez, and Tired Hands.
For folks visiting the Brussels area, the taphouse and shop hours are available on the De La Senne website. The brewery is primarily a production facility, with tours being available for groups of 15 of more. More info about tour fees and appointments can be found at the De La Senne website as well, with a key benefit being that the tours are conducted by one of the two owners/brewers, Yvan or Bernard. Find out more at brasseriedelasenne.be.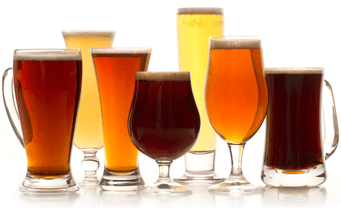 Unmatched Variety by style, brewery & country
Choose from Five different Beer Clubs offering unmatched variety by brewery,
country of origin, and beer style to suit your specific tastes.
DISCOVER OUR FIVE CLUBS