Brasserie De Silly - Chardonnay Barrel Aged Scotch Silly (Rare Beer Club Exclusive)
ABV:

10%

Bottle Size:

750-ml

Serving Temperature:

45–52° F

Suggested Glassware:

Tulip, Goblet, Thistle, or Chardonnay Glass
This special release from Brasserie de Silly, a limited barrel-aged offering of the brewery's famous Scotch Silly ale, gets aged in a particular type of barrel, the variety of which varies each year. We have recently seen the likes of Bourbon-, Bordeaux-, Cognac-, and Pinot Noir-barrel-aged versions. But this version, aged in Chardonnay barrels, is something truly unique. It combines the rich, caramelly impact of its Scotch Silly base with fruity, vinous counterpoints from that residual barrel character. Very few cases were sold in the U.S. in 2022 and no sales are planned for 2023 beyond the allocation for Rare Beer Club members.
There are a lot of familiar elements to dig into in this beer. As we pour it, our glasses are filled with a rich, slightly hazy, amber to brown liquid. A thick off-white head formed and lasted a good amount of time, allowing light ribbons of lacing to form with each sip. The aromas exhibited pronounced caramel and roasty malt notes, vinous white wine expressions, and fine layers of warm oak, vanilla, and hints of almond throughout. Baked green and yellow apple aromas are accompanied by generous amounts of toffee and brown sugar, with notes of crushed fig. As we swirl our glasses earthy esters are released adding a roundness to the overall aromas giving our palates lots to look forward to. The aromatics here are generous in fruit and barrel elements, complimented by floral hop aromas and light spice notes, but mellowed by those above vanilla and almond notes. The nose of this Chardonnay-influenced Scotch ale is smooth and super-friendly. But do allow things some time to warm up in your glass to better bring out those more subtle contributions from the barrel.
This special edition from Brasserie de Silly is incredibly easy-drinking considering the amount of stuff going on here—with smooth texture, an effervescent underpinning of bubbles, and just a touch of warming, vinous alcohol making everything feel slightly lean. Even beyond the dense aromatics, the flavor takes the white-green grape, apple, and fig fruit scale and expands it, bringing in notes of fruit leather, candied orange peel, plump raisins, and sweet, rich dates. All of these flavors are well balanced by floral, slightly grippy, hop bitterness.
Trying to identify and dig into the various barrel contributions of barrel-aged beers like these can challenge one's taste buds. Attempting to discern the fruity secondary notes of the Chardonnay barrels versus this ale's fruity esters tends to instead have us just enjoying the fact that certain central notes here approximate a caramel apple, and that some things work well for a reason. So many of Scotch Silly's core notes intertwine well with the barrel-aged sections here, and a ton of complexity comes through from those barrels.
The Chardonnay barrel aged Scotch Silly is full bodied with a finely bubbled effervescent mousse and a long luxurious finish that's neither too sweet nor too dry. A highly memorable special release.
With barrel aged beers such as the Chardonnay barrel Scotch Silly we tend allow for a wide range of time for maturing and aging. This beer is drinking very well now and seems to be reaching peak maturity. A couple more years of aging can be had but is not mandatory. For pairing we are leaning towards grilled pork chops with apple-raisin chutney and grilled veggies alongside Dutch apple pie for dessert. Enjoy!
The Rare Beer Club has managed to secure a very special release from Belgium's historic Brasserie de Silly, whose long-standing brewing heritage dates back six generations. The brewery was founded all the way back in 1850, in the small village of Silly, 25 miles southwest of Brussels. The brewery, founded by Marcelin Hypolite Mynbrughen (truly a good name), was originally called Cense de la Tour. Marcelin's first beer, Saison Silly, was created from his own malted harvest of barley, and this saison was the beginning of many great Belgian classics ahead.
In 1900, Mynbrughen's grandson Adelin received a silver medal for the brewery at the Paris World Exhibition. And, it was during World War I, with the aid of Scottish soldiers stationed in Silly, that the brewery's Scotch Silly beer was born. In 1950, in addition to the brewery's existing top-fermented ales, a pilsner was added, and distributed by the brewery's own set of cafes. A series of beers under the Enghein label—including Enghien Blonde, Enghien Brune and Enghien Noël—served to further extend the lineup starting in 1975.
Blanche de Silly, a world-class witbier, was launched back in 1990. Brasserie de Silly, in the time since then, has also introduced new releases like Abbaye de Forest (a recognized "abbey" beer) and the organic Silly Pils BIO. Brasserie de Silly remains family-owned and their traditional, high-quality techniques and ingredients remain of the utmost importance, as demand for this Belgian brewery's classic beers continue to grow worldwide. As the brewery puts it: "Brewing at Brasserie de Silly has not changed substantially since 1850—the process is still very traditional." U.S. availability of this month's featured selection from Brasserie de Silly—an incredible Scotch ale aged in Chardonnay barrels—was particularly small, with 2023's allocation expected to be limited to Rare Beer Club members.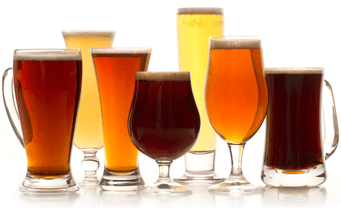 Unmatched Variety by style, brewery & country
Choose from Five different Beer Clubs offering unmatched variety by brewery,
country of origin, and beer style to suit your specific tastes.
DISCOVER OUR FIVE CLUBS