Brasserie d'Ecaussinnes - Ultrablonde
ABV:

8.00%

Serving Temperature:

45-50° F

Suggested Glassware:

Snifter or Goblet
Ultrablonde is not really "ultra blond." As described above, Brasserie d'Ecaussinnes' Ultra line is based on the once defunct "Ultra" namesake beer, and this is simply their "blonde" which, lucky for us, turns out to be not simply a Belgian blonde ale but a well-crafted Tripel. It pours a slightly hazy deep straw color and is concealed by a huge cottony head that begins massive in size, fading to a respectable covering and leaving tons of sea foam like Belgian lace stuck to the glass. You could insulate doors with this foam it's so thick. There's a tremendous amount of carbonation visible as jet upon jet takes hold all over the glass, bringing a seemingly infinite series of small bubbles bursting through the surface, offering up little explosions of savory scents. Look for big aromas of macerated fruit, some sweet & sugary syrup notes like cherry-maple syrup, and impressions of honey. Expect a floral bouquet with yeasty flashes, suggestions of orchard fruits (think apples and oranges), some muted peppery spice, faint clove and banana. The beer has a mouth-filling consistency that caresses the palate with a silky, creamy texture. The flavor profile kicks off with notes of honey and sugary pear, with a surprising undercurrent of butterscotch. The opening sweetness shifts mid-palate toward tart acidity, reminiscent of Muscat grapes, supplemented by a wheaty twang, and soon develops some mineralized, earthy characteristics and very mild vanilla-like spiciness, all balanced by a faint yeasty, musty, talcum-like quality. Expect Ultrablonde to finish with a mild, lingering bitterness and an herbal, lemony, noble hoppiness that holds on while the finish fades out. The 8% ABV is virtually undetectable, making for one dangerously drinkable and surprisingly refreshing beer. This is a rare brew that works just as nicely in the colder months sitting by the fire as it does at a BBQ in the summer heat—truly remarkable drinkability and versatility. Like the best examples of the Tripel style, this beer requires restraint, as the alcohol does not announce itself and you could easily overdo it now, or later, since this beer is a keen candidate for aging—the bottle conditioning, high alcohol and robust yeast strain mean this beer will hold up and develop in the bottle for quite some time. We suggest checking back in on a bottle at least 6 months down the line, right on up to a max of 2 years. Consider pairing with smoked rosemary salmon served with peppery cream sauce, or Chateaubriand with Béarnaise sauce. Enjoy!
Ultra. It's practically become a dirty word among beer aficionados. When Michelob Ultra hit the market, we thought perhaps it might actually be the Antichrist, so we bought up all the canned goods, propane tanks and good beer (you know, all the standard survival supplies) we could get our hands on and went underground for a while thinking the end of the world was nigh. We came up when we ran out of beer… Sadly, Michelob Ultra only grew in popularity during our absence. Such a backwards use of the term "ultra" that beer is, when you think about it. But surely there's a beer out there deserving of the term "ultra"—one that beer fans can hold high and proclaim to the nonbelievers that "THIS is Ultra beer. Your Ultra beer is not ultra, nor is it beer." Friends, such a beer does exist, it was first brewed in the late 1800s, and it comes to us from a small farmhouse brewery in Belgium named for the beautiful little town it calls home. Brasserie d'Ecaussinnes, in the bucolic Hainault province of Belgium, was built into a farmhouse building on the grounds of an old farm-castle site. The brewery opened in 1999 after Hugues Van Pouke sold his business near Brussels. At the same time, his wife Isabel left her job at the now defunct Sabena Airline. A frightening prospect to leave a corporate income behind to start a Brewery, but the couple had a passion to craft small-batch beers in a rustic, small town, country setting—and they've quite nicely pulled it off. After painstaking restoration of various buildings on an 18th century farmhouse complex, the Van Poukes purchased and installed brewery equipment from a Czech brewing outfit. In April 2000, their first beer was served in the beautiful tavern above the brewery—where you can visit today for fresh beer, artisanal tastings and great food from their menu, which features numerous dishes prepared with beer. Starting a new brewery is difficult enough, but choosing what to brew – that can be a make-or-break decision critical to the success of any brewery. After some historical research, Hugues and Isabel found that folks in the area, and as far away as western France, were missing a great beer called "Ultra" that had gone extinct nearly 30 years earlier. In 1897, the classic "Brasserie des Carrières" was known for a wonderful, distinctly non-carbo-phobic beer that was full of character and flavor by the name of Ultra. They produced it until 1970 (let's hope Michelob Ultra doesn't enjoy a similar 70+ year run), when they transferred production to another brewery, "Brasserie du Progrès." But this transfer was an ill-fated move for Ultra, as the water used at the new brewery was completely different—and in those days, water chemistry was not as well understood or manipulated to the extent possible today, so the taste of Ultra beer suffered dramatically. In 1972 production of Ultra was stopped, and the beer died an inglorious death. Shortly after bringing back Ultra, the brewery created Ultramour, a clever little play on spelling as this beer is now served at the famous 100-year-old match-making festival "Le Goûter Matrimonial" ("amour" means love in French, but the name sounds like "ultra more" in English—further emphasizing the beer's caliber). This fruity beer has four different fruit-infused versions, but might be a bit too strong for all-day drinking at this festival of love, so a light blond beer, Ultra Soif (soif means thirst) at 5% ABV was created. Hey—don't want to be too boozed up when searching for a mate, right? Hugues and Isabel Van Poucke can be credited with bringing Ultra back from extinction to beyond its former glory, and we thank them for their very light distribution into the US where this small batch beer is here to reclaim the word Ultra for real beer! Advertize to your friends that you have some of the only REAL Ultra beer in the nation and that you're once again proud to use the words Ultra and beer in the same sentence.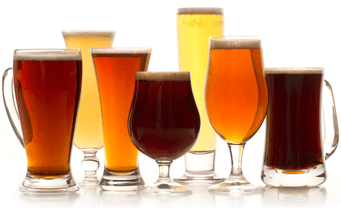 Unmatched Variety by style, brewery & country
Choose from Five different Beer Clubs offering unmatched variety by brewery,
country of origin, and beer style to suit your specific tastes.
DISCOVER OUR FIVE CLUBS