Brasserie des Légendes - Géants Goliath Tripel
ABV:

9.00%

Serving Temperature:

48-55° F

Suggested Glassware:

Snifter or Goblet
Interestingly, this bulky brew started as a much smaller statured creation. Goliath, pronounced "Gouyasse" in the local dialect, was brewed at a respectable 6% ABV. However, the US distributors felt that a 6% beer carrying the name Goliath was a bit oxymoronic, especially with the surge of big-bodied, bold-flavored beers that have surged in popularity. So they suggested that brewmaster Pierre Delcoigne come up with a stronger, more intimidating beer better suited to carry the name of the mythical giant. The result was the beer you now have before you, and it's become quite a hit among Ath locals since its reformulation, so much so that the brewery managed to release less than 300 cases in the US in all of 2009 (greedy locals!!). They still make the original Gouyasse, but Géants Goliath Tripel has become their most popular beer. Made without the addition of sugar, this is the only Tripel in Belgium that is made using only malt as a sugar source for our yeasty friends (unlike other brewers who rely on sugar additions to beef up the alcohol content and thin out the body). This means the beer will start out a bit sweeter when young, a result of the residual sugars from the hefty grain bill, but over time in the bottle, the flavors become increasingly dry. We've been told that six-to-twelve months in the bottle appears to be where this beer really shines; but of course, this is one of those beers that'll be good for two to three years of aging if kept at cellar temperatures. We encourage you to set aside a bottle or two and check in on this sleeping Gulliver about once every six-to-eight months. Let's take a moment to admire the attractive packaging, which is brand new for this beer. Formerly available only in 330ml bottles, the beautiful, foil-rimmed, traditional bulged champagne bottle it's now bottled in will give it somewhat more champagne-like conditioning than you would have found in the old bottles. Some dispute the claim that bottle size and shape matter, but we beg to differ—we've tried both the previous bottling and the new, and find the new packaging not only looks impressive, it has a positive impact on the bottle-conditioning and maturation. Now let's drink it! Wait, wait, we have to look at it in the glass—it's a gorgeous beer, pouring a sunny butterscotch color capped by a gargantuan white froth. Ok, now let's drink it! No, no, wait, we have to sniff it first… Look for notes of pear, oranges, rum, rosewater and pepper on the nose, supplemented by hints of vanilla and some grainy notes reminiscent of pilsner malt. Expect an abundance of very zesty hops which contribute notes of wildflowers (akin to lavender), as well as that characteristic Belgian yeastiness, and a subtle tartness. The flavor presents much of the above notes, but with more spice and pepper qualities and a rather pronounced hoppy bitterness and vanilla-like edge that manages to win out in the balancing act against the sweet malts. This is a very hoppy Tripel! Expect a dry finish with orange peel and Saaz hop bitterness rounding out peppery hop notes. A big, gentle-giant of a beer worthy of the Brobdingnagian name it carries. Pair with a sharp blue cheese starter followed by Peruvian-style Pollo Saltado served with rice, yucca fries and fried plantains.
The area of Ath, in Wallonia, is home to more than just great beer; this is the land of the Giants. Since the middle ages, Ath has been known for its annual Parade of Giants in which Goliath, locally known as "Gouyasse," leads brass bands and fellow colossal-sized kinsmen through the streets, towering above carnival floats and groups of more ordinary-sized citizens in customary costumes. No surprise then that the local brewery (in the otherwise tiny town of Irchonwelz) is named Brasserie des Géants (a.k.a. the Giants' Brewery).
Not only do they craft big beers that live up to their name, their homestead is rather sizable as well. Incorporated into the remarkably well-preserved remains of the thirteenth century Castle d'Irchonwelz, the site somehow manages to unite quaint charm and indomitable fortitude. And, as they're quick to point out on brewery tours (yes, they are open for tours—a must if you are ever in the area), their entry gate was intentionally hung high enough to permit the occasional giants who may wish to stop in for a quick pint—make that keg—of beer.
Interestingly, there's a sort of paradox at play here. The name Irchonwelz comes from the word for hedgehog (urchon), a rather small creature, and the local inhabitants are affectionately referred to as "urchons." From the perspective of a hedgehog, any visitor could be considered a giant, no? Could this be where the 'giants' of local lore come from? No idea really, but it's a fun notion to consider. If anyone has ever been there, or plans a trip, please ask this question and get back to us! OK, we've spun enough of our own mythology here; back to the brewery…
Founded in 2000 by a couple of young urchons, Pierre Delcoigne and Vinciane Wergifosse, The Giants' Brewery was built and is run by the pair. Pierre, a graduate of the famed Brewing Engineering program of the Louvain School of Brewing, has been brewing strong for years now. In 1997, he and Vinciane acquired the Castle d'Irchonwelz in order to develop their ambitions of creating the Giants' Brewery. After two full years of construction and set up, the brewery opened. Their first brew, known as "Gouyasse" (Goliath in the local dialect), went on sale in August 2000 (perfect timing, as the annual festival of Giants is held during the fourth weekend of August). Recently, they combined their giants theme with some witch tales when they purchased the Brasserie d'Ellezelloise, in nearby Ellezelle, Belgium, a brewery that also used local lore in the marketing of its beers. In their case, it was the witch Quintine, who is said to have been the protector of the local hills in this rolling countryside region. Together, these two breweries are known by the name of Brasserie des Légendes (for obvious reasons).
All their brews are fit for giant thirsts—and Giants—alike. But don't let the name fool you; despite Géants' Herculean title, these folks produce small batches of beer (including the batch we've sent you this month). Their brews are never short on flavor, and some are definitely considered "big beers," but all are created in low-volume batches and released in limited quantities. In fact, in the world of European brewing conglomerates, these folks are far more akin to David than Goliath. We wonder how they feel about the little man taking down a giant, given their appreciation of Giants and all… But we're sure they feel connected to both characters in that story—the little guy in the big world of brewing giants, and a colossus of the brewer's art. Like the brewery itself and these dichotomous elements, their beers have complexity that's worth mulling over—so no more digressions from us Lilliputians—get to it!
For more information about the brewery, check out their web site: http://www.brasseriedeslegendes.com.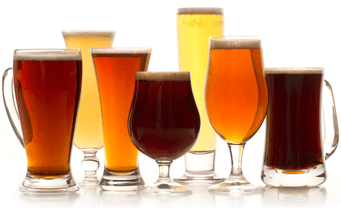 Unmatched Variety by style, brewery & country
Choose from Five different Beer Clubs offering unmatched variety by brewery,
country of origin, and beer style to suit your specific tastes.
DISCOVER OUR FIVE CLUBS