Brasserie Du Pays Flamand - Anosteké
ABV:

8.0%

Serving Temperature:

48–56° F

Suggested Glassware:

Tulip, Pinot Glass, Chalice
Anosteké (formally, Anosteké Blonde) is the phonetic equivalent of "tot anoste keer," which from Flemish translates as "see you next time" or "to the next." After our first few sips, we understood. Beer travelers should note that at least two other beers occasionally appear with the Anosteké name also attached to them: Brune Imperial Smout [sic], a significantly darker take, and Cuvée d'Hiver, an amber beer for Christmas. The Blonde was generally regarded as the standout: an exquisite, hop-generous beer with Bière de Garde roots. (Trivia, part two: It also lays claim to the title of France's first beer to have its carbon-dioxide emissions offset.)
Poured into a tulip glass (or one of your choosing), one earns a great looking beer. This has a gentle haze of rustic birth, plus the shimmering, creamy white head of a carefully honed one. It shows a mouthwatering, palest-orange hue. The lacing brings structure and lasting foam.
At the very front of the nose (perhaps most noticeably due to how infrequently one finds it), a bright, pungent lime note takes center stage: a generous offering from the hops, and a clear path away from most Bière de Garde examples. This is something entirely its own, with that restrained malty core of the BdG regime being the most common core structure here—or at least the thing we most appreciate being carried over. The aromatics suggest herbal tea, just-cracked white pepper, and an endearing doughy sweetness that never oversteps. There's nice balance between the citrusy, melon-like hop bitterness and the caramel-tinged background of bread and toast and candy sugar and honeydew. It evokes a Belgian tripel, and tropical fruits.
That first sip might prove a touch surprising: bright, pithy citrus bitterness hits the tip of the tongue and onward, followed closely by a firm acidity that can almost first strike as a little bit tart. There's a generous amount of cotton candy here, yeast-provided esters, and a honey-like mellow sweetness enveloping the core. One gets that generosity of a lightly tinted BdG—the caramelization, the toffee and hint of toast—charged with the spritzy generosity of lime- and grapefruit-slanted citrusy hops. There's a nice firm bitterness here, from the hops and yeast's pepper. An inviting acidity and carbonic pop. Reassurance at all turns of toasty-warm bread.
This should age gracefully, though the hops will grow duller and less assertive over time. For us, we'd be inclined to enjoy these while they're young and maintain a brighter grassiness out from their hops. There's a generous herbal quality to this beer while young, and we just kind of really liked that. But savor at your leisure, as you chose to watch it evolve. And pass along the result: we're always curious to hear from our Rare Beer Club members how our previous selections held up to the tests of time (especially the ancient selections!). This should go well alongside a hearty, citrusy-acidic salad, or as the key lime notes beside an herbal chicken dish.
Brasserie du Pays Flamand opened for business in the late fall of 2006. Located in the Nord region of France (short for Nord-Pas de Calais), the small brewery is located near the very tip-top of all of France, in the commune of Blaringhem. Population: 2,000-ish. The border with Belgium, specifically the province of West Flanders, is a brief twenty kilometers northeast. In a nutshell, Brasserie du Pays Flamand situates itself in one of France's most regarded regions for brewing, home to innumerable stellar renditions of the Bière de Garde farmhouse styles.
The brewery was initiated by two best friends—Olivier Duthoit and Mathieu Lesenne—in a building that, a century earlier, had housed a quite-reputable distillery. (It even came with an ancient stable.) Group tours of ten or more take one through their cavernous storage rooms and historic brewing facilities, and are followed by a tasting of the brewery's splendid lineup, which not surprisingly includes a generous range of Bière de Garde examples. Olivier serves as master brewer of the operation. The La Bracine series is almost certainly their best-known brand, heavy in the BdG's but also branching out into adjacent tripel and witbier territories.
The most notable recent cosign for the brewery was with saison-spirited Stillwater Artisanal Ales, with whom Brasserie du Pays Flamand did a collaborative black beer called The French Connection, Bière Noire. (Trivia: The other brewers featured in the collaboration series were Thiriez and Brasserie Saint-Germain/Page 24 [both of whom we've featured quite recently].) Brasserie du Pays Flamand has actually been involved in quite a few collaborations—the one standing out the most to us being their rather endearing (yet slim) LaBelle lineup that we had an opportune chance to sample a year or two earlier. Of these, that hop-forward Game Over still holds a dear spot (with an 8-bit, Space-Invaders-esque labeling that didn't go unnoticed).
But Anosteké positioned itself in a spot all its own, and we're looking forward to getting this one in front of our hedonic Rare Beer Club members. As hinted at above (at least), Brasserie du Pays Flamand is a rather small brewery to be exporting much, producing just about 1,200 barrels (about 2,400 kegs, alternately put) of all their different beers combined. Just about 90 cases or so have made it to the States since June, staying within a handful of select markets.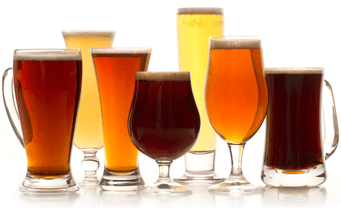 Unmatched Variety by style, brewery & country
Choose from Five different Beer Clubs offering unmatched variety by brewery,
country of origin, and beer style to suit your specific tastes.
DISCOVER OUR FIVE CLUBS