Brasserie Dunham - Concubine (RBC Exclusive)
ABV:

7.5%

Bottle Size:

750-ml

Serving Temperature:

45–52° F

Suggested Glassware:

Tulip, Chalice, Nonic, or Chardonnay Glass
This month we're excited to be able to offer our Rare Beer Club members an exclusive release from the folks at Brasserie Dunham, brewed just for the club. Concubine is a saison brewed with Lemondrop hops and matcha tea, and is the latest in a long series of delicious tea beers created by Dunham. Concubine's grist consists mostly of Canadian 2-row pale malt, along with some generous additions of flaked rice and green jade pearl rice (a glutinous rice that gets soaked in bamboo-infused water to give it a soft green hue). There's also a hint of Vienna and wheat malts added in there as well. This saison's subtly hopped at 14 IBUs, and gets fermented with Dunham's house blend of farmhouse ale yeasts and Brettanomyces.
Dunham Concubine pours a rather clear, golden color, capped by a generous white foam that shows solid retention and lacing. Initial aromatics are impactful with the black pepper and citrusy notes of the ferment, plus the grassy/herbaceous notes from the matcha (which gets added during the whirlpool). There's also the inviting fruity and tropical elements from that complex ferment playing out here as secondary notes. That matcha-tea addition works seamlessly alongside the complex, lemony funk and phenolic elements in the aroma.
Light to medium body overall here, proving nicely lean with vibrant carbonation. The core maltiness feels especially crisp and refreshing, courtesy of those rice and wheat elements in the malt bill, allowing some of the more subtle elements to shine through from this beer, as with the matcha tea. The tea addition presents fresh grassy, herbaceous, and nutty aspects in tandem with the citrusy acidity of the mixed fermentation and the bright, rounded lemon of the Lemondrop hops. Concubine builds upon Dunham's ongoing experiments with brewing with teas—here highlighting the unique qualities of matcha tea in a precisely built and super-refreshing saison. Thirstquenching throughout, this closes on a herbal green-tea note.
This saison is 7.5% ABV and bottle conditioned, and should age gracefully in the bottle for at least a bit of time, with some of the more delicate notes from the tea and hops dissipating early on. We're definitely inclined to enjoy bottles of this one on the fresher side. For pairing options: those core elements of lemon, pepper, and herbs should work easily alongside fare such as herb-crusted chicken, buttery seafood with lemon, and a wide range of cheeses.
Brasserie Dunham was founded in June of 2011, and they've been making a major impact on the world beer scene ever since. One of the first times we crossed paths was sampling their Assemblage No. 1 a few years back—a memorable blend of a saison/witbier hybrid and an American-style pale ale, with Brettanomyces and Zinfandel barrels for good measure. Some of our Rare Beer Club members may recall Dunham's tasty Saison du Pinacle from around five years ago, or their dry-hopped Pale Duck we featured a couple years later. We've really been looking forward to bringing these folks back into the club again, and this month we've got an exclusive from Brasserie Dunham: Concubine, a strong saison brewed with matcha green tea—made specially for our Rare Beer Club members.
While inspired by the European classics, the team at Brasserie Dunham has also found a lot of inspiration in their hometown of Dunham and the surroundings. The brewery works with local farmers to source ingredients, especially seasonal produce like raspberries, cherries, and black currants for their fruited beers. Their restaurant also has them working with local farmers, and their barrel-aging project has grown to hundreds of barrels (with some foeders tossed in). They're constantly tweaking the yeast blends for their wild beers and saisons, including testing out spontaneous fermentation and cultivating wild strains from the local air.
A recent RateBeer Best competition named Brasserie Dunham the top brewery in Québec, along with awarding medals to their grisette Ping Pong Wizard (a collaboration with Cambridge Brewing Co.) and their Rye ESB. In that same competition, Brasserie Dunham was named the top brewery in all of Canada as well as one of the top 100 breweries in the world overall (being included on that list for the fourth straight year). We've dug everything we've encountered so far from Brasserie Dunham—so we think it's well earned!
Brasserie Dunham currently self-distributes to points of sale across Québec, with a small amount getting shipped to other Canadian provinces and internationally, including the U.S., Belgium, France and Germany. Most of their production, though, gets consumed within Québec (and most of the Brasserie Dunham beer making it into the U.S. comes in kegs).
For those who enjoy Concubine and Brasserie Dunham's other releases as much as we do, you might also want to check out one of the major beer events Dunham throws each year (which often see them releasing around a dozen barrel-aged beers at once). For more info on the brewery, upcoming events and more, check out www.brasseriedunham.com.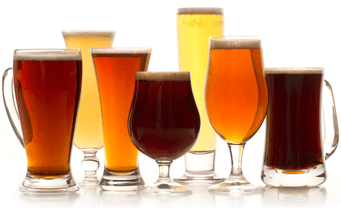 Unmatched Variety by style, brewery & country
Choose from Five different Beer Clubs offering unmatched variety by brewery,
country of origin, and beer style to suit your specific tastes.
DISCOVER OUR FIVE CLUBS