Brasserie Dupont - Avec Les Bons Voeux
ABV:

9.5%

Bottle Size:

750-ml

Serving Temperature:

50–57° F

Suggested Glassware:

Chalice, Goblet, Tulip or Pinot Glass
We've had the opportunity to sample many different limited releases from Brasserie Dupont over the years—but we always make a point to keep coming back to one in particular. We're huge fans of Dupont's seasonal, limited-release Avec Les Bons Voeux: a gloriously generous "super saison," crisp and massive all at once. This annual holiday offering isn't always one of the easiest to track down (when it does arrive each year), and we couldn't imagine a more perfect beer to toast the holidays with than the reliably cheer-inducing Avec Les Bons Voeux.
This pours beautifully. Avec Les Bons Voeux is a bright, mostly clear golden color that leads into more honeyed, orange-tinged hues at the edges. Capped by a vibrant, thick foam of tiny white bubbles, this looks far more modest in alcohol and subtle in expression than proves to be the case. A dense foam lingers even after some length in the glass, often replenished from below. This is also nicely effervescent in texture; Champagne parallels are totally on-point. A rich, yeast-driven set of aromatics lands as soon as this gets poured: pepper, dough, honey...
The phenolic top notes in the aroma arrive as white pepper plus a touch of clove—held aloft by pillowy sourdough, vanilla, almond and candied orange. There's an abundance of fruit, all the way from fresh apple and banana to elements more like sweet lemon. Its sweetness, as a whole, never weighs heavy even at nearly 10% ABV. There's that crackling, peppery profile of Dupont's house yeast all over this. ALBV is incredibly expressive, streamlined, regal but refreshing. An endearing front profile of complex pepper shapes everything. As pairing-ideal as things get.
For those who've had it, that first sip's almost too good. Everything about the aroma follows through fully, from the ballast of white- and black-pepper yeast qualities to the complexity of fruit and baked elements underneath. This is toasty, for sure. All kinds of spruced up with its zesty punch of carbonation, an effervescence that lands right beside the pepper. There seems to be almost baklava-like layers of honeyed pastry and vanilla and breadiness beneath. We're constantly struck by how incredibly drinkable this stays given its ABV, something we'd really be hard-pressed to point out in another beer of this size. There are so many things offered in Brasserie Dupont's winter seasonal, and there's a reason we always look forward to this beer.
There's something almost indescribably special and crowd-pleasing about the Dupont profile across so many of their delicious beers. A pepper-forward approach, the resulting leanness—the way it feels like one of those magical bags that you can fit a million things in but also fold up into your pocket. This is one of the magic, black-hole pouches. Honeyed, peppery depth.
So many kind Rare Beer Club members have expressed their enjoyment of our Belgian beer features in the past, and we're super excited to offer up this once-a-winter offering from the world-renowned Brasserie Dupont from Belgium's Wallonia region. This 9.5% ABV seasonal seems to float, like the very best examples from the country: hefty—yet somehow managing to stay refreshing. Brilliantly fermented, robust and vibrant all at the same time. Drink up!
We've enjoyed various vintage examples of Dupont Avec Les Bons Voeux over the years, all of them still immensely generous, nearly regardless of age. Keep an eye on cellared bottles to make sure the dried-caramel character of oxidation isn't building too much. For pairings: we can't help but find its pepper, lean fruit and carbonation perfectly tuned to plump turkey and holiday fare. Pop ALBV bottles to ease winter along. Or set some down for future greatness.
In reflecting on the provenance and characteristics of classic Belgian saison in his Great Beers of Belgium, our Club's founder Michael Jackson wrote, "The most famous Saison strain is that of the Dupont brewery. 'A brewer with the Dupont yeast is touched by God,' I was told by a proud possessor." It's pretty difficult not to be enamored by the beers of Brasserie Dupont.
The Dupont brewery was formally established in 1920, when the father of agronomist Louis Dupont purchased it for his son to discourage him from moving to Canada. Their loss is the beer world's gain, and Louis found himself with an historical farm-brewery renowned for its seasonal and honey beers, with a heritage extending back to the mid-1700s. Its success only grew in subsequent years. Olivier Dedeycker, the fourth generation of the Dupont family to serve as head brewer, currently runs the show. Since the modest (now-legendary) Dedeycker began there as an engineer in 1990, Brasserie Dupont has gradually expanded its production, initiated regular export (we've been drinking much better since 1992), developed a rigorously certified lineup of organic beers, and branched out further with beers like Monk's Stout and Posca Rustica. We featured the latter, a mind-blowing Gallo-Roman gruit beer, back in 2011, followed by Dupont's La Bière De Beloeil (a glorious strong saison) a few years ago.
Through all of this, Brasserie Dupont has maintained its time-proven methods and attention to detail. Their extended bottle-conditioning periods provide their beers with a fine-bubbled effervescence and the potential for lengthy cellaring, while their direct-flame kettles continue to instill that (seemingly magical) touch of caramelization. Details matter. Brasserie Dupont is regularly cited as one of the planet's finest breweries, and Men's Journal previously declared their Saison Dupont "The Best Beer in the World." We'd have a hard time arguing with that. Offerings like the core Saison, the Moinettes, and Avec les Bons Voeux continue to challenge both American palates (via that spicy Dupont yeast) and American brewers (who make great efforts to replicate its effects here). We are pleased to offer our members this especially tasty offering from Brasserie Dupont, one of the world's truly inspirational farmhouse breweries.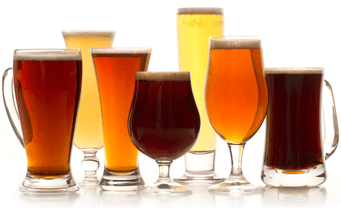 Unmatched Variety by style, brewery & country
Choose from Five different Beer Clubs offering unmatched variety by brewery,
country of origin, and beer style to suit your specific tastes.
DISCOVER OUR FIVE CLUBS