Brasserie Fantôme - Dark White
ABV:

4.00%

Serving Temperature:

45-50° F

Suggested Glassware:

Pint Glass or Tulip
What the name means, we're not sure. Is it dark? For a Saison, you could say so. But why white? Does it use traditional wit spices perhaps, just paired with darker malts? Your guess is as good as ours, since the brewer keeps the spice blend a secret, often saying that he has "forgotten" what he used. Ah, the Fantôme strikes again! Pours a murky dark amber capped by a small beige head that dematerializes right before the eyes, though swirling does conjure it back into existence. The vapors from this beer give off a supernaturally complex array of scents from fresh stone fruits to red grapes, chocolate, white pepper, oregano, thyme, earthy mustiness and old leather. On the palate, expect an untraditional flavor profile, marked by a tonic undercurrent of mild, floral hops to start, with the spices taking over as earthy, mineralized characteristics. Various flavors flutter about playing tricks on the senses. Is that French Thyme? Wait, cocoa? Now blackberries? Hang on, the earthy hops are back, along with a sneaky tartness. And now a bit of funkiness drying things out… When suddenly there's a crash of biscuits and toast (ghost toast?), followed by vaporous pineapple notes and brown sugar-like sweetness. There's a distant, eerie echo of grapefruit, and whispers of tobacco and smoky old fabric. Dark White finishes with an aftertaste and residual acidity reminiscent of orange juice, with some lingering notes of toast (perfect for breakfast!). There are definitely some spirits playing around with this beer—how else can you explain the almost constantly transmogrifying flavor profile? A beer full of intrigue and mystery, this Fantôme is remarkably food-friendly. Try with lemon-topped whitefish, shellfish, or for true indulgence, lobster. But our most highly recommended food pairing is a breakfast (or early brunch) experience, partnering this complex beer with traditional Eggs Benedict. Beer for breakfast? Hell yes! At a responsible 4% ABV, you needn't worry about getting sauced from the alcohol—but watch those hollandaise drips.
There is a fermentation-friendly phantasm at work in one brewery in Soy, Belgium. Thankfully this ghost doesn't have any malicious intent, though she can get a bit wild when she decides to spike the brewer's recipes with a blend of secret herbs and spices. And she plays other tricks, like ensuring that the same beer is often radically different from batch to batch… She's even been known to convert stout to a Belgian strong dark ale. More of a prankster than poltergeist, her mischief is accented by her supernatural talent for creating some truly haunting spiced farmhouse beers. More evidence of her non-demonic demeanor is that she plays well with others, permitting a human pal, Dany Prignon, to take most of the credit for these world class, award-winning beers (in exchange, of course, for having the brewery named after her). Brasserie Fantôme (the Phantom Brewery) has come to represent unabashed creative freedom of expression, and, earned itself a reputation for being, well, borderline insane. Between the ghost stories, the 'spirited' behavior of Monsieur Prignon, the wild variation from beer to beer, being exceptionally guarded about what spices have been used in the recipes, or experimenting to the point of acute eccentricity (mushroom beer anyone?), you can maybe understand why some people think there may be a madman involved. Hey, you know what they say, behind every good madman there's… a phantom. But it's not really the reputation for zany flare that has made Fantôme's beers highly sought after—it's the beer. Their namesake brew, Fantôme Saison, a golden ale of 8% alcohol by volume, was rated a perfect 10 in "The Beers of Wallonia," a worthwhile read penned by authors John Woods and Keith Rigley. The brewer (either Dany or the phantom) uses local ingredients and herbs, such as dandelions found growing outside the brewery, spicing their numerous farmhouse ale variants with such skill and panache that people have been taking notice since the brewery was founded in 1988. But it's easy to throw a bunch of spice in a beer. Making it taste good, however, bringing out the best elements of an unusual spice without crushing the beer's natural flavors or spooking the yeast into catatonia—that's the real magic and mystique in the Fantôme beers. To boot, these are some of the most freshly fruity beers found in Belgium—how "they" do it we really don't know—it really is almost paranormal. Another odd conundrum is the fact that their beers aren't well known, even within Belgium. But for those who have had the pleasure (or occasionally, the peril) of tasting Fantôme's concoctions, the experience is not soon forgotten. There's another reason the name is quite apropos; Fantôme's beers are very difficult to find, materializing only rarely—yet so many of us beer geeks have heard the stories of their existence. When we thought we might finally have grasped the elusive Fantôme, we suited up like the Ghostbusters, donned our Proton Packs and zapped as much of the stuff as we could into our ghost traps. It's a risky business, but you're worth it.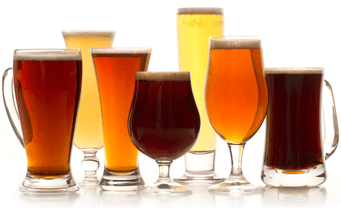 Unmatched Variety by style, brewery & country
Choose from Five different Beer Clubs offering unmatched variety by brewery,
country of origin, and beer style to suit your specific tastes.
DISCOVER OUR FIVE CLUBS