Brasserie Fantôme - Rare Barley Dark Project (Rare Beer Club Exclusive)
ABV:

7.5%

Bottle Size:

750-ml

Serving Temperature:

Serving Temperature 45–52° F

Suggested Glassware:

Tulip, Teku, or Goblet
Dany almost never gives up the ingredients list to Fantôme releases, but at least we can say for sure that the brewery's Rare Barley Dark Project features spices, barley, water, yeast, hops, and Belgian candi sugar. How do we know such secrets? Well, it says so on the label. Of course, Dany will never give the exact amount of an ingredient used, but that lends more intrigue to the experience and mystery of each beer. Sipping, tasting, and smelling the beer is the best way to know the end result each ingredient contributed, and we enjoyed every facet of it.
The Rare Barley Dark Project pours a slightly hazy deep, dark, amber to brown with a tremendously pillowy and tightly bubbled head made of tan foam. Held up to light it exhibits dark red highlights towards the rim. The aromas seem to waft out of the glass and release a rich tapestry of complex scents. A prominent blend of dark fruit notes comes to the foreground with plums, raisins, and figs, creating a hint of jammyness. This is followed by earthy and spicy notes, with clove taking center stage, with anise in support, along with banana peel, and a touch of bubblegum. The darkly roasted barley adds rich caramel and toffee, and just a touch of coffee and cocoa. The bouquet is further enhanced by a bit of farmhouse funk and floral, yeasty esters.
Sipping the Rare Barley Dark Project reveals a wonderful interplay between sweet and savory notes with the dark fruit and dark barley malt aromas carrying through as flavors. Plums, raisins, and figs are again joined by banana peel, complemented by the toasty malt which adds a crusty dark bread layer to the flavors. Mid-palate, delightful spiciness unfolds, offering hints of clove, anise, a hint of bubblegum, and a dash of pepper. The spices harmonize with the fruity and malty sweetness, and farmhouse earthiness, resulting in the flavors being well integrated and balanced.
The Rare Barley Dark Project has a smooth and round mouthfeel, is medium bodied, with a creamy mousse. The finish is long and dry, with the sugars being well attenuated, leaving the palate asking for more. This is where this beer's farmhouse qualities shine. There's subtle funkiness that emerges, characteristic of the yeast used in Belgian farmhouse ales, which is accompanied by a mild acidity that cuts through the sweetness, cleansing the palate and leaving a lingering finish of dark fruit and spices.
The Rare Barley Dark Project is a Rare Beer Club exclusive and only available in the US through the Rare Beer Club.
The Rare Barley Dark Project can be aged for many years to come, or do like we did and drink it all now. For pairing we recommend trying oven roasted fowl, cheeses such as Blu del Moncenisio or Morbier, and desserts like oven-baked pears and apples, dense chocolate cakes, and almond sweets.
There is a fermentation-friendly phantasm at work in one brewery in Soy, Belgium. Thankfully this ghost doesn't have any malicious intent, though she can get a bit wild when she decides to spike the brewer's recipes with a blend of secret herbs and spices. And she plays other tricks, like ensuring that the same beer is often radically different from batch to batch… She's even been known to convert stout to a Belgian strong dark ale. More of a prankster than poltergeist, her mischief is accented by her supernatural talent for creating some truly haunting spiced farmhouse beers. More evidence of her non-demonic demeanor is that she plays well with others, permitting human pal Dany Prignon to take most of the credit for these world class, award-winning beers (in exchange, of course, for having the brewery named after her).
Brasserie Fantôme (the Phantom Brewery) has come to represent unabashed creative freedom of expression, and earned itself a reputation for being, well, borderline insane. Between the ghost stories, the 'spirited' behavior of Monsieur Prignon, the wild variation from beer to beer, being exceptionally guarded about what spices have been used in the recipes, or experimenting to the point of acute eccentricity (mushroom beer anyone?), you can maybe understand why some people think there may be a madman involved. Hey, you know what they say, behind every good madman there's… a phantom.
Wait, we may have screwed that up… you get the idea. But it's not really the reputation for zany flare that has made Fantôme's beers highly sought after—it's the beer. Their namesake beer, Fantôme Saison, a golden brew of 8% alcohol by volume, was rated a perfect 10 in "The Beers of Wallonia," a worthwhile read penned by authors John Woods and Keith Rigley. The brewer (either Dany or the phantom) uses local ingredients and herbs, such as dandelions found growing outside the brewery, to spice their numerous farmhouse ale variants with such skill and panache that people have been taking notice since the brewery was founded in 1988.
But it's easy to throw a bunch of spice in a beer. Making it taste good, however, and bringing out the best elements of an unusual spice without crushing the beer's natural flavors or spooking the yeast into catatonia—that's the real magic and mystique in the Fantôme beers. To boot, these are some of the most freshly fruity beers found in Belgium—how "they" do it we really don't know—it really is almost paranormal. Another odd conundrum is the fact that their beers aren't particularly well known, even within Belgium. But for those who have had the pleasure (or occasionally, the peril) of tasting Fantôme's concoctions, the experience is not soon forgotten. And that's another reason the name is quite apropos; Fantôme's beers are very difficult to track down, materializing only rarely. When we recently had the chance to capture the elusive Fantôme, we suited up like Ghostbusters, donned our proton packs, and zapped as much of the stuff as we could into our ghost traps. It's a risky business, but our members are worth it. To find out more information about the brewery, brush up on your French and head over to www.fantome.be.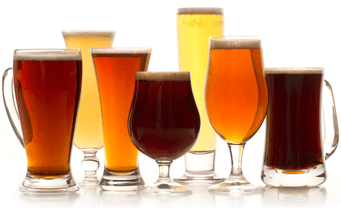 Unmatched Variety by style, brewery & country
Choose from Five different Beer Clubs offering unmatched variety by brewery,
country of origin, and beer style to suit your specific tastes.
DISCOVER OUR FIVE CLUBS