Brasserie St. Germain - Page 24 Brune
ABV:

7.9%

Serving Temperature:

42-50° F

Suggested Glassware:

Tulip, Goblet
Please Note: When opening the swing-top, exercise caution and keep hold of the stopper with your hand as you would when opening a bottle sealed with cork. A cloth is recommended.
While our beer-hunting travels often end with us offering our members great style renditions from unexpected locations (such as altbiers from Canada, or doppelbocks from Switzerland), there's something equally compelling about going straight to the source. Page 24 Brune from Brasserie St. Germain is, out of all their exceptional French and Belgian-style releases, a true standout in representing the Nord-Pas-de-Calais region's bière de garde style. From the pour to the three-point-landing of a finish, Page 24 Brune expresses this French style at its finest.
In the glass, the Brune shows a deep cola-brown color: essentially, a malty heads-up for what awaits. The light tan head forms vigorously, small-bubbled and generous, capping the brown beer with foam that lingers and sticks to the sides of the glass. Whereas the second selection this month (Tropical Tripel) benefits from some attention to serving temperature, the Brune is on point from the outset. Generous specialty-malt aromatics tumble out of the glass, while the overall sweetness—despite being, without a doubt, a malt-forward beer—never descends into a cloying or weighty presence. In the aroma: cola, brown sugar, and caramel, with dried dark fruits filling in any potential gaps. There's a smooth, focused feel to the maltiness, in the same way that brilliant Märzen, Helles, etc. (any of the malt-generous German lagers, really) manage to feel like they're offering the heart and soul of their malt bill without the sugar. A modest red-apple fruitiness is present here as well, with some spicy, noble-hop character that serves as a subtle counterpoint to the richness of the specialty malts. This certainly positions itself firmly within the darkest subgroup of bières de garde (often broken down into blonde, ambrée, and brune), and fully takes advantage of those darker malt additions. There's also an assertive, "cellared" quality to the aroma (as it's typically described), seemingly a result of the beer's extensive conditioning period coupled with a touch of dried caramel from oxidation.
Slightly floral, slightly spicy hops hit the front of the tongue first, along with a small-bubbled carbonation that seems to further amplify that spice. There's a bit of a cola bite to it. After a moment, though, those middle malts appear in full force, following the nose: caramels with a bit of breadiness, effervescent cola with a handful of darker fruits. There's a load of richness, but, again, the wealth of specialty-malt additions merely leaves their flavor behind, as months of a cool-temperature conditioning minimize ester formation while making sure those sugars ferment through as much as possible. This is a lean, well-focused portrait of medium malts, and an exceptionally smooth one. Too often, bière de garde renditions slip into a sweetness and a coarser mouthfeel overall, often simply because these beers haven't taken enough time to fully satisfy the "garde" (or "keeping") part. Page 24 Brune, in contrast, offers up the very best type of complexity one can ask for from the bière de garde style, while still keeping to a lager-like feel—a crispness and overall lack of distraction—that ultimately lets the style shine.
As this bière de garde is unpasteurized and bottle conditioned (and approaching a robust 8% ABV), we expect it to continue developing in the bottle over the next year or two. The dried caramel character from oxidation—just a whisper right now—will slowly amplify, so keep an eye on it. That central maltiness will gradually shift toward a softer profile over time. Try the Page 24 Brune alongside fiery, roasted fare such as spicy pork sausage or Moroccan merguez, for which the caramel-focused malt will compliment the roastiness while tempering the heat.
The artisanal beer culture of France has long been overlooked in favor of the country's other exports—still and sparkling wines, Cognac, farmhouse cheeses—and it's only in recent years that French beer has been returning to its rightful place in terms of consumer awareness. In sections of France like the Nord-Pas-de-Calais region, in the country's far north, the brewing culture has a long and storied history, one which some residents will argue rivals even that of their neighbors to the east: Belgium. A century ago, well over a thousand localized breweries dotted the French landscape, but just recently has a similar vitality returned. Sound familiar?
Brasserie St. Germain has been a crucial player in that nationwide rejuvenation since opening in 2003. Situated in the small village of Aix-Noulette (basically smack dab in the center of the Nord-Pas-de-Calais region), the brewery finds itself in the most active brewing section of the entire country. Its regional neighbors include the likes of Brasserie Theillier (La Bavaisienne), Brasserie Thiriez, and Brasserie Castelain—all three of which we've brought to the attention of our members through previous selections. Long-standing RBC members might recall our earlier inclusion of St. Germain, specifically their well-received Page 24 Bière de Noël. We're excited to be able to offer their latest bottled release this month: a dark-hued bière de garde.
Bière de garde loosely translates to "stored beer," or "beer for keeping." This French style is allowed to age on its yeast for a period of time after its initial fermentation has completed (in the case of Page 24 Brune, the conditioning lasts for about 24 days at cold temperatures) and gains an exceptional smoothness and a touch of "cellared" character in the process. The style is historically tied to the well-attenuated saisons of Belgium's nearby Wallonia region (which speaks French, we should point out), though bières de garde assume a far more malt-forward approach. The Nord-Pas-de-Calais' climate is built for brewing, and Brasserie St. Germain's multiple malts and Challenger hops are all sourced from local producers. We believe the final product speaks for itself, of French brewing techniques (and ingredients) from start to finish.
Up until now, Page 24 Brune has seen only a very limited amount of draft distribution in the U.S. Our members will be the very first in the country to try the bottle-conditioned version. We think that first sip will be proof enough that France's artisan-beer scene is alive and well.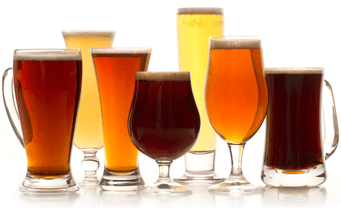 Unmatched Variety by style, brewery & country
Choose from Five different Beer Clubs offering unmatched variety by brewery,
country of origin, and beer style to suit your specific tastes.
DISCOVER OUR FIVE CLUBS