Brasserie St. Germain - Page 24 Noël
ABV:

6.90%

Serving Temperature:

43-46° F

Suggested Glassware:

Tulip (or Snifter, swirled often!)
Like kids at Christmas, folks in the vicinity of Brasserie St. Germain in Aix-Noulette, France, clamor for this beer every holiday season. Despite being available for a mere two months each year, Page 24 Noël accounts for 10% of the brewery's small annual production. There's not much to go around, meaning not everyone ends up getting what they wanted for Christmas. This makes us even more excited to announce that the bottles you now have are among the very first available in the country! Never before in the US, we've now got a little slice of beery Christmas heaven procured for our members. Truthfully, it's a bit "grinchy" on our parts to take some of what would normally have gone to the locals, but hey, sometimes we need to do a little Robin Hood'ing here and there to slake our members' insatiable thirst for rare beer. The beer, when poured into an oversized tulip glass, pours a coppery orange color with an off white head that starts about 2-3 fingers thick and fades to a clingy collar. A vibrantly aromatic bouquet greets the nose on this special holiday Bière de Garde. Expect spicy notes, with some alcohol rising forth and nipping at the nostrils with a cinnamon-like tingle, but there are softer notes of fresh red berries (raspberry?), oak, maraschino cherries, nectarines, and a cellar-like musty character that dissipates over time as the beer breathes. Goes down fruity, clean, quite refreshing and almost light, which is a bit unexpected after a fairly intense, almost aggressive nose on this nearly 7% ABV brew. Moderately sweet, but not syrupy or heavy—it's sweet like fresh fruit—ripe, clean and juicy. Look for notes of fresh grains to maintain a presence, along with a very faintly roasty character imparted by the use of black malt (quite atypical in the style). But we found the most prominent feature to be a clean, ripe fruitiness that is somehow lighter and more ethereal than most beers in the spiced, holiday-brew genre. Finishes with some mildly phenolic, spicy notes, and an almost lemon-like acidity and ghost-like suggestion of lime flesh. The musty, cellar-like notes normally present in Bière de Garde have taken a back seat to fresher, vibrant fruity notes and citrus acidity with less aggressive hops, all cradled with finishing characteristics reminiscent of a top shelf Manhattan (the cocktail). Sweet vermouth meets bourbon whisky… We're tempted to drop a cherry in this beer to complete the cocktail, but it's already got all the fruit notes that it needs. Quite interesting and plentiful in the flavor department. Consider pairing with chicken Francese to bring out the lemony bitterness, or alongside a rich, sweet Madeira chicken recipe to contrast and complement the sweetness of the beer. Joyeux Noël!
Breaking from tradition can not only be difficult, it can be dangerous. Deviation from the norm often upsets the hegemonic rule tacitly adhered to when we fail to question the world around us. (No, this is not the beginning of our manifesto…) As a member of this club, you already know that most people choose not to question, especially when it comes to their beer; they imbibe what is served to them, what's most common, what the 'TV-looky-box' suggests will make them more attractive to women, and, a better sports fan. But you have taken a different path. You have elected to seek out the best, not the biggest. You question the norm, and even suggest to others that they do the same as you try to steer your friends and family to the enriching experience so often found in the pursuit of better beer. So, we know that you will appreciate the story of Hildegard of Bingen, a woman of the Rhine River Valley (now Germany) who was dedicated by her parents to the Church at birth, sent off to a Benedictine monastery, and eventually became the founder of a convent, a theologian and philosopher, a musical composer, a seer, scientist and healer, pioneer of holistic medicine, and, more or less, the forebear of the women's liberation movement—all back in the 12th Century A.D., a time when women were regarded as little more than property, hardly ever educated, and generally unable to read or write. But Hildegard gave counsel to popes and kings, and produced many important works in a range of disciplines. She is considered by many to be the first writer ever to describe the female orgasm, and was known for her positive views on sex (not typical of the Church at that time). Questioning the establishment? You betcha. And among all her other specialties, she was a major advocate of the use of hops in beer—something barely done at the time, as the herb-and-spice blends used to bitter beer (called "gruit") were often made exclusively by the Church. The folks behind Brasserie St. Germain likewise appreciated the story of Hildegard, naming many of their beers after her, and making reference to a treatise that legend tells she wrote, called "The Benefits of Beer." On page 24, according to legend, she revealed a great secret, which men have fought to obtain for generations. No copies of the treatise exist in the modern world, and no one knows what the great secret was. Speculation abounds about what the secret could have been, and many historians agree that no such treatise ever existed, but the allure of this mystery has endured for generations. For the brewers at St. Germain, they seem to think the secret is "more hops!" In this regard, they have broken with regional tradition since their inception in 2003. Their brewery, in French Flanders, is not well known for its heavy handedness when it comes to dosing beers with hops, but St. Germain has focused around the power and glory of the flower that so inspired Hildegard, and, legions of beer geeks worldwide. After only six years in the brewing game, the tiny Brasserie St. Germain has made its mark as, indisputably, the most awarded brewery in France. Try any of their beers, and you'll discover for yourself that the reason why is no mystery at all.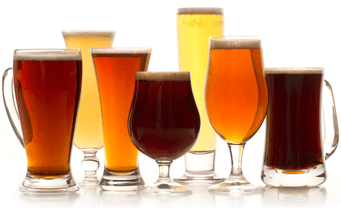 Unmatched Variety by style, brewery & country
Choose from Five different Beer Clubs offering unmatched variety by brewery,
country of origin, and beer style to suit your specific tastes.
DISCOVER OUR FIVE CLUBS