Brasserie Thiriez - La Maline (Rare Beer Club Exclusive)
ABV:

6.5%

Bottle Size:

750-ml

Serving Temperature:

45–52° F

Suggested Glassware:

Tulip, Snifter, Goblet
The Thiriez La Maline pours a deep dark brown and leans towards opaque black, with deep ruby notes around the edges when held up to light. A firm head made of tan foam sits on top and has good retention without much lacing. When we took in the aromas we were greeted by a bouquet of roasted malt, dark chocolate, coffee, and dark caramel, with a hint of toasted brown sugar. Beyond the initial aromas there are deep dried black fruit notes reminiscent of raisins, plums, and blackberries. Those are accompanied by aromas of dried flowers and herbs, with a hint of dark earth and spicy wild yeast.
The first sip of La Maline brings flavors of dark roasted malt sweetness and charred grain bitterness. There's also a healthy dose of hop bitterness that we encountered mid palate, lengthening our experience and paving the way for the layers of flavor that followed. Rich dark chocolate, espresso roast coffee, and toasty caramel flavors are pronounced at first but soften as the beer warms slightly. The fruit aromas come through as flavors and build on the foundation laid by the malts. Lots of dried black fruit, such as the aforementioned raisins, plums, and blackberries, come with a slight vinous note, which complements and balances the roast of the malts and the hop bitterness. With La Maline being a Flanders beer, there is a good amount of earthy notes and slightly spicy yeast flavors. Lactic notes come into play here as well, adding more depth to the flavor and perking up our taste buds. Lots of savory notes follow, bringing in slight flavors of Worcestershire sauce and mushrooms.
Thiriez La Maline is a medium bodied beer with finely bubbled mousse and a round, slightly tart mouthfeel. The finish is satisfying and slightly dry with the roasted malt flavors lingering on and the bitterness tapering off nicely. The experience is rich, layered, and complex, showing off the brewer's know-how as much as the region's style, and gives the drinker a good impression of the beer's sense of place. Think of it as one would use the word "terroir" when referring to wines from one specific region or another. Those wines taste that way because of the local climate, soil, topography, and grape varietal. So too are Flanders beers terroir-driven and distinct in that they use locally grown grains and locally cultivated yeast strains in the fermentation process, which produces beer that is unique in style and character.
Thiriez La Maline drinks well now and can mature for a few more years. We recommend 3-5 years for this beer to reach peak maturity but will drink increasingly well along the way. This beer pairs well with stilton and similar mellow blue cheeses, but is best paired with Beef Carbonnade Flamande, especially when used in the marinade.
About 150 miles due north of Paris, at the northern tip of France, just about 12 miles south of the famous North Seaport town of Dunkerque (Dunkirk), you'll find Brasserie Thiriez. Daniel Thiriez founded his brewery in 1996 shortly after settling in this region of France, in the small town of Esquelbecq. We understand why he chose to make this area his home, with its lush hillsides in the rolling farm country of French Flanders; it's a beautiful place to live.
The brewery is housed in a rustic, rather small brick-and-beam building that harkens back to the days of true farmhouse brewing that took place here before this area was considered French or Belgian. Daniel holds a brewing degree from a Belgian university and brews his beer in a decidedly Belgian style, with French farmhouse flair and a regionally atypical heavy hand when it comes to hops. He manages to push the envelope with some of his beers while maintaining a traditional approach to brewing. His beers are unfiltered, unpasteurized, and refermented in the bottle.
His brewery buildings were originally those of the old Poitevin firm-brewery, which brewed on the site until 1945 (quite impressive considering that the town of Dunkerque, just a few miles away, was 80% leveled by Nazi bombings from 1940-1945). After having been home to five breweries (and a few dozen pubs), the village of Esquelbecq did not produce beer for nearly one half-century, until Daniel set up shop in 1996. Local residents were glad he did, as we're sure you'll be too. À Votre Santé!
Beers from Brasserie Thiriez are not typically found in the US. The importer will occasionally bring in 330ml bottles, consisting mostly of the Amber, Extra, or Blonde, and in very small quantities. There are also some cases of La Petite Princess – a collaboration with Jester King Brewery of Austin, Texas – that made their way stateside, but are very few and far between. We are very honored to offer La Maline for the first time in the US, in 750ml bottles, exclusively through the Rare Beer Club.
For more information about the brewery, check out their web site: www.brasseriethiriez.com.
The first mention of Porter dates back as far as 300+ years. The name Porter was associated with London's working class, the "porters" of East London responsible for transporting goods such as fruit, fish, vegetables, barrels, and tankards of beer to and from markets. They typically drank well-hopped and strong brown beers aged for a considerable time in barrels. The time in the barrels gave these beers an approachable character which added to their popularity. As years went on, the beer became darker with the use of patent malt, a "blackened" pale malt that gave a deeper opaque color to the beer, but still retained fermentable sugars.
Bière Noire des Flandres is a porter-style beer, in that it uses dark specialty malts, but is fermented and aged with the use of some Brettanomyces and lactobacillus, in oak foeders. Think of it as a much darker Oud Bruin, but not as tart and much less barnyard-like in aroma, with more emphasis on malt, hop bitterness, and the development of black fruit flavors and esters.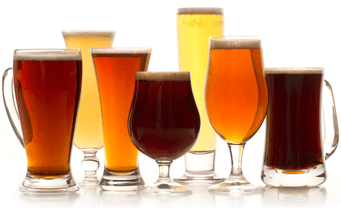 Unmatched Variety by style, brewery & country
Choose from Five different Beer Clubs offering unmatched variety by brewery,
country of origin, and beer style to suit your specific tastes.
DISCOVER OUR FIVE CLUBS