Brewery Ommegang - Valar Dohaeris
ABV:

9.0%

Bottle Size:

750-ml

Serving Temperature:

42–49° F

Suggested Glassware:

Chalice, Goblet, or Tulip
Ommegang's Valar Dohaeris is one of the most highly rated releases from their beer series inspired by Game of Thrones, and it's been resurrected briefly from its original 2017 release. This bright, effervescent golden ale is depectively light but quite potent, brewed with pilsner malt, wheat, flaked oats, and flaked barley malt, along with Hallertau and Tettnang hops. The beer is fermented by Ommegang's expressive house yeast. Valar Dohaeris' second and final release was brewed in 2020. This much smaller run saw more limited distribution, with about 1,000 cases or so allocated for the U.S. market. We'll be taking a large portion of that for our Rare Beer Club members, and after that this beer will be gone for good.
Valar Dohaeris pours a beautiful light-copper color in the glass: vibrant, honeyed orange and capped by a well-formed, fluffy white head. The foam's well retained, leaving strong lacing. This beer basically glows in the glass; deep golden with pinpoint carbonation bubbling up.
Sweet grain and honey lead the aromatics. Generous degrees of freshly cracked pepper and vanilla appear from the yeast character, the spice providing welcome bitterness. There's lots of honeyed malt, apple, and pear upfront in the aromatics; ripe fruit in abundance with some subtle caramelization and cotton candy. The alcohol keeps nicely tucked away, appearing as sherry and vinous, plush fruit presence. A fruity, peppery ferment. Soft alcohol and spice.
This proves effervescent in the first sip, with plenty of zesty pepper and herbal character at the front. Vibrant fruit, from pear to apple to lime, accompanied by a smooth honeyed core maltiness and warming touches from the 9% ABV. Flaked oats and barley malt contribute to a rounded, satisfying profile overall, while bitterness comes from both yeast and hops. The latter seem to contribute quite a bit of herbaceousness and lime notes, maybe even a hint of lemongrass. The sweetness is constantly kept in check, and this beer's a pleasure to sip on.
Valar Dohaeris has been our favorite of the recent releases we've tried from Ommegang: a world-class tripel, with exceptional details from the brewery's house yeast. This ends pretty dry and lightly warming, with considerable amounts of almond, pear, and pepper. Satisfying and super engaging overall, with fine-bubbled carbonation keeping things lively throughout.
The brewery expects this to be at its prime in the first year or two of bottling. For pairings, Ommegang recommends enjoying Valar Dohaeris with buttery, saucy, lightly sweet fare like French onion soup, Caribbean-jerk-grilled fish with tropical fruit salsa, or Bananas Foster.
We've long been fans of Brewery Ommegang in upstate New York, which has been making amazing Belgian-style beers since 1996. Ommegang became the first farmhouse brewery in America in 100+ years, created when the Belgian breweries Duvel Moortgat, Affligem, and Scaldis joined with importers/entrepreneurs Don Feinberg and Wendy Littlefield to create a Belgian-style brewery in Cooperstown, New York. They located the brewery on an old 140-acre hop farm in the Susquehanna River valley, in a region once known as Nova Belgium.
The brewery takes its name from a tradition that started back in 1549, when the merchants, vendors, cooks, brewers, musicians, theater troupes, and other artisans of medieval Brussels came together to stage a celebration for the Holy Roman Emperor King Charles V and his Royal Court. The annual gathering would be known as the "Ommegang" (meaning 'walking about' and 'coming together') and continues as the Brussels Ommegang Festival to this day.
Brewery Ommegang launched its first beer in 1997 with Ommegang Abbey Dubbel, a hefty Trappist-style dark ale with spices that was packaged in 750mL bottles—all pretty out there at the time of the early craft-beer scene. This was followed up in coming years by Hennepin Farmhouse Saison, Rare Vos Amber, and Three Philosophers, the latter a Belgian-style quad with a touch of Belgian kriek (cherry beer) added. Ommegang's Witte Wheat Ale was added in 2004 and became their first beer packaged into kegs, and the brewery's Belgium Comes to Cooperstown festival was first held in July of that same year. Combining beer tastings, local foods, camping, and music at Ommegang's scenic farmhouse location proved to be a big hit, with over 50,000 people participating in the annual event over the following 15 years.
The brewery's done a ton of cool projects over the years. There's a natural amphitheater that sits behind Ommegang, and in 2011 the brewery launched their Summer Concert Series with artists like Wilco, Jack White, Bonnie Raitt, and The Old Crow Medicine Show. The concerts have continued to draw up to 40,000 people annually. Ommegang first launched its series of Game of Thrones beers in partnership with HBO in 2013, releasing over a dozen beers that celebrated the characters and stories of the series. In 2016, the brewery worked with Cornell University to create an experimental hop yard to encourage local hop farming, and releases a beer called Hopstate NY each year that's brewed exclusively with hops grown in the state. In 2016 and 2017, Ommegang partnered up with Liefmans—their sister blendery in Belgium—to create two aged and blended sour beers: Ommegang Rosetta and Ommegang Pale Sour, which quickly became top sellers. (Our other feature this month comes from Liefmans!)
These are just some of the highlights of what Brewery Ommegang's been up to since 1997. Ommegang has brought forth a ton of cool Belgian-inspired beer over the past 25 years, and they continue to develop great new beers and projects today. For the latest details on visits, the tap house, current tours/tasting options, and the latest news, head to ommegang.com.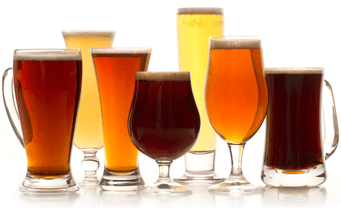 Unmatched Variety by style, brewery & country
Choose from Five different Beer Clubs offering unmatched variety by brewery,
country of origin, and beer style to suit your specific tastes.
DISCOVER OUR FIVE CLUBS