Broken Bow Brewery - Blended Barrel Aged Barley Wine
ABV:

14%

Serving Temperature:

54–61° F

Suggested Glassware:

Snifter, Tulip, Goblet or Bordeaux Glass

We couldn't wait to dig into this limited release from Broken Bow Brewery. We're pleased to offer their Blended Barrel Aged Barley Wine as a Rare Beer Club exclusive. You'll be able to get this beer only through The Rare Beer Club, aside from a very small number of cases to be sold directly through the brewery's tasting room. This potent and generous barley wine has been aged in a mixture of bourbon, red wine and rye barrels, which meld into a seamless mix of berries, oak, toasty bourbon, and so many other good angles. We couldn't wait to get into tasting this one: a deep, dark cola-brown beer that's lightly viscous and certainly dense in the glass, with massive aromatics that expand as this starts to warm up, and all the careful details that make you just want to dive in. (Do make a point to share this with someone you like.)
This pours quite dark for a barley-wine range, heading into dark-dark brown or even black in the middle. Super-hefty stuff. There's a creamy, light-brown foam that stays firm at its edges, capping the dense liquid underneath. The complex aroma's apparent even from a distance as soon as this one gets poured. Early warming, vinous notes along with red apple and toasty oak tannins mix with pleasantly rounded notes of bourbon and barrel elements going from softer vanilla and almond to deeper char. Dense, chocolate-tinged berries tend to spill out of the glass, and there's so much more here than that. This often tips slightly into terrain that feels more like an imperial stout, or nearly, with edges of darker and bitter chocolate, an invigorating alcoholic warmth that feels like just enough, and all kinds of roast and darkness.
The overall mouthfeel of this beer is just incredible: the alcohol adding some welcome lean, warming elements to what's a very impressive range of flavor profiles, incorporating the full range of employed barrels, each of which show through in their own way. There's generous contributions of bourbon and oak, and barrel-tinged spice. The red-wine barrel offers berry character that seems to also bring the subtle acidity of this beer, with a fruity quality that just pops. It's hard for us to think of a big beer we've enjoyed recently that had quite this much range without feeling overdone. This one keeps a clear purpose with caramelized malts and barrel notes and a brilliant assortment of fruit characteristics. There's no doubt this is just a massive release from Broken Bow: a full-bodied barley wine that expands its range well past traditional red fruits and lightly oxidized caramel with a beautiful blend of barrels and malty complexity that feels beyond generous and veers into unexpected chocolate and roast.
We couldn't be more impressed by what we've been sampling from this New York brewery, and this month's Rare Beer Club exclusive is the finest thing from them we've tasted so far. We're excited to introduce these folks to our RBC members. To many brilliant beers ahead!
If you enjoy red wine and other barrel-aged drinks, be sure to try out our new red wine of the month club!
The heftiness here constantly has us thinking of grilled meat, with flank steak in a castiron or hot grill taking the lead, adding some shakes of salt, pepper, and paprika: ideally suited to hit the notes of roast and spice on the perimeter. Its 14% ABV? Feel free to age at your leisure.
Broken Bow Brewery is situated in the small village of Tuckahoe, New York in the state's Hudson Valley. This is southern Westchester County, a little over 15 miles from midtown Manhattan. Tuckahoe's name, since you asked, translates to "it is globular," and was used by Native Americans to refer to the area's bulbous roots. We're super-excited to introduce this relatively new brewery (which just opened its doors in August 2013) to our thirsty Rare Beer Club members. We've been digging everything so far from these folks, from the core Broken Auger Lager and Broken Heart Stout to their most potent barrel-aged stuff. This month, we are pumped to be able to offer up a Rare Beer Club exclusive from Broken Bow, showcasing what we think this brewery does especially well with their Blended Barrel Aged Barley Wine, aged in a combination of bourbon, rye and red wine barrels. This very special, limited release comes in at 14% ABV, a potent and hugely generous take on barrel-aged barley wine. This seemed like the finest intro we could find to this impressive brewery in the Hudson Valley.
A very recent bit of acclaim for Broken Bow: their Old Split-Foot (a Belgian-style golden strong ale) took home a gold medal, out of 70 entries in its category, at this year's Great American Beer Festival in Denver, Colorado! (Our RBC columnist Ken Weaver was one of this year's festival judges—check out his column for some highlights.)
Broken Bow founder Mike LaMothe started homebrewing more than 15 years ago, back in Stamford, Connecticut. The homebrewing interest sparked a business idea around building a brewery within the family, and today many of Mike's family members work in different parts of the company, including his parents and siblings. (The brewery's named after the town in Nebraska where Mike's mother was brought up.) Distribution of their core line of cans has been slowly expanding across New York, and the brewery's a short train ride up from NYC.
For those curious to visit the family brewery and tasting room over at Broken Bow (maybe even check out that GABF-medal-winning Old Split-Foot...), they're currently open 5pm–10pm Wednesdays and Thursdays, 1pm–10pm Fridays and Saturdays, and 1pm–5pm on Sundays. (The Broken Bow tasting room's closed Mondays and Tuesdays.) Free tours of the brewery are offered on Saturdays and Sundays starting at 4pm. The brewery's located at 173 Marbledale Road in Tuckahoe—readily accessible via either the Bronx River or Hutchinson River Parkways, or an easy walk from train stations nearby. If you do end up making the trip up to Tuckahoe, be sure to tell the folks at Broken Bow that The Rare Beer Club says hello! Ooh, also: Make sure to leave some time in your visit to spend in Broken Bow's beer garden. Play some cornhole, snag some empanadas from License 2 Grill nearby, and enjoy some pints at one of the finest up-and-coming breweries in the beer-savvy state of New York.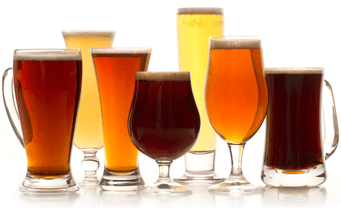 Unmatched Variety by style, brewery & country
Choose from Five different Beer Clubs offering unmatched variety by brewery,
country of origin, and beer style to suit your specific tastes.
DISCOVER OUR FIVE CLUBS