Brouwerij Alvinne - Land Van Mortagne
ABV:

12.8%

Bottle Size:

750-ml

Serving Temperature:

50–57° F

Suggested Glassware:

Goblet, Chalice, or Tulip Glass
Brouwerij Alvinne's Land Van Mortagne is a delicious, full-bodied, amber-colored Belgian quadrupel packed with specialty-malt character and tempering mineral bitterness. It pours a deep, amber-red hue capped by a modest light-tan head that quickly subsides to a perimeter of bubbles (not too surprising given the potent ABV…). Initial aromatics provide generous, plush red and dark fruitiness (emphasizing cherries, currants, strawberries) beside restrained caramelization and some significant pepper and clove from the Belgian yeast. We found fruit leather, maraschino cherries, and well-restrained sweetness despite how malt forward this is.
Medium-full to full body, leading with a generous display of ripe red fruit: cherries, currants, apples—all counterpointed by welcome peppery notes and clove from the core yeast. Some warming alcohol is definitely tucked in here, but its surprisingly subtle, keeping the overall body lean and serving to balance out the core expression of generous maltiness. That clove, pepper, and vinous warmth serve as useful counterpoints, keeping this exceptionally easy to dig into despite a 12%+ ABV; there's definitely a wine-like feel overall, with impressive early sherry and deep fruitiness apparant. Land Van Mortagne's a vibrantly fruity, phenolic-driven quadrupel, where so many other beers within this space lean more strongly on a caramel and heavier specialty-malt presence. "Amber quad" feels right for this—this is very vinous, super generous in its overall fruit expression, and extremely pleasurable to dig into as a nightcap. Lasting finish that's almost port-like, offering lingering cherries, strawberries, and warmth.
The quad has got a very high ABV and is refermented in the bottle, such that it's built to last and develop further in one's cellar. This should continue to develop nice caramelization and sherry character with additional cellaring time. Vibrant red fruits and amber maltiness have it primed for pairings with roasted pork, turkey, and charcuterie.
Alvinne's developed a very strong reputation among beer geeks for their barrel-aged beers and traditional Belgian-style releases. They rapidly developed a barrel-aging program upon opening in 2004, and frequently use a variety of unique wine barrels to ferment and finish their beers, incorporating Sherry, Calvados, Sauterne Banyuls (a French fortified wine), Port, Cognac, and many others. They've developed a following for both their big beers and their Flemish sour ales, the latter fermented inside five wooden foeders¬–which includes a gigantic "mega foeder" with a capacity of 60 hL (which can also be seen in the design of their logo!).
The brewery's located in Moen, Belgium, right at the edge of the popular Mortagne area, and close to many of the historic breweries where old-school Flemish brown ales were created. Brouwerij Alvinne, perhaps most importantly, has its own proprietary yeast called Morpheus that is used throughout their lineup of beers—including Land Van Mortagne—and features heavily in their mixed-fermentation sour ales as well (which they see as a hybridization of the Oud Bruin and lambic styles). Their resident yeast whisperer Marc De Keukeleire, head of yeast management and special projects, isolated the wild yeast from collections in the French Auvergne region and cultivated it into their now highly regarded Morpheus strain—helping them to produce exceptional, highly unique sour and non-sour offerings alike.
The brewery refers to their sour releases as "Flemish sour ales", as the historical frameworks of Oud Bruins and Flanders Reds don't quite encapsulate the variety of sours they produce. Many of these releases are available in both fruited and unfruited versions (using only whole fruits, such as cherries, raspberries, quince, sloeberries, gooseberries, smoked pineapples, and all sorts of other stuff), often with a Bordeaux-barrel-aged version offered in limited supply. We've seen a whole lot of weird special ingredients in our day, and Alvinne has tried some especially out-there stuff, including asparagus, espelette peppers, eucalyptus, lingonberries, and sea buckthorn. The brewery also has a local Rare Beer Club-esque offering of their own: Alvinne's Fellowship of Exceptional Ales, which gives their most loyal of fans the option to purchase their exceptionally limited releases (all with less than 400 liters of each produced). Alvinne only makes about 1,000 U.S. barrels annually, making all the releases quite limited!
This month we're excited to offer the brewery's Land Van Mortagne, a full-boded amber quadruple that's a beautiful showcase of this classic Belgian style. This one is 12.8% ABV, brewed with malted barley, hops, sugar, water, and yeast, featuring the proprietary Morpheus strain. This popular quad, our favorite of their beers we sampled, is also featured in Cuvée de Mortagne (aged in red wine barrels) and Cuvée de Mortagne Pedro Ximenez (aged in sherry barrels, and coming in at an exceptionally potent 16%). We're thrilled to be able to offer this as a Rare Beer Club exclusive, brought in specifically for our members. Their brewery is open from time to time, with updated hours available through the brewery's Facebook page: facebook.com/brouwerijAlvinne (they were open 8am to noon, Monday through Saturday, last time we checked).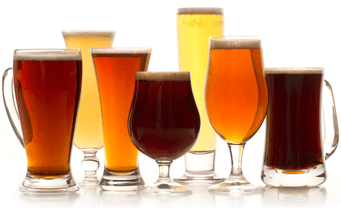 Unmatched Variety by style, brewery & country
Choose from Five different Beer Clubs offering unmatched variety by brewery,
country of origin, and beer style to suit your specific tastes.
DISCOVER OUR FIVE CLUBS