Brouwerij Boon - Geuze Mariage Parfait 2014
ABV:

8%

Bottle Size:

750-ml

Serving Temperature:

42–49° F

Suggested Glassware:

Lambic Tumbler, Flute, Tulip, or Chardonnay Glass
We always love revisiting these releases. Boon's vintage Geuze Mariage Parfait is one of the most expressive lambic offerings out there: 100% spontaneously fermented, partly aged for three-plus years in oak, and sporting a best-by date 20-plus years into the future. Traditional, very tart, funky and complex—with a balance of acidities and fruits that evolves with time. Boon's occasional vintage release of this blended beer is one of our very favorite lambics.
This basically looks like nectar. After the whisps of head fade, after the effervescence below subsides, this really does look like some sort of orange nectar: golden and bright and sunny. It's almost like it's gilded. The aromatics on this are just expansive: salty, citrusy, clenchingly tart, with just layers and layers of fruit-driven sourness, brine, and 100%-pleasant funk. This conjured memories of sharp bleu cheeses, tucked in there with honeyed cantaloupe notes, a pervasive sour-citrus core. The nooks in the aroma were endless. As this warms, the citrusy, lemon-like approach further opens up to offer more underlying toastiness and soft oak.
If we had a geuze vault, and didn't have enough time to make the grandiose number of dear, lambic-loving friends required to empty said geuze vault—like, enormous amounts of geuze, we're talking here, such that we'd be too busy drinking geuze to give away all our geuze. Well if that were the case—wouldn't that be great? RIGHT? We could totally go for a geuze vault.
In any event this is delicious, and we'd make plenty of room for it in our eventual geuzeum. Despite the generous degrees of tartness here, the mouthfeel is just seamless, plus incredibly inviting: smooth vanilla-tinged oak and ripe fruitness fill in any gaps here left by effervescent bubbles and the jolting acidity. Everything's tied together right, the rudder's a massively sour lemon, and there are endless appointments to check out: notes of ripe apricot, sour peaches, lemon zest. And we can't wait to see how this latest release of geuze will age going forward.
As noted above, our Rare Beer Club members should feel confident setting down some of these bottles for years to come. This is certainly one of the most promising cellar options as of late that comes to mind—though that may also be because we'd generally fill our garages with cases and cases of lambic, if circumstances permitted. A great release to watch develop. For food pairings, look to creamy herbaceous cheeses, steamed mussels, or pommes frites.
There's definitely something about lambic.
Actually, there are a whole bunch of things about lambic. Part of it's the unknown: the fact that traditional lambic production involves spontaneous fermentation, with local wild yeasts and bacteria coaxed from the passing air. (It can seem a bit like sorcery.) Another part is the patience required: those yeasts and bacteria frequently take their good sweet time fermenting, with blended offerings like geuze incorporating barrels of lambic that can be three or more years in the making. Part of it is the blending: that learned art of tasting and combining older and newer barrels of lambic, of creating something tastier than the sum of its parts. And part of it is the long-awaited result: sour, funky, refreshingly complex beer that's unlike any other.
We're excited to share with our members this month an especially rare example hailing from the heart of lambic country. Frank Boon and his brewery, along with the folks of Cantillon and Drie Fonteinen, are often regarded as saviors of this finicky, time-intense means of beer production. As hard as it may be to believe while actually drinking traditionally made lambic, for many years it was on a slow and spiraling departure from this world, both from brewery closures as well as from market pressures to artificially sweeten the final product. Today, it's instead a new dawn for Belgian lambic producers, with Boon helping to lead the effort.
Brouwerij Boon finds it distant roots as a brewery extending back to 1680, as a farm-brewery and distillery in Lembeek, a small village about thirty minutes southwest of Brussels. The tax situation at the time was encouraging to brewers and distillers alike, and there remains debate as to whether the term lambic originated from the village name itself or from the "alembic," a distillation device preceding the pot still. Either way, Lembeek still maintains its close ties with lambic. Frank Boon purchased the brewery in 1975, and his location currently sits near the shore of the River Senne: a nexus of wooden barrels and cherry trees.
Today, Boon creates various different lambics, including geuze, kriek (made with cherries), framboise (with raspberries), and faro (with spices and candy sugar). Some are sweeter, while others are bone dry. All of them can take some significant effort to track down. And at the tippy-top of their authenticity-minded lambic production is one of our selections this month: Geuze Mariage Parfait. Mariage Parfait is French for "perfect marriage," and we think you'll agree that they couldn't have picked a more appropriate name.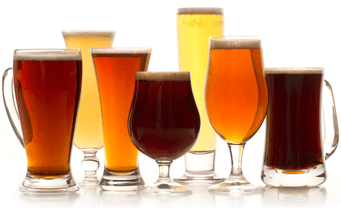 Unmatched Variety by style, brewery & country
Choose from Five different Beer Clubs offering unmatched variety by brewery,
country of origin, and beer style to suit your specific tastes.
DISCOVER OUR FIVE CLUBS