Brouwerij De Graal - De Graal Triverius
ABV:

6.80%

Serving Temperature:

45-50° F

Suggested Glassware:

Pint Glass, Pilsner Glass or Tulip
De Graal Triverius is a unique wheat beer brewed with substantially more wheat than a typical witbier (contrary to the name, wheat beers often contain less than 50% wheat in their grist bill)—making it what some refer to as a "double wit" or "double white". The result is hefty wheat aromas, and with a rather powerful yeast working during initial fermentation, and secondary in the bottle, plenty of clove and banana notes. Orange peel and coriander are used in the beer as well, keeping with tradition. The beer will pour clear at first, but be sure to swirl the bottle vigorously with about a 1/3rd of the beer left, to get the proper cloudiness expected for the style (pouring that portion with gusto into your glass of nearly clear beer). Then swirl the glass to blend it all together into a uniform cloudiness. Now you're looking at a properly poured witbier! Expect a massive, frothy off-white head and a butterscotch and honey-colored ale in the glass. The aroma is herbal and tremendously aromatic, giving up notes of cloves, plantains, honey, peaches, pepper and even ginger. Look for a twinge of tartness from the wheat, and a backdrop of bread and toasted cracker notes. On the palate, the beer offers a nice level of Belgian spiciness, including quite a pronounced coriander character. A honeyed sweetness is short-lived as the yeast has swallowed up just about all the sugars during fermentation, giving us a beer that finishes dry, with a bit of tart wheaty twang, and a final impression of gentle hop bitterness. The bitterness in the finish is also complemented by suggestions of orange peel/zest. As it warms, banana notes swell, and additional citrusy fruity esters blossom as well (notably pear). But peppery spice comes up as well with warmth, retaining the overall balance at any temperature. Wonderful summertime beer, as it is clean and refreshing while also satiating thirst. "Triverius" is the Latin word for "outstanding", and indeed, this is an outstanding, big, yet balanced witbier. Enjoy your stash of this rare brew within 3-6 months; it will mature in the bottle, and holds up longer, but its freshness and quenching nature are most exceptional during the peak of hot summer weather. We've stocked up on this stuff ourselves, as this beer is definitely going to be a mainstay at our own summer events. We encourage you to do the same. Cheers!
"Purity and Innocence of Spirit Shall Reveal the Glory of the Grail."
And if that doesn't work for ya, you could just drink any of the beers brewed by our featured brewery to get a feel for that glory. Brouwerij De Graal, or "The Grail Brewery", in Dutch, clearly has religious symbolism behind the name. This is not uncommon for Belgian beers, among whose ranks live many a monastically-brewed Abbey beer. Let's face it, monks can brew some damned fine beer—and many others strive to deliver beer of like quality.
Brouwerij De Graal is a small artisanal brewery located in the Flemish Ardennes (the informal name given to the hilly region in the south of the province of East Flanders). Brewer and owner Wim Saeyens was a homebrewer for years before opening the brewery in 2002. Wim holds a Ph.D. in pharmaceutical sciences, and attended the brewing school at the University of Ghent. The man can brew with the best of them.
A curious peculiarity is that De Graal steps outside of the direct realm of beer, producing a 40% alcohol (by volume) beverage—a sort of beer-schnapps, called Bierbrand, that is made by the distillation of De Graal beers. The aromatic liquor is distilled twice in order to retain only the alcohol and hop aromas from the original beers, and is then matured in oak Bourbon barrels. Now this is taking beer to its furthest extremes! They're also making their own 63% alcohol by volume whisky, aged five years in bourbon casks—but it's only available at the brewery (you know, you're overdue for a trip to Belgium…).
And since their opening in 2002, one of De Graal's specialties has been the production of beers on premises, an arrangement that permits customers to brew their own beer on site, according to their own wishes. This is a great way for customers to create a personalized beer, and is a great outlet for pubs and restaurants that want to sell their own beer but don't want to bear the capital expense of setting up their own brewery. Another common use is for birthday, anniversary, or wedding celebrations, yielding individualistic beers that make these events truly memorable. Having tasted a handful of the commercial De Graal beers, we're jealous that people can just waltz on in to the place and brew a beer on their system, with the guidance of their Masterbrewer. Ah, Belgian beer culture—there's nothing quite like it on Earth (though there are a handful of similar 'brew on premises' outfits operating in the USA—check your local listings, you might just have one in your area. In the meantime, we'll keep sending you the world's best brews to keep you quenched during your quest).
For more information about the brewery, check out their website at www.degraal.be.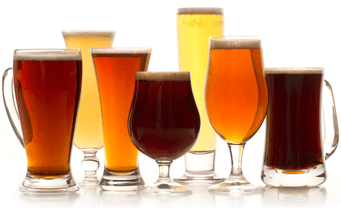 Unmatched Variety by style, brewery & country
Choose from Five different Beer Clubs offering unmatched variety by brewery,
country of origin, and beer style to suit your specific tastes.
DISCOVER OUR FIVE CLUBS