Brouwerij De Molen - Donder & Bliksem (2007 & 2008 Vintages)
ABV:

8.00%

Serving Temperature:

45-55° F

Suggested Glassware:

Goblet or Snifter
As De Molen is one of the smallest, most limited-production breweries we've worked with, we had to pull from two vintage batches to have enough to satisfy the club's demand. Damn we love vintage beer, and this time, we've done the work for you—enjoy this 2-3 year aged brew with no waiting! The name, Donder & Bliksem, refers not to Santa's sleigh-pulling pals, but to thunder and lightning. It pours a tawny, chestnut hue, capped by a faint tan head that endures as long as there's beer in your glass, and it certainly presents with a thunderous pronouncement of the might of malted barley—this is a huge malt bomb on the nose. Look for notes of raisins and rum cake, alcohol, maple syrup and brown sugar, caramel-coated apple, and a hint of walnut. Summed up, this is rich, syrupy bliss on the nose! But surprise, it is much less sweet than the nose would suggest, resulting in an almost Abbey-style Dubbel flavor profile, but slightly less candied, less spicy, and still richly malty without an overwhelming sweetness. There are also some spikes of orange-flavored chocolate, pumpernickel dough, nectarines and prunes, as well as overripe red apple skins, all offset slightly by a walnut-like drying character. At this age, it has some oxidation notes, but these work nicely in the beer as it has mellowed out and really come together very well. In this regard, expect elements of Old Ale to show up in the flavor profile—and these are perhaps the most elegant of the lot. A subtle, late-breaking acidity is among the hallmark features along that style's plane of reference. It breathes a faint smokiness in the fade, along with a gentle tingle on the palate at full warmth. It's also a bit like a well-aged English-style barleywine with its warming richness (just a bit light on hops to fit neatly into that style category, though the Premiant and Saaz hops do shine through in subtle manner with a slight aromatic bite in the finish). But why bother trying to assign this beer into a defined style? It truly defies categorization. And what a beautiful beer this is—refined, distinguished, and wise with all the age on it. Powerful and complex. We think this beer has a few years left in it still, but right now it seems to be peaking—this is one of the most graceful examples of success in aged beer. Get it while you can! There's no reason to pair this beer with food or say, a cigar—you risk stepping on the subtleties that careful aging has brought. It's a wonderful nightcap sipper or digestif that probably goes best with a good book or a lucky few of your beer geek pals. If you look this beer up on beer review sites, note that it is quite underrated in our opinion; it's a real gem among aged beers.
Brouwerij De Molen (The Mill Brewery) is appropriately named—it's actually inside a 300 year old windmill that once served as a grist mill. Now how Dutch is that! Like all windmills in the region, it has become a symbol not only of strength and ingenuity, but also peace and happiness. In fact, that's what earned the mill its name, the Arkduif, meaning the 'Ark's Dove,' a parallel between the dove's symbolism as harbinger of peace and joy. And despite the small quantity of beer produced there by brewer Menno Olivier, he creates plenty of peace and joy from his mill brewery. Like so many great brewers of the world, he began brewing in his kitchen as a hobby. Bitten by the bug, he went on to work professionally as a brewer, crafting beer in Westmaas and Amsterdam, and then served as master brewer of De Pelgrim, a Rotterdam city brewery. It was during his time there that he decided to open a brewery of his own, which led him to give the garage next to his home a makeover, converting it to a microbrewery (Microbrewery de Salamander) and tasting room. As his popularity grew, relocation was necessary, leading him to the small town of Bodegraven, Netherlands, and the Arkduif, where he set up De Molen.
Even though he's stepped up the scale, his output is still extraordinarily small—his stainless steel plant has a capacity of about 130 gallons—that's only about 8 kegs worth of beer per batch, which also means very limited quantities per year. De Molen's boilers are borrowed from the Dutch dairy industry. Olivier came up with the clever idea of recycling and adapting this machinery for his brewery after realizing that dairy processors require a sterilizing boil to kill off harmful bacteria much like the boil brewers perform to kill off infection-causing bacteria in their beer. Olivier's innovative dairy boilers keep De Molen's beer fresh, and their limited capacity means smaller batches (not to mention their 2nd hand use meant a less than prohibitive start up cost for Olivier—and we certainly are thankful for that).
Olivier's focus is on preserving beer culture and promoting a return to local traditions and products. His beers reflect this commitment in their classic, historic, styles and carefully chosen ingredients. All of which appears to be paying off; Ratebeer.com, a popular beer reviewing website, has a list of voters' top 10 beers by country. Eight of ten of the "Dutch Top 10" are from Brouwerij De Molen. And in early 2010, according to the users of RateBeer.com, De Molen came in 10th place on the list of 100+ Best Brewers of the World. This was a truly worldwide competition, with over 2.47 million reviews of 110,000 beers from over 9,680 brewers tallied. Quite impressive.
For more information about the brewery, check out their website at www.brouwerijdemolen.nl .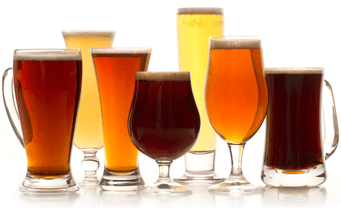 Unmatched Variety by style, brewery & country
Choose from Five different Beer Clubs offering unmatched variety by brewery,
country of origin, and beer style to suit your specific tastes.
DISCOVER OUR FIVE CLUBS