Brouwerij de Molen - Hel & Verdoemenis
ABV:

10%

Serving Temperature:

54–61° F

Suggested Glassware:

Snifter or Brandy Glass
Tasting this beer for the first time sort of felt like finding a whole new room in one's house. Sure, it was a Russian imperial stout, and ultimately inclined closer to the middle-malt spectrum, but the amount of character that brown malt's providing is just perfectly tuned: dark caramel, toffee, butterscotch—all of the sweeter core notes nicely tempered by a good amount of accompanying roastiness and bitter chocolate.

Brown malt, as a brief aside, was once a core malt for brewing darker beers in England, the stouts and porters of the time. The advent of paler and more heavily roasted malts caused it to fall into a far more marginal role in the time since, almost disappearing. Today, one has to appreciate it in the few instances one finds it. Here, it's just an explosive amount of flavor in even this style, the rich leather and caramel and brown sugar core, with its slight astringency: it all just feels perfectly presented to our palates. But we're getting ahead of ourselves again.

De Molen's Hel & Verdoemenis (or, "Hell & Damnation") pours a murky, slightly viscous, rather hefty-looking darker cola. A medium-tan head guards the perimeter, clinging to one's glass sides like foam leaving the beach. There's a nice weight here, a plush texture that, for a style like this, promises a wealth of flavor angles to explore. (This in no ways disappoints.)

Especially as this warms, look for an intense, somewhat spicy meatiness to this beer, almost like sausage or peppered meat. It reminded us a great deal of Hair of the Dog Adam in that regard: a little smoky; so dense and generous. This is a substantial beer, is another way we'd put it. That spicy, peppery note spills out as this warms, along with caramel, toffee, and that soft, vinous warmth of fruity alcohol. This beer had our attention from the aroma forward.

After that, it's fireworks. Those brown malts figure hugely here: the aforementioned caramel and toffee and butterscotch, that vaguely tannic (and, in this case, welcome) characteristic. A heightened licorice note, bitter chocolate, the roasted/charred malts. There's spicy bitterness here as well, providing additional balance and offering up a final touch. It all hints at perfect. We found this to be an exceptional, rather unique experience—and we hope you do as well.

Only about 100 cases were distributed within the U.S. in 2013, while distribution in Europe is similarly limited to serious specialty shops.

For pairings, the caramelized notes of a well-aged Gouda seem like an ideal accompaniment, as do the complementary qualities of roasted pork loin. That rich, brown-malt core is the key angle to play off here. For aging purposes, we've seen excellent shifts with this after a year or two, and the brewery puts it this way: "Enjoy within 25 years." We're generally not quite that patient, but our members should feel comfortable allowing this beer to take a nice long nap.
Brouwerij De Molen (The Mill Brewery) is appropriately named—it's actually inside a 317 year old windmill that once served as a grist mill. Now how Dutch is that! Like all windmills in the region, it has become a symbol not only of strength and ingenuity, but also peace and happiness. In fact, that's what earned the mill its name, the Arkduif, meaning the "Ark's Dove," a parallel between the dove's symbolism as harbinger of peace and joy. And despite the small quantity of beer produced there by brewer Menno Olivier, he creates plenty of peace and joy from his mill brewery. Like so many great brewers of the world, he began brewing in his kitchen as a hobby. Bitten by the bug, he went on to work professionally as a brewer, crafting beer in Westmaas and Amsterdam, and later serving as master brewer of De Pelgrim, a Rotterdam city brewery. It was during his time there that he decided to open a brewery of his own, which led him to give the garage next to his home a makeover, converting it to a microbrewery (Microbrewery de Salamander, as it was christened) and tasting room. As his popularity grew, relocation was necessary, leading him to the small town of Bodegraven, Netherlands, and the Arkduif, where he set up De Molen.
Even though he stepped up the scale, his output was still extraordinarily small—the stainless steel plant at the Mill has a capacity of about 130 gallons—that's only about 8 kegs worth of beer per batch, which also meant very limited quantities per year. De Molen's boilers are borrowed from the Dutch dairy industry. Menno came up with the clever idea of recycling and adapting this machinery for his brewery after realizing that dairy processors require a sterilizing boil to kill off harmful bacteria much like the boil brewers perform to kill off infection-causing bacteria in their beer. Menno's innovative dairy boilers keep De Molen's beer fresh, and their limited capacity means smaller batches (not to mention their second-hand use meant a less than prohibitive startup cost—and we certainly can appreciate that). As demand for his beers grew, Menno and new partner John Brus built a new brewery just down the road from the mill. The original brewery is still operating, but the new location affords them the ability to brew more—in volume and styles of beer. This still small brewery never stops creating new beers—in their 10 years of operation, they've produced hundreds of different beers, including multiple experimental small-batch variations showcasing different hop varietals and different barrel types.
Menno's focus has been preserving beer culture and promoting a return to local traditions and products. His beers reflect this commitment in their classic, historic styles and carefully chosen ingredients. However, he also has a penchant for stouts and IPAs, which were quite atypical in the Netherlands when he founded De Molen. For a while, Menno's beers kept pretty close to Belgian styles, with Dubbels and Tripels being featured, as the local market wouldn't really tolerate much else too far outside the norm. But after a while, he returned to his passion, creating some truly unique brews for the area, from a 4.5% session style English bitter to a monstrous 15.2% barleywine—not to mention this month's featured imperial stout.
We highly encourage a visit to this brewery. A restaurant has opened on site, where local ingredients, including the most local possible (the beer made at the same location), come together in some extraordinary Dutch creations. Beer in the food, beer with the food—you will indeed find peace in this place.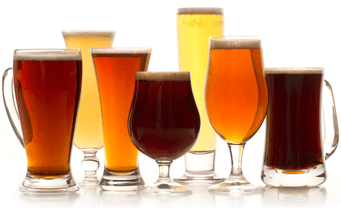 Unmatched Variety by style, brewery & country
Choose from Five different Beer Clubs offering unmatched variety by brewery,
country of origin, and beer style to suit your specific tastes.
DISCOVER OUR FIVE CLUBS