Brouwerij De Molen - Zomerhop
ABV:

6.20%

Serving Temperature:

45-50° F

Suggested Glassware:

Pint Glass
Zomerhop is one of four seasonal IPAs made by Brouwerij de Molen. They are all named after the seasons: Winterhop, Lentehop (Spring), Zomerhop (Summer) and Herfsthop (Autumn). While stylistically all are the same (IPA), each is very different in aroma and taste. Zomerhop was brewed with four varieties of hops: premiant, saaz, columbus and cascade. Columbus and cascade were used for late and dry hopping, bringing an American style hop profile to this Dutch brew. The brewers also used what they will only refer to as "special secret yeast"—we'd probably keep it a secret too if we were them—because this yeast works a special sort of magic into this uniquely well-balanced hoppy beer. Zomerhop pours a hazy dark yellow color with an off-white head that lovingly clings to the glass as it slowly decays from massive proportions to an ever-present cover. The aroma is both fruity and floral, mostly from the heavy-handed use of hops, but also from the use of De Molen's "special secret yeast." We get fresh, grassy hops too, from the saaz. There's also a lovely malt undertone, featuring some rustic flourishes, which keeps things balanced in the aroma. If summer smelled like this each day, we'd probably look like "Tan Mom" come August.

On the palate, we experienced a very powerful yet pleasant flavor in this medium-bodied brew. The taste is an especially well-balanced blend between drier, grassy hoppy notes, floral perfumes, citrus notes, resinous and herbal qualities (some truly great hop complexity at work here) and the sturdy, fresh, borderline-farmhouse-style malt backbone. The beer has malty character without being sweet, finishing with floral, fruity (citrus), rather bitter (but not harsh) light grassiness in the finish. Overall, this is an eminently drinkable California-style IPA, made thousands of miles away in the rural area of the Netherlands known as Het Groene Hart (the green heart) in an agricultural, recreational and tourist enclave between the large cities of Amsterdam, Utrecht, Rotterdam and The Hague. And most of the folks there don't even know this beer exists. Enjoy what they have yet to discover—and do it by summer's end, as this beer really is all about the freshness of its hop profile. While it will develop and mature in the bottle, it's ripe for the picking right now. Cheers!
Brouwerij De Molen (The Mill Brewery) is appropriately named—it's actually inside a 315 year old windmill that once served as a grist mill. Now how Dutch is that! Like all windmills in the region, it has become a symbol not only of strength and ingenuity, but also peace and happiness. In fact, that's what earned the mill its name, the Arkduif, meaning the 'Ark's Dove,' a parallel between the dove's symbolism as harbinger of peace and joy. And despite the small quantity of beer produced there by brewer Menno Olivier, he creates plenty of peace and joy from his mill brewery. Like so many great brewers of the world, he began brewing in his kitchen as a hobby. Bitten by the bug, he went on to work professionally as a brewer, crafting beer in Westmaas and Amsterdam, and later serving as master brewer of De Pelgrim, a Rotterdam city brewery. It was during his time there that he decided to open a brewery of his own, which led him to give the garage next to his home a makeover, converting it to a microbrewery (Microbrewery de Salamander, as it was christened) and tasting room. As his popularity grew, relocation was necessary, leading him to the small town of Bodegraven, Netherlands, and the Arkduif, where he set up De Molen.
Even though he stepped up the scale, his output was still extraordinarily small—the stainless steel plant at the Mill has a capacity of about 130 gallons—that's only about 8 kegs worth of beer per batch, which also meant very limited quantities per year. De Molen's boilers are borrowed from the Dutch dairy industry. Menno came up with the clever idea of recycling and adapting this machinery for his brewery after realizing that dairy processors require a sterilizing boil to kill off harmful bacteria much like the boil brewers perform to kill off infection-causing bacteria in their beer. Menno's innovative dairy boilers keep De Molen's beer fresh, and their limited capacity means smaller batches (not to mention their 2nd hand use meant a less than prohibitive startup cost—and we certainly can appreciate that). As demand for his beers grew, Menno and new partner John Brus built a new brewery just down the road from the mill. The original brewery is still operating, but the new location affords them the ability to brew more—in volume and styles of beer; this still small brewery has an astonishing repertoire of over 120 beers created since their founding only 8 years ago. They never stop creating. And we never stop loving 'em for it!
Menno's focus has been preserving beer culture and promoting a return to local traditions and products. His beers reflect this commitment in their classic, historic styles and carefully chosen ingredients. However, he also has a penchant for stouts and IPAs, which were quite atypical in the Netherlands when he founded De Molen. For a while, Menno's beers kept pretty close to Belgian styles, with Dubbels and Tripels being featured, as the local market wouldn't really tolerate much else too far outside the norm. But after a while, he returned to his passion of brewing beers like that at his garage home-brewery, creating some truly unique brews for the area, from a 4.5% session style English Bitter to a monstrous 15.2% Barleywine. The efforts have been paying dividends in recognition; Ratebeer.com, a popular beer reviewing website, has a list of voters' top 50 beers by country. At the time of this writing, thirty-six of the fifty are from De Molen (which, despite its size, is insanely prolific). The top 20 of these "Dutch Top 50" are all from Brouwerij De Molen. In early 2010, according to the users of RateBeer.com, De Molen came in 10th place on the list of 100+ Best Brewers of the World. This was a truly worldwide competition, with over 2.47 million reviews of 110,000 beers from over 9,680 brewers tallied. So far in 2012, the competition has continued to swell, as hundreds of breweries and thousands of RateBeer users have been added to the fold over the past 2 and a half years, yet De Molen held strong at #12. Quite impressive.
We highly encourage a visit to this brewery. A restaurant has opened on site, where local ingredients, including the most local possible (the beer made at the same location), come together in some extraordinary Dutch creations. Beer in the food, beer with the food—you will indeed find peace in this place.
For more information about the brewery, check out their website at www.brouwerijdemolen.nl.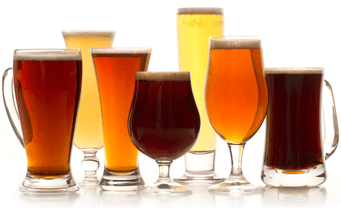 Unmatched Variety by style, brewery & country
Choose from Five different Beer Clubs offering unmatched variety by brewery,
country of origin, and beer style to suit your specific tastes.
DISCOVER OUR FIVE CLUBS