Brouwerij De Ranke - Noir de Dottignies
ABV:

9.00%

Serving Temperature:

45-55° F

Suggested Glassware:

Tulip, Snifter or Oversized Wine Glass
Named after their proud new home, Noir de Dottignies fills the glass with a tall plume of creamy head that is a toasty, off-white color, but in contrast to the deep brown burgundy beer, it initially may seem white. This is De Ranke's darkest beer, and it features more varieties of malt than any of their other brews (six in fact). Despite the name, it's not black. That being said, in contrast with all other De Ranke beers to date, this beer definitely plays 'night' to the rest of the lineup's 'day.' Swirl the glass after the massive head has retreated (give it about 10 minutes) and up comes an aroma that is as heavenly as it is complex. Expect notes of lilac, rosewater, caramel, dough, chocolate, citrus and alcohol. There's a noticeable spiciness to it, leaving a tingle in the nostrils (think cloves and pepper, with a flash of mint leaves and menthol). Once it has fully warmed up, notes of port wine surface. The flavor is unobtrusive yet weighty, layered yet uncluttered. Look for a hefty dose of chocolate malt, providing a rich depth of flavor, spiked with a phenolic, clove-y kick. There are no spices used in the recipe, so the nipping at your palate is all from the very active yeast strain used to ferment this beer, and from the heavy-handed addition of whole leaf Challenger and Saaz hops (as far as we know, De Ranke is the only Belgian brewery to use only whole leaf hops, all the time—so enjoy this rarity!). With so much happening in the flavor profile, it's actually quite tricky to break this down—but we had a few bottles handy, and purely out of devotion to our members, went through 'em all and gave it our damndest to get things right for these tasting notes (the things we do for you!). Once warmed, even more flavors emerge. We got flourishes of cantaloupe, toffee, orange blossom, dates and even coffee and chicory. There is a bitterness from the dark malts (more of an acridity) as well as from the hops, which carries into the finish and dries things up quite nicely as the hoppy earthiness fully blooms, balancing the richer, sweeter elements of the beer. It's a bit raw and untethered right now, being young, but we loved it that way. However, it's clear that this beer will age very nicely, and we're looking forward to checking in on a bottle in about 12-24 months—we encourage you to do the same (the best before date gives you about a four-year window for aging). As for the foodies out there, get retro and try pairing with date nut bread smothered in cream cheese. Got any of those holiday peanut butter cups lying around from the holidays? Throw them at this beer—they work quite nicely together. Peanut butter cups and refined dark Belgian beer? Hey, if it works, it works. Enjoy!
Beers from Belgium are certainly not a rarity these days—in fact, Belgians have invaded many better beer venues for at least the past 7+ years, to the delight of better beer drinkers. In so doing, these beers have converted some who previously preferred wine, and inspired domestic brewers to explore the immense range that Belgium's beers offer. There are just so many world-class beers produced in this part of the world that beer from Belgium is by no means scarce. But there are rarities, especially when it comes to those from tiny breweries that don't export all (or any) of their beers to the US. One such example comes to us from the Brouwerij de Ranke out of West Flanders. Their production quantity is quite limited, and you'd be hard pressed to find the beer we've selected for you elsewhere in the US. Secondly, it's one of Belgium's darker beers, and is more heavily hopped than most examples of the style, so it suits many of the craft microbrew fans in the US who have come to appreciate a heavy dose of our precious little green friends.
Brouwerij De Ranke was founded in 1994 by two good friends, Nino Bacelle and Guido Devos. Their story is a classic in Belgium, where the very best craft brewing usually begins as a passionately pursued hobby, not an occupation (a similar tale is told again and again among US brewers as well). For Nino and Guido, brewing was literally a weekend obsession. For a few hours on Friday and Saturday each week, the historic, turn-of-the-century Deca Brewery in West Flanders was turned over to the De Ranke brewers, who made small batches of what many consider the best specialty beers of Belgium. Their beers are robust and flavorful, and known for their atypically (in Belgium) massive hoppiness, which comes from the best varieties available.
In 2005, after 11 years of brewing at the Deca Brewery, they built their own in Dottignies, about 12 miles to the south. Not bad for a weekend hobby—building a brewery represents no small feat (or fee!). Their story of dedication and quality is told in each bottle of beer that they put out. It is, indeed, a great tale, so pour yourself a glass of this month's featured beer and get acquainted.
For more information about the brewery, check out their website at www.deranke.be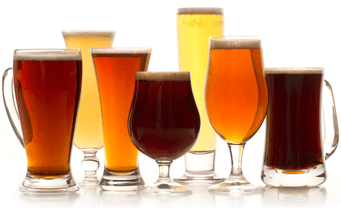 Unmatched Variety by style, brewery & country
Choose from Five different Beer Clubs offering unmatched variety by brewery,
country of origin, and beer style to suit your specific tastes.
DISCOVER OUR FIVE CLUBS