Brouwerij De Ranke - Noir de Dottignies
ABV:

9.0%

Serving Temperature:

45-55° F

Suggested Glassware:

Tulip, Snifter or Oversized Wine Glass
Proudly named after the site of their recently-built brewery, Noir de Dottignies fills the glass with a tall plume of creamy, 3-fingers thick head that is a toasty, beige color. Expect the dense head to linger for quite a while. This is De Ranke's darkest beer, and it features more varieties of malt than any of their other brews (six in fact). Despite the name, it's not black. That being said, in contrast with all other De Ranke beers to date, this beer definitely plays 'night' to the rest of the lineup's 'day.' Swirl the glass after the massive head has retreated (give it about 10 minutes) and up comes a very robust aroma. Expect big notes of figs, plums and pumpernickel bread, with suggestions of fermented cherries and wafts of dark chocolate and a minor hint of coffee. Some metallic notes hit upfront, but fade quickly, giving way to dark fruits, dark fruit juice and rum-soaked raisins. This beautiful dark Belgian ale drops nectarous fruitiness, evoking concentrates of plum, raisin and black cherries. It has a wonderfully full feel in the mouth, so we'll call it full-bodied, though the sweetness and moderate-to-high carbonation contribute toward a subtle lightening of the body. Alcohol also plays a moderate role in the flavor profile, evoking notes of dark-fruit liquor (think plum wine). The uninitiated may experience this as a "cough syrup" note, but those of us who know dark Belgian beers will appreciate the deepness of the fruit intermingled in this 18-proof brew as a deft use of malts—after all, there are NO fruits used in the recipe—all of the fruitiness comes from the combination of malts, yeast and candi sugar. Stateside, beers with this much dark fruit presence are quite rare—and often rely on the integration of actual fruit in the brewing and/or fermentation process. Not here—this baby is all old-school and does it with grace, and we're sure, gives its brewers great pride. Finishes with some deliciously dark bready notes but these are dominated by flavors of dark fruit, predominantly plum and pomegranate, all kept in check from becoming cloying by one of the most impressive uses of balancing hop bitterness that we've ever come across. In short, a wonderful, boozy, fruity brew that possesses a borderline insane level of balance. This is a great beer to pair with brie cheese, particularly brie baked with raspberry preserves and dough. Dear Lord, what a tasty combination. We have limited words remaining before we lose our minds and consciousness, as a friend of ours tasted the beer before we did, and cooked up just such a baked brie dish to pair with the beer… So before we go comatose, let us also suggest pairing with cranberry preserves atop juicy turkey and gravy or sweet, candied ham (hello holiday leftovers!!!), authentic Mexican mole dishes, or braised duck soaked in a citrus dressing. Noir de Dottignies will hold up for at least 6-12 months if treated properly (i.e. kept at cellar conditions), drying out a bit with time, but we believe it is at peak glory at about 3 months of age (in terms of robust fruitiness). Other than what we've picked up for our members, only about 100 cases of this beer made their way to the US in all of 2012—sent only to a handful of states. Enjoy another tasty, rare brew, from us to you!
Beers from Belgium are certainly not a rarity these days—in fact, Belgians have invaded better beer venues for at least the past 10+ years, to the delight of better beer drinkers. In so doing, these beers have converted some who previously preferred wine, or simply didn't think they enjoyed beer. They've also inspired domestic brewers to explore the immense range that Belgium's beers offer. There are just so many world-class beers produced in this part of the world that beer from Belgium is by no means scarce. But there are rarities, especially when it comes to those from tiny breweries that don't export all (or any) of their beers to the US. One such example comes to us from the Brouwerij de Ranke out of West Flanders. Their production quantity is quite limited, and you'd be hard pressed to find the beer we've selected for you elsewhere in the US as only very limited quantities reach these shores each year. Secondly, it's one of Belgium's darker beers, and is more heavily hopped than most examples of the style, so it suits many of the craft microbrew fans in the US who have come to appreciate a heavy dose of our precious little friend, the hop.
Brouwerij De Ranke was founded in 1994 by two good friends, Nino Bacelle and Guido Devos. Their story is a classic in Belgium, where the very best craft brewing usually begins as a passionately pursued hobby, not an occupation (a similar tale is told again and again among US brewers as well). For Nino and Guido, brewing was literally a weekend obsession. For a few hours on Friday and Saturday each week, the historic, turn-of-the-century Deca Brewery in West Flanders was turned over to the De Ranke brewers, who made small batches of what many consider the best specialty beers of Belgium. Their beers are robust and flavorful, and known for their atypically (in Belgium) massive hoppiness, which comes from the best varieties available.
In 2005, after 11 years of brewing at the Deca Brewery, they built their own in Dottignies, about 12 miles to the south. Not bad for a weekend hobby—building a brewery represents no small feat (or fee!) Their story of dedication and quality is told in each bottle of beer that they put out. It is, indeed, a great tale, so pour yourself a glass of this month's featured beer and get acquainted.
For more information about the brewery, check out their website at www.deranke.be.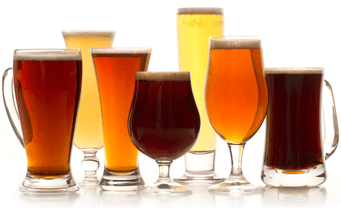 Unmatched Variety by style, brewery & country
Choose from Five different Beer Clubs offering unmatched variety by brewery,
country of origin, and beer style to suit your specific tastes.
DISCOVER OUR FIVE CLUBS