Brouwerij Dilewyns - Vicaris Generaal
ABV:

8.80%

Serving Temperature:

45-50° F

Suggested Glassware:

Chalice or Goblet
Vicaris Generaal comes to us in a large, cage-corked champagne-style bottle. It pours a clear, burgundy brown capped by a truly everlasting pale beige head. The nose offers plenty of fresh orange, as well as a moderately woody spiciness. Expect other fruity notes to develop as well; we got hints of plum and nectarine and just a splash of grape must. The malts are definitely in charge, delivering ample wafts of fresh baked bread and biscuits, as well as a gentle sweetness. Look for a faint touch of roasted malt as well. There's a wonderful Belgian "double-ness" that lets you know this is authentic—you just can't fake that character. This is a real Belgian beauty, with some truly glorious yeast expression in the mix. On the palate, we found that things really got interesting, as the brewery's unique take on the style became apparent; this is a rather dry double, with more roastiness than expected. The Belgian yeast spiciness is quite prominent, but not at all overbearing, working wonderfully against the relatively minor sweetness. Look for a floral, hoppy quality to come through as well. More fruits will emerge—we got dark cherry and raisins, supplemented by a soft suggestion of nutty molasses. At nearly 9% ABV, it is remarkable that there's essentially no impression of alcohol in the flavor or aroma. A gentle warming sensation in the belly does occur, but it is surprisingly sneaky (you have to get it to room temperature before the ABV even hints at its levels). Notice the horse on the label—it's not Trojan*, but wow does it sneak that ABV in on you. Expect it to finish with a subtle vinous character and well-placed hop bitterness.

Abbey Double (or Dubbel) is a difficult style to pull off, and generally speaking, it's a variant of Belgian ale that often suffers from imbalance—too much sugary sweetness, nips and bites from the high alcohol, a bit rough around the edges, even if smooth in mouthfeel. But not this beer—Vicaris Generaal takes Abbey Double and gives it the poise and balance akin to a German pilsner. That's what stands out the most to us about this beer—and it's exactly why it floored us (well… the alcohol content may have aided us in connecting with the floorboards too… but, we digress…). We know it's from Belgium, so, one anticipates good beer, but from a brewery that opened less than a year ago, finding beer this balanced, with its own distinctive stamp, is quite remarkable. That sly ABV will help in keeping this beer going for years to come—cellar as you see fit—we suggest 6 month intervals up to 2 years.

*The horse on the label is actually a depiction of Bayard, a powerful folkloric horse well known in the area from the saga of the Four Aymon. In short, the knight Aymon, a local vassal of Charlemagne, had four valiant sons. The strongest of them tamed a wild stallion named Bayard. Since at least the 18th century, about every ten years, in Dendermonde, there is an Ommegang (a medieval pageant), featuring a local treasure: a massive wooden sculpture of Bayard that is nearly 15 feet tall, weighs about 1800 pounds, and is actually carried by twelve porters who stand beneath it in hollowed out chambers. During this decennial procession, atop the famed Bayard of Dendermonde sits four local boys, in full metal knights' armor, representing the four sons of Aymon. It is a sought after honor to sit atop Bayard in this ceremony, and the requirements are strict: the boys must be siblings, aged 7 to 21, with no sisters born between them, and they, their parents and grandparents must have been born in Dendermonde, and, the boys must all still live in town. Why are we getting into all these details? For a cool little bit of trivia: look closely at the figures atop the horse on the label on Vicaris Generaal—they are girls, not boys. Previously, Vincent Dilewyns had challenged convention by trying to have his daughters serve as the Bayard riders, but gender was not negotiable with the officials. So, his four girls adorn the horse on the Dilewyns beer labels, bucking tradition, yet remaining firmly in the saddle—a nice metaphor for the Dilewyns beers themselves.
The beers of Belgium have long been admired the world over. One of our personal heroes, the famed beer and whisky writer, Michael Jackson, wrote extensively on the subject. In no small way, his research and broadcasting of Belgian beer culture since the 1970s helped to bring about the groundswell of change that we continue to experience along America's evolving beer journey. Beer consumed from special, fancy stemware, at the local pub, poured from cage-corked champagne bottles!? Pairing fine food with beer? Pale brews being stronger than dark ones? Cuisine prepared with beer as a key ingredient in the recipe? This type of haute culture associated with beer was all too often met with skepticism here in the states, frequently perceived as self-indulgent, froufrou silliness. Sadly, even today, for many, it's still interpreted that way. But for those of us who have experienced the epiphany that comes with discovering great beer, and more specifically great Belgian beer, we know better. We have Belgian beer culture, brewers, writers, and the lesser acknowledged early pioneers of the artisan beer movement in the US, the importers. On the subject of the latter, the folks at Vanberg & DeWulf have been selecting and importing specialty beers from France and Belgium for 30 years, and this month we're pleased to introduce you to another fine, hard to find beer that they've managed to hand select, from Belgium's newest brewery no less. Despite the wellspring of incredible beer in Belgium, beer drinking within the country is actually on the decline. And while tradition is wonderful, particularly Belgian brewing tradition, perhaps some novelty is needed to reignite beer drinking within the country, much like that seen during the extreme beer movement in the US. Brouwerij Dilewyns, of Dendermonde, has a couple of not-so-secret weapons on that front: remarkable beers, and, the young woman who brews them—Anne-Cathérine Dilewyns. It's well known that professional beer-making is a male-dominated industry, but what you may not know is that female brewers are turning up in unprecedented numbers around the world, contributing to the overall diversity in the profession. Anne-Cathérine is the newest professional female brewer in Belgium, which indeed goes a bit against convention. But we think she's just what the industry needs—her charisma, determination, intellect and skill, not to mention her youth (she's just 24) are bound to garner interest. But it's not just Anne-Cathérine at the helm; she's in business with her father, Vincent, who creates the beer recipes. And one of her sisters will soon be joining the venture as well. So, we truly have a family business here. Interestingly, there is a legacy of female brewing in the Dilewyns family. In 1875, Anna-Coletta Wauman (Anne-Catherine's great-great grandmother and mother of eleven children) turned a former benzene oil factory into a brewery that operated in Dendermonde until WWII, when the brew kettles were confiscated. Anne-Cathérine has Wauman's passport, which lists her occupation as "Brew master". What a great story to tell—a family brewing together, taking the bold step of opening a new brewery (pretty uncommon these days in Belgium) during an uncertain global economy, and an even more uncertain time for domestic beer consumption in Belgium; a heritage of strong women stepping up and manning the kettles; a homebrew enthusiast father encouraged to go pro by his daughter—it's all something we feel lucky to be a part of. Also exciting is the fact that the Dilewyns beers are rare indeed; aside from some kegs, only about 120 bottles have made their way to the US prior to our members getting theirs. Enjoy!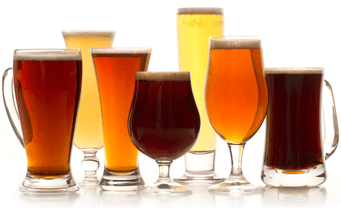 Unmatched Variety by style, brewery & country
Choose from Five different Beer Clubs offering unmatched variety by brewery,
country of origin, and beer style to suit your specific tastes.
DISCOVER OUR FIVE CLUBS