Brouwerij Dilewyns - Vicaris Tripel-Gueuze
ABV:

7%

Serving Temperature:

45–52° F

Suggested Glassware:

Tulip, Chardonnay glass, or Flute
We've been excited about this beer, and some of our members may recall a Dilewyns Vicaris Generaal that went over especially well in the club a couple of years back. This month, we're pleased to offer from Browerij Dilewyns their appropriately named Vicaris Tripel-Gueuze.
This beer originally came about during the famed Zythos Festival in Belgium, during which Dilewyn's booth was directly beside Girardin's. Some of the latter's gueuze accidentally (we are inclined to add quotes around "accidentally") became mixed with the core Vicaris Tripel, and tasty magic became promptly evident. Those results ended up becoming an official beer.
We could imagine many ways in which this sort of style commingling could go awry—as well as significantly more ways in which it could result in some other form of tasty if lesser magic. We found the peppery, toasted core of the honey-tinged tripel to be met give-or-take perfect by effervescence, acidity, and citrusy brightness from the gueuze. A pleasant woodiness comes in, a deep whiff of vanilla that could come from either part of the combo, and the result here in the Vicaris Tripel-Gueuze had our tasting panel impressed. A lemony, even salted, tartness extends through the aromatics of this beer fully, those gueuze nuances still showing through.
Vicaris Tripel-Gueuze pours a glowing, hazy yellow-orangish nectar. A firm, almost-instantly formed off-white head towers atop it, textured capping that sticks to the side with a resistant lace. This was one that had us raising our glasses to the light and saying things like, "Look at that…", our voices trailing off. One can pretty much tell there's something good in the glass.
Particularly when this is cold, that zesty, lemony gueuze character offers up an entirely crisp entry point to this beer, but the creamy tripel waiting beneath seems to adequately represent regardless. The net effect is the spaciousness of a tripel enhanced by the citrus and bubbling bite of a tart gueuze just below, though we do think this benefits from at least a little time to warm up in one's glass from fridge temperature. We think one should feel quite comfortable letting extra bottles of the Vicaris Tripel-Gueuze see some time in the cellar, as this combo is likely to be rather robust against aging. Try this beside vanilla ice cream, or roasted chicken.
The beers of Belgium have long been admired the world over. One of our personal heroes, the famed beer and whisky writer, Michael Jackson, wrote extensively on the subject. In no small way, his research and broadcasting of Belgian beer culture since the 1970s helped to bring about the groundswell of change that we continue to experience along America's evolving beer journey. Beer consumed from special, fancy stemware, at the local pub, poured from cage-corked champagne bottles!? Pairing fine food with beer? Pale brews being stronger than dark ones? Cuisine prepared with beer as a key ingredient in the recipe? This type of haute culture associated with beer was all too often met with skepticism here in the states, frequently perceived as self-indulgent, froufrou silliness. Sadly, even today, for many, it's still interpreted that way. But for those of us who have experienced the epiphany that comes with discovering great beer, and more specifically great Belgian beer, we know better. We have Belgian beer culture, brewers, writers, and the lesser acknowledged early pioneers of the artisan beer movement in the US, the importers. On the subject of the latter, the folks at Vanberg & DeWulf have been selecting and importing specialty beers from France and Belgium for 30 years, and this month we're pleased to introduce you to another fine, hard to find beer that they've managed to hand select and bring to America.
Despite the wellspring of incredible beer in Belgium, beer drinking within the country is actually on the decline. And while tradition is wonderful, particularly Belgian brewing tradition, perhaps some novelty is needed to reignite beer drinking within the country, much like that seen during the extreme beer movement in the US. Brouwerij Dilewyns, of Dendermonde, has a couple of not-so-secret weapons on that front: remarkable beers, and, the young woman who brews them—Anne-Cathérine Dilewyns. It's well known that professional beer-making is a male-dominated industry, but what you may not know is that female brewers are turning up in unprecedented numbers around the world, contributing to the overall diversity in the profession. Anne-Cathérine is one of the newest professional female brewers in Belgium, which indeed goes a bit against convention. But we think she's just what the industry needs—her charisma, determination, intellect and skill, not to mention her youth (she's in just her mid-20s) are bound to garner interest. But it's not just Anne-Cathérine at the helm; she's in business with her father, Vincent, who creates the beer recipes, and her sister, Claire, has joined the venture as well. So, we truly have a family business here. Interestingly, there is a legacy of female brewing in the Dilewyns family. In 1875, Anna-Coletta Wauman (Anne-Cathérine's great-great grandmother and mother of eleven children) turned a former benzene oil factory into a brewery that operated in Dendermonde until WWII, when the brew kettles were confiscated. Anne-Cathérine has Wauman's passport, which lists her occupation as "Brew master".
What a great story to tell—a family brewing together, taking the bold step of opening a new brewery (pretty uncommon these days in Belgium) during an uncertain global economy, and an even more uncertain time for domestic beer consumption in Belgium; a heritage of strong women stepping up and manning the kettles; a homebrew enthusiast father encouraged to go pro by his daughter—it's all something we feel lucky to be a part of. Also exciting is the fact that the Dilewyns beers are rare indeed; in fact, our members will be receiving over half of the total amount of the Tripel-Gueuze that's coming to the US this year. Enjoy!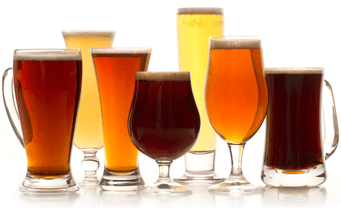 Unmatched Variety by style, brewery & country
Choose from Five different Beer Clubs offering unmatched variety by brewery,
country of origin, and beer style to suit your specific tastes.
DISCOVER OUR FIVE CLUBS