Brouwerij Kerkom - Reuss
ABV:

6.5%

Bottle Size:

750-ml

Serving Temperature:

45–53° F

Suggested Glassware:

Tulip, Lambic Tumbler, Flute, or Chardonnay Glass
This blend from Brouwerij Kerkom struck two of our favorite notes—and with force. In the aromatics, the blonde-ale aspect of the blend showed through the most, offering up notes of spice and other soft phenolics: a heady, toasty, yeasty Belgian pale ale, with the undercurrent of that spontaneously fermented lambic element beneath. Reuss, a deftly handled blend from brewer Marc Limet, is actually composed of about 80% blonde and 20% lambic. The second component is from a very well respected producer—but we're not allowed to say which one!
(Yes, we do feel sneaky sometimes. We'd tell you if we could.)
Browerij Kerkom's Reuss sees very light distribution in the U.S., with nothing sold thus far in 2022 due to a distribution changeup. Only about 50 cases are headed for the entire U.S., with very minimal distro expected beyond the allocation for our Rare Beer Club members.
Where the aroma is more blonde ale with a citrusy tart backdrop, the first taste shows lambic playing a huge role. There's juicy, lemony acidity in abundance: the tang and subtle funk of a precise gueuze. This would make an absolutely mouthwatering aperitif, particularly with some fresh fruit or creamy, funky cheeses as a counterpoint. (We're often inclined to pair sour ales with Humboldt Fog, with its tangy creaminess and herbal notes.) Here: vibrant, prickly CO2, along with that firm acid, will easily cut through the fattiness of paired options. We've had so many magnificent, what-the-heck-just-happened-to-my-taste-buds lambics over the years, to the degree that we've become a bit overly picky. But this beer felt fresh and beautifully built.
There's also a welcomed touch of herbal bitterness throughout, courtesy of two light add-ins of Belgian hops on the blonde-ale side. We dug that subtly bitter part of the structure: to the degree we'll likely drink our bottles on the fresher side, while that blonde ale's at its pinnacle.
Bottles should age smoothly, though, given the acid and sturdy construction. We absolutely love beers like this, to return to that earlier point, for serving as an aperitif to a great meal. The acidity of lambic is absolutely present, mouthwatering, brilliantly tart. But that additional component from the blonde ale, which hearkens to Kerkom's Bink Blond, tempered this to something so very drinkable. We're inclined to bust out the lambic tumblers for this one.
In the countryside of East Flanders, Belgium, on a small family farm amidst Belgium's best pear and cherry orchards, stirs the unrest of a man who has committed himself to a brave and noble mission to enact change in his country. Perturbed by the decreasing interest in traditional, hoppy Belgium beers, Marc Limet decided to take action and do something about it. Like a number of other small farmhouse brewers in Belgium, Marc felt compelled to move from amateur brewing to a more commercial operation to counter the disturbing trend of dumbing-down in Belgian brewing. Unlike larger Belgian breweries, Marc can commit the time required to create true works of brewing art without the use of corn sugar, artificial fruit flavors, or other cost-cutting ingredients. In so doing, he helps keep alive the great brewing spirit and traditions of this beer-loving nation.
Marc Limet's brewery, known as Brouwerij Kerkom, is essentially an extension of the home he has made with his wife Marina. Their on-site pub feels like a welcoming nook of their house; a place where folks from all over the country can gather throughout the year to enjoy these acclaimed farmhouse beers. The Kerkom tradition is not new, however. Brewing has been going on under this name since 1878, when the original Kerkom Brewery was founded after Evarist Clerinx left his studies of medicine to become a brewer (let's call it a shift from one medicine to another). He purchased an old café known as "La Renaissance" and rebuilt it as a brewery. In 1932, 12 years after the brewery reopened (German occupiers claimed the brewery during the First World War), Evarist's son Paul took up the craft.
Having later survived the Second World War, brewing continued as a family affair when Jean Clerinx joined the brewery, but times were tough. During WWI there were 127 breweries in the region. By 1965, there were only 13 left. Tastes had changed, and local breweries had closed in droves. Today, only around 6 of the original 127 pre-WWI-era breweries are still active—the Kerkom Brewery is one of them.
In 1968, Jean Clerinx also decided to cease brewing operations at Kerkom. After his retirement in 1988, he started up a small brewery that created beers using old-world, traditional methods. In 1999, Marc Limet, masterbrewer and hop-hero took up as Kerkom's owner and brewer. He has since put 100% of his efforts into bringing character and flare to Belgium's local brewing scene, creating new beers with old-world composition.
For more info about the brewery, check out their website at www.brouwerijkerkom.be. The brewery is also able to provide visitors with information about bicycling routes throughout this beautiful region—where you can ride roads that cut between orchards and farmland in the famed region of Haspengouw. Just follow the "appelroute" to get to the brewery. What a great way to recharge after a bike ride through the Flemish countryside!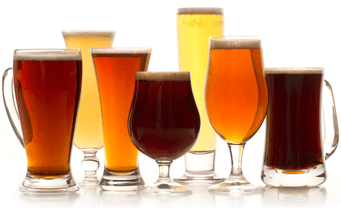 Unmatched Variety by style, brewery & country
Choose from Five different Beer Clubs offering unmatched variety by brewery,
country of origin, and beer style to suit your specific tastes.
DISCOVER OUR FIVE CLUBS