Brouwerij Malheur - Zestig
ABV:

10%

Int'l Bittering Units (IBUs):

60

Serving Temperature:

40–55° F

Suggested Glassware:

Goblet, Tulip

Hops:

Tettnang Tettnanger, Hallertau Mittelfrüh
If Malheur didn't already have a special spot in our beer-loving hearts, we'd make room after sampling their latest release. We're most accustomed to Malheur's deep-dark beers—their 12 and Dark Brut come to mind first and foremost—but Zestig is more along the lines of their Bière Brut: pale, slightly creamy in texture, with a yeast-forward profile. We love Bière Brut, in the what-would-you-take-to-a-deserted-island sense of the word. And Zestig is just as good. Meaning "sixty" in Dutch, "zestig" refers to this beer's 60 IBU, underscoring the prominent role noble hops play in this dry-hopped beer, in terms of both bitterness and aroma/flavor.
(Executive summary: We're really, really excited about this one.)
This pours like one wishes more beers would. A bright, golden-orange color, capped by fine-bubbled foam that fills up the glass and persists. The bubbles are miniscule, barely visible at first glance, forming a resilient head that resembles smooth meringue. The lacing is sturdy, a honeycombed structure lining the interior of the glass. The aromatics encourage jumping in.
There's so much going on in the aroma, and yet it feels streamlined, careful. The yeast offers white-pepper bitterness along with some assisting clove notes, while the noble-hop additions of Tettnang Tettnanger and Hallertau Mittelfrüh provide some further spiciness and loads of herbal notes, occasionally hinting at mint and basil. Those bittering elements cut through the sweeter parts: caramelized sugar, cotton candy, vanilla, softly integrated Pilsner malt, and the combined berry-like fruitiness from both yeast and hops. Everything is in careful balance, as those bitter components impact the nose first and set the stage for Zestig's plush midcenter.
This is 10% ABV? While sizable and certainly generous, the alcohol keeps quietly out of the way for the most part, in both the aroma and taste. You've really got to let this warm up well past the recommended serving temperature to get much of an ethanol quality, and even then it's fruity, almost-vinous alcohol. Yes, please. The bubbles here are super fine, barely sensed, giving this beer a fluffy lift, of sorts, without adding any sharpness to the palate. Those bitter elements—the spicy phenolic yeast notes, the late and dry hopping with noble varieties—do their job well, letting the carbonation just sit back and be effervescent without needing to cut through a bunch of lingering sweetness. The sweeter elements of cotton candy and the kettle sugars, along with notes suggesting vanilla-poached pears and hay, play out fully and build as the beer is allowed to warm. Even approaching room temperature, the core balance holds.
Overall, this is a super-generous strong golden ale that's masterfully built. It doesn't taste like 10%. That depth of flavored layering and nuance opens up beautifully in the glass. And this is just an effortlessly drinkable beer for how much is going on. It's a brand-new release from this brewery, and we're thrilled to be able to get enough for our Rare Beer Club members.
The brewery expects this to be able to cellar for at least two years, which we don't doubt. All told, though, this is glorious as is, and we'd keep an eye on aging bottles carefully. Try Zestig with focused fare (nothing too ornate to distract): some aged Gouda or a rustic sourdough.
Brouwerij Malheur (a.k.a. Brouwerij De Landtsheer) is located in the heart of Flanders, in the verdant little town of Buggenhout. The brewery's founder, Emanuel "Manu" De Landtsheer, sought to restore his family's brewing practice which, with the exception of a brewing hiatus after WWII, has been a family tradition for five generations. Their brewing heritage traces back to the birth of Manu's grandfather's grandfather, Balthazar De Landtsheer in 1773. He founded a local pub-brewery known as "De Halve Maan" (The Half Moon). Today, from the roof of the current brewery founded by Manu, you can look across the fields and see the ruins of that old brewery.
Manu's great-grandfather, Eduard, moved the brewing operation to the current site, which was an existing brewery called 'T Mueleke that traces its roots back to the 1600s. Eduard named the place "De Zon" (The Sun). The brewery closed just before World War II, but the family remained in the brewing business as a contract bottler for the national brewer Lamot. That brewery was later acquired by the even larger brewer Jupiler, which then became part of Interbrew, and was ultimately closed after the consolidation. With the close of that brewery, De Zon was officially out of the brewing business. However, the family continued to work as wholesalers, and importers and distributors for Pilsner Urquell, and continued to grow hops until the 1970s.
Throughout his youth, Manu's family talked of reopening their own brewery. When his father died in 1991, Manu decided it was time to honor his memory by restoring the family's brewing tradition. The current brewery, opened in 1997, occupies a building attached to their family home. You just can't get closer to home than that! Many Belgian brewers have adopted attention-grabbing names for their beers, such as Delirium Tremens (a severe physical manifestation of alcohol withdrawal which can be fatal), "Duvel" (meaning Devil), and in that vein, Satan, Lucifer, etc… Manu followed this path when wryly naming his brewery "Malheur," which translates roughly as "misfortune," but the only misfortune about his beers is that there is not more of it to enjoy!
If you'd like more information about Brouwerij De Landtsheer, check out their website at www.malheur.be. And, if you're ever in Belgium, call ahead and schedule a visit (by appointment only)—it's a rare treat to be able to have a beer in (or next to) the home of a brewery founder!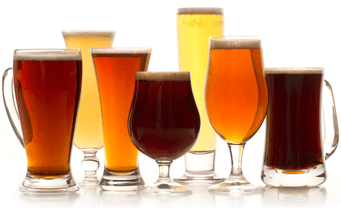 Unmatched Variety by style, brewery & country
Choose from Five different Beer Clubs offering unmatched variety by brewery,
country of origin, and beer style to suit your specific tastes.
DISCOVER OUR FIVE CLUBS