Brouwerij Rodenbach - Rodenbach Caractère Rouge
ABV:

7%

Bottle Size:

750-ml

Serving Temperature:

43–50° F

Suggested Glassware:

Tulip, Teku, Flute, or Pinot Glass
The exclusive RODENBACH Caractère Rouge, with an alcohol content of 7%, is the result of a 6-month maceration with fresh fruit (sour cherries, raspberries and cranberries) of RODENBACH Vintage Ale, which matured in oak casks for 2 years. After its maceration, the beer is re-fermented in the bottle. … This beer evokes the delicacy and experience of a fresh Burgundy wine. – Caractère Rouge release notes
Less than 500 cases of Rodenbach's Caractère Rouge are sold annually in the U.S., and we've got a substantial portion of that allocation set aside for our Rare Beer Club members.
We would take this over fresh Burgundy. While there are certainly exceptions to the rule that the land of fruit beer tends to be ruled by the sour, bright acidity really does work beautifully alongside fresh-fruit notes. We are much more likely to be sated by a sour peach beer than a peach beer. And, exceptions aside, we were just floored by how well the vibrant sourness here supports a huge abundance of juicy red fruits.
The appearance of this beer, though—and despite the number of times we're inclined to use the word "fruit" in the following paragraphs—kind of gives a better sense of what this beer's about: this is more ruby and caramel and barrel-brown than fruit-pop red, or anything along those lines. Modest head formation. This does give a berry-color glow at certain angles. The firm, off-white/light-pink foam lingers for a while at the edges, with well-structured lacing.
The berries make the aroma on this pop. The combination, and aspects of the color, kept us thinking strawberries, but you can also kind of pick out each of the noted additions: the tang of cranberry, the deep purple of raspberries, that familiar cherry. There are darker fruits, plus leather, a relatively soft influence from the years in oak—and a plush, mouthwatering acidity.
We love how the fruit character on this beer is just massive and still backed up by a generous degree of structure and barrel influence. The cherries were first to register, then cranberries, while raspberries, at least as we were tasting things, basically took the wheel mid-palate. The tongue gets a nice zestiness of bubbles and acidity—certainly sour, but very welcoming.
While the berries play out no problem, the overall effect isn't a berry. It's more fruit leather, like Fruit Roll-Ups but good ones, a combination of the fresh-fruit additions, an underlying layer of barrel character (toasty oak, an edge of tannins, some rounding vanilla), and various aged notes playing out between them: caramel, sherry, a variety of vinous qualities to support the earlier Burgundy comparison. Deeper still, we found hints of peppery spice and almonds.
The brewery puts a best-by date on Caractère Rouge of about three years out, and it certainly feels like a cellar-worthy choice to us. Watch out for how the fruit dissipates and the caramel ramps up. In considering pairings, the overall structure of this beer is sort of like elements of balsamic vinegar and strawberry: which had us thinking of bitter greens, and creamy cheeses.
There is perhaps no more famous brewery in all Belgium than Brouwerij Rodenbach. While the country has a long history of brewing both tart and downright sour beers using wild yeast and bacteria, it was Rodenbach in the late 19th century that helped pioneer and define the specific style of beer we know as Flanders Red Ale, considered by many to be the most vinous, or wine-like, of all beer styles. The standard Rodenbach is a blend of approximately 75% fresh and 25% 2-year aged ale, while Rodenbach Grand Cru incorporates much more aged beer (approx. 66%). The Caractère Rouge we bring you this month starts as 100% 2-year aged ale, which then undergoes a 6-month maceration with fresh cherries, raspberries, and cranberries.
We've been able to get our members Rodenbach Grand Cru and Vintage previously, and we are even more excited to offer Caractère Rouge, one of the brewery's most exceptional (and limited) offerings—with less than 500 cases sold throughout the U.S. each year.
The brewery bears the name of the Rodenbach family, who not only contributed their unique beer to the world but also helped contribute Belgium to the world, at least as an independent country. The brewery was founded in 1821 by Rodenbach brothers Pedro, Alexander, Ferdinand, and Constantijn. All four played critical roles in the Belgian Revolution of 1830, which led to the secession of Belgium from the United Kingdom of the Netherlands. In fact, when Leopold I greeted the crowd from the balcony of the House of the Nation after being crowned king, Alexander (who ran the brewery from 1821 to 1836, and happened to be blind) appeared at his side.
In 1878, Pedro's grandson Eugène became manager of the family brewery. From a brewing perspective, as opposed to a political one, Eugène is certainly the most influential Rodenbach in the family line. During his travels to southern England, he was exposed to, and learned much about, the early porter beers popular in London at the time. In the 19th century, these early porters were typically aged for at least several months in giant barrels where they matured and acidified. Eugène took what he learned and applied it at home in Belgium, developing and refining the technique, and creating the style of Rodenbach beers we know today.
Rodenbach's red ales undergo a primary and a secondary fermentation, with both yeast and lactobacillus bacteria, creating beer with a distinctively acidic, sour quality. However, it's when the beers enter the maturation stage that the fun really begins. The beer is aged in huge oak barrels known as "foeders" in Flemish ("foudres" in French), some of which are older than 150 years. Of these impressive foeders, Rare Beer Club founder Michael Jackson earlier wrote, "Rodenbach, in Roeselare, has ten or eleven halls full of these tuns. There is nothing comparable in any brewery elsewhere in the world, and the whole establishment is a temple of industrial archaeology."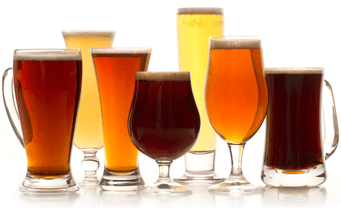 Unmatched Variety by style, brewery & country
Choose from Five different Beer Clubs offering unmatched variety by brewery,
country of origin, and beer style to suit your specific tastes.
DISCOVER OUR FIVE CLUBS