Brouwerij Rodenbach - Rodenbach Grand Cru
People from elsewhere in the world are often quite surprised when they see terms like Grand Reserve, or Grand Cru, on labels of beer from Belgium. Belgians themselves often refer to a whole range of beers as "the Burgundies of Belgium".
That's more than just poetic license, because at one time Belgium was a part of Burgundy. I think that many Belgians will tell you that their love of great food and drink has its origins in the time when they were a part of Burgundy.
They have a nice expression in Belgium, and I like it very much. Someone who really enjoys his food and drink is called a Burgundian. So beer is the Burgundy of Belgium. This particular beer looks like Burgundy. It is the Grand Cru of the Rodenbach Brewery. The Rodenbach Brewery is in the western part of Belgium, quite near the coast in the province of West Flanders.
It is one of the world's most interesting breweries. To me, it is a national treasure, and Belgium should regard it in that light. It is one of the six or seven breweries in that area that make these almost Burgundy-colored beers. Its local competitors all tend to make other types of beer as well, and have this type as one element in their range.
But in the case of Rodenbach, the whole brewery - which is a really sizeable brewery - is devoted to making this red beer, which looks like Burgundy. And although it does not taste like Burgundy, it does have a winey taste with a lot of acidity to it.
It's a very different kind of beer. It's not a beer-beer, if you like, and it is not an easy beer for people to accept unless they have some real sophistication of taste. It's a beer for people understand not only beer, I think, but also wine, and who are enthusiasts of wine and food.
The reason for the acidity, and also in part for the color, is that this beer is aged in wood. It's not aged in normal wine barriques, or in the sort of barrels used for bourbon whiskey, or scotch whisky. It is aged in huge tuns that are as high as the ceiling in the halls that they are in. They have hundreds of these tuns at Rodenbach, and there is no other brewery like it in the world. You can go from hall to hall, lined with these ceiling-high wooden tuns full of maturing beer.
They mature this beer for over 2 years. The first time I tried this beer, I just could not believe the taste of it, which is something that I have experienced in Belgium several times.
Sourness makes beer very, very quenching. For me, that's the advantage that this type of beer has. It is very refreshing, indeed.
This is the world classic of the Belgian sour red ales. In my view, this individual product is the most refreshing beer in the world. It is also very food friendly because of the acidity. I think that's one of the things you really need to have a truly food friendly beer.
A votre santé, Rodenbach, and bon apetite while we are at it, because you could have a whole meal with this beer. I'm about ready for one, actually.
The world-classic beers of the Rodenbach brewery, and several similar products from competitors, mainly in West Flanders, are a distinct style without a name. They are more sharply acidic, leaner, more reddish, half-brothers to the Brown Beers of East Flanders, with the additional difference that they are often filtered and pasteurised. Their sharpness makes them perhaps the most quenching beers in the world, and their acidity renders them very food-friendly. The sharp acidity, and some of the colour, derives from aging in large, fixed, wooden tuns.
Rodenbach, in Roeselare, has ten or eleven halls full of these tuns. There is nothing comparable in any brewery elsewhere in the world, and the whole establishment is a temple of industrial archaeology. The brewery's Rodenbach Grand Cru (5.2-5.6abv) is aged for between 18 months and two years or more.
The regular Rodenbach Bier (4.6-5.0abv) is a blend containing some younger beer. Rodenbach Alexander (5.2-5.6abv) is sweetened with cherry essence. The Rodenbach beers have a distinct passion-fruit character. Rivals include the more chocolatey Petrus Oud Bruin; the tart Bellegems Bruin; the smoother Bourgogne des Flandres; the slightly lactic Bios Vlaamse Bourgogne; the fruity Vichtenaar; and the rich Duchesse de Bourgogne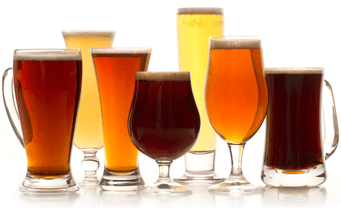 Unmatched Variety by style, brewery & country
Choose from Five different Beer Clubs offering unmatched variety by brewery,
country of origin, and beer style to suit your specific tastes.
DISCOVER OUR FIVE CLUBS