Brouwerij Strubbe - Keyte Jubileum
ABV:

6.8%

Serving Temperature:

45–54° F

Suggested Glassware:

Tulip Glass, Chardonnay Glass or Lambic Tumbler

We're pleased to feature Brouwerij Strubbe's Keyte Jubileum as a Rare Beer Club exclusive.
We were excited to cross paths with this highly limited release in the first place, and we were more than a little thrilled to be able to secure enough of their anniversary Keyte for The Rare Beer Club—no small feat, given your thirsts and ours. This is a stronger unfiltered blonde of the Belgian high-fermentation tradition. After a year of spontaneous fermentation and slowly maturing in Tuscan oak wine barrels, the transformed standard Keyte is packaged into numbered bottles. It is undoubtedly a carefully aged beer, carrying all the benefits of a complicated existence. And those oak barrels, the intricacies of that spontaneous ferment... We were elated to find this.
Strubbe's Keyte Jubileum is bottled in 750mL bottles (per usual for the club) and it's being imported to the U.S. exclusively for our Rare Beer Club members. We love exclusives!
As one final bit of background: The original Keyte, a shining part of the Strubbe portfolio, is the result of a collaboration between the brewery and Oostendse Bierjutters ("Ostend's beer lovers") from a decade ago. This one, Jubileum, was made for the 10th anniversary of the original Keyte.
So much about this beer seems to conjure lambic. A hugely familiar salty/citrusy edge makes itself known from the gate, with aromatics opening up into the welcome, cellar-like funk and cheesiness of some of our favorite complex sour beers. We kept finding elements similar to a particularly balanced offering from Brouwerij Drie Fonteinen: that squeeze of salty lemon, a funk that intrigues rather than frightens (even for the less-initiated to the land of tart beers), plus that delicate underpinning of subtle oak character. The overall acidity calmly veers away from the full-on impact of lambic sourness, though, leaving room for toastier notes beneath.
We continuously went back to revisit the nose: intriguing, pungent, vast turf covered...
The original Keyte is a high-fermentation blonde ale of around 7.5% (depending on batch), and it's interesting to try to catch the residual elements of that core beer that seem to find room in this much-changed anniversary edition. That core structure of toasty pilsner malt and white pepper remain apparent here, almost hinting at a saison blended with lambic (we really can't get lambic out of our heads). And the net effect is a hugely engaging beer that's inclined to impact like a lambic, but finishes like the toasty blonde base beer that started it.
There's definitely some fine yeast present at the bottom of the bottle (as certainly should be the case for a beer like this), and we tended to prefer clearer pours when we were sampling Keyte Jubileum. Your mileage may vary! Just pour slowly and gently to keep pours clearer.
The brewery recommends aging Keyte Jubileum up to two years—ideally stored upright in a cool, dark place. Like many lambics, this should show beautifully beside a tempered goat or bleu cheese (something of similar salinity, we're thinking). Or with steamed mussels. Beyond that, look to suggested lambic and saison pairings (or in between!) for a transcendent match.
Some of our long-standing Rare Beer Club members may recall when we originally featured Brouwerij Strubbe's Grand Cru back in the yore days: a Flemish sour ale that we went so far as to describe as "fruit fruit fruit yum." This month we're bringing something new from the lovely folks at Brouwerij Strubbe—Keyte Jubileum, an exclusive Rare Beer Club offering!
Brouwerij Strubbe, we should emphasize, is hardly new itself. A certain Carolus Strubbe departed the West Flanders town of Tielt for nearby Ichtegem back (way back) in 1830, establishing a new life for himself as a farmer and brewer. As was typical of so many small operations at that time, the farm grew its own brewing ingredients on site. The brewery records their founder's history as follows: "In summer, [Strubbe] tilled the land, and in winter he worked on the malt floor with his stirring barrel." A different time entirely.
Fast-forward through six generations of the Strubbe family's ownership: from Carolus to his son Louis, to Louis' son Medard (who formalized the brewery's name to Brouwerij Strubbe), and so on down the line. More recently it was Norbert Strubbe (Carolus' great-great-great grandsomething, if our math's right) handling the business, while Marc Strubbe (ditto) steered the brewing. Norbert recently passed the torch on to his son Stefan Strubbe, the 7th generation to helm the operation. This is one of the Belgian breweries that survived, and despite the fact the country once had over 3,000 breweries at the start of the 1900s.
Like many long-lasting breweries, Brouwerij Strubbe has explored a significant range of beer styles over the years, from their "simple" and "high fermentation" beers (2% and 4% ABV, respectively) early on, to things like bocks and pilsners and, eventually, something called their "Bruin Hengstenbier," which they approximately translate as "brown stallion beer." This was both sweet and sour, and it was beloved by customers when the other styles were stalling. In 1982, it became the base beer for Ichtegem's Oud Bruin. And the rest (as thus far) is history.
Today, Brouwerij Strubbe covers significant turf, ranging from IPAs to a traditional blending of lambics. Having been privy to numerous Strubbe releases over the years, Keyte Jubileum's unlike anything we've ever tried from them before, even Strubbe's Grand Cru. We hope you enjoy this featured Rare Beer Club offering as much as we enjoyed getting it here.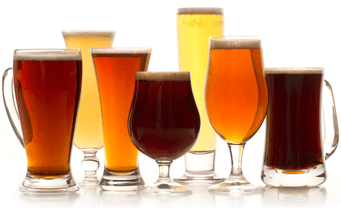 Unmatched Variety by style, brewery & country
Choose from Five different Beer Clubs offering unmatched variety by brewery,
country of origin, and beer style to suit your specific tastes.
DISCOVER OUR FIVE CLUBS